Looking for more in 50 Word Fiction?
September 2020 winners
Our prompt for September 2020 was to write a story featuring wildflowers.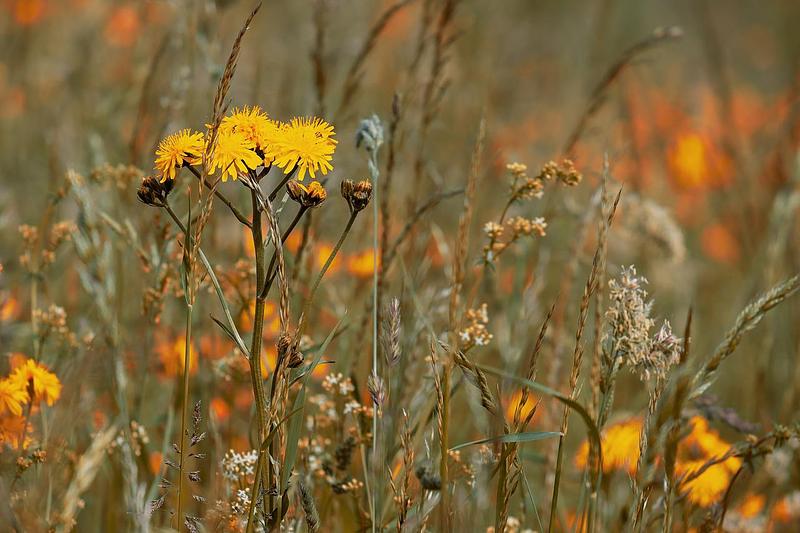 Congratulations to the winners of our September 2020 competition. Feeling inspired? Have a go at this month's prompt.
Adult winner
Alison Duncan
Wild? – We ur ragin'
Wee lassies makin' daisychains
Auld wifies bramblin'
Muckle machines molocatin' hedgerows
Gairdeners scalpin' gress wi' mowers
Cooncil workers pisinin' 'weeds'
We're the progenitors o' yer fancy cultivated flo'ors, them wi' nae
scent, little nectar.
It's us feeds the bees!
Sae leeze' alane, gauny?
Gaelic winner
Sadie Drye, age 16
Saighdearan an aghaidh shaighdearan. Bàs air gach taobh. Dearg air feadh an àite. An àrach air a bhriseadh. A' fàs, a' sgaoileadh. Àilleachd a' dol gun mhothachadh. Crom-lus fiadhaich an aghaidh an fheòir. Tha na Flùraichean Fiadhaich a' buannachadh, àilleachd nas cumhachdaile aig deireadh an latha.
Translation by Gaelic Books Council
Soldiers against soldiers. Death on each side. Red all over the place. The battlefield broken. Growing, spreading. Beauty going unnoticed. Wild poppies against the grass. The Wild Flowers are winning, beauty more powerful at the end of the day.
Young writers (12-18) winner
Grace Clark, age 14
In the peaty hillsides of Caledonia sits a lass. Gowned in a green and purple, she prickles with fierce energy. She sits upon her highland throne managing to look regal, beautiful, and deeply offended, deciding who will next tempt fate by trying to take her from where she lies.
Young writers (5-11) winner
Layla Mealey, age 10
Beatrice was in the garden centre once again. She couldn't believe the smell of the flowers twinkling her nose. She took some nectar from the wildflowers. Beatrice liked the pink and yellow flowers the best. Beatrice buzzed her transparent wings and was flying back to the headquarters.