Looking for more in 50 Word Fiction?
December 2019 winners
Our prompt for December 2019 was to write a story featuring a winter cabin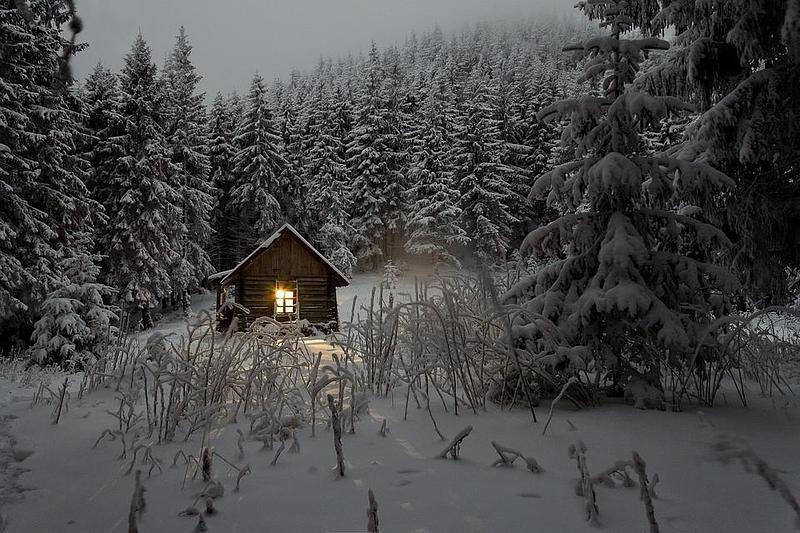 Congratulations to the winners of our December 2019 competition. Feeling inspired? Have a go at this month's prompt.
Adult winner
Emma Wilson
The cabin was perfect. A stable wooden frame; the warmth of twinkling fairy lights; and a smooth blanket of snow coating its roof.
The man laid down the old postcard, blinking back tears. He huddled against the cold of the city streets. Around him, the snow was beginning to lie.
Gaelic winner
Calum Torrens, age 12
Am measg nan craobhan chan eil duine ann ach mise, air chrith leis an fhuachd.
Chùm mi an teine a' dol airson mo thilleadh bhon fhuachd.
Le eagal mo bheatha, thog mi mo chasan airson lorg am fiodh a chùm mi beò.
Air ais san t-seòmar bhlàth, a' cadal leum fhèin.
Translation by Gaelic Books Council
Amongst the trees there is nobody but me, shivering with the cold.
I kept the fire going to keep me from the chill.
Scared for my life, I got up to find the wood to keep me alive.
Back in the warm room, sleeping by myself.
Young writers (12-18) category winner
Isobel Morrow, age 14
Day 1
Snowed in. Hope I've got enough food.
Day 2
Boiler's broken. Keep hearing noises.
Day 3
Noticed food missing.
Day 4
Turned off the boiler; could still hear the noises. Like footsteps.
Day 5
Something's in the cabin. Scared it's going to get me--
Day 6
Day 7
Young writers (5-11) category winner
Lily Mccutcheon, age 10
Want to know what happened here? Well of course you do. You're an investigator, sent here to find out what happened to the family that lived in this cabin.
They came down to the basement and woke me up. And you've done the same. And I'm very hungry.