Looking for more in Book Lists?
12 picture books featuring dads and father figures
Genre:
Adventure, Family, Relationships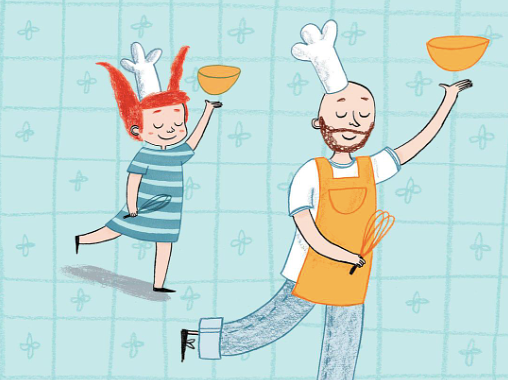 You might also like our top picture books featuring mums or our list celebrating LGBTQ+ families(this will open in a new window).
Silly dads, cool dads, and brand new dads fill the pages of these magical stories - perfect for sharing with the special dad or father figure in your little one's world.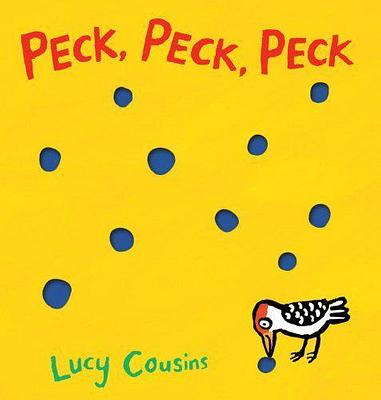 Lucy Cousins
Peck, Peck, Peck
It's time for Little Woodpecker to learn how to peck. With plenty of positive encouragement and guidance from Daddy Woodpecker, it's not long before he's pecking holes all over the place! Thankfully Daddy is there to put the tired wee bird to bed at the end of the day. There is so much to spot on every page of this bright and colourful board book and the wonderful rhyme and rhythm ensures it stands up to many repeated readings. Little fingers will also love exploring the numerous peep-through holes!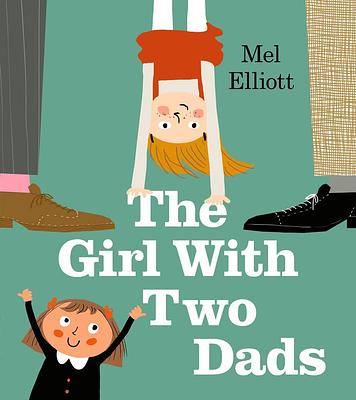 Mel Elliott
The Girl With Two Dads
When Pearl discovers that the new girl in her class has an extra dad instead of a mum, she can't wait to find out what life must be like without a boring mum who makes you eat your veggies! But she soon discovers that life isn't that different with two dads after all... This inclusive book featuring same-sex parents is a brilliant conversation starter, particularly if your little ones or their friends have same-sex parents or relatives. The illustrations feel stylish and fresh, and there's plenty of subtle humour to keep everyone engaged.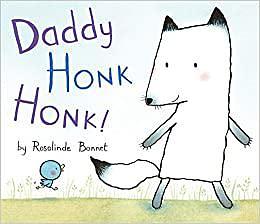 Rosalinde Bonnet
Daddy Honk Honk!
When Aput the arctic fox discovers an egg on the tundra, life as he knows it is about to change. A baby bird emerges from the egg and mistakes Aput for his daddy – prompting Aput to discover as much as he can from his friends about the basic needs of the new small creature in his life. A beautiful story about a nurturing father figure and the importance of love in any new baby's life. The painted illustrations are wondrous, capturing the colours of the Arctic – and Northern Lights – in all their glory.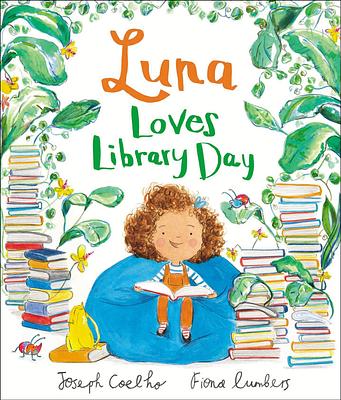 Joseph Coelho
Luna Loves Library Day
Library Day is Luna's special day with her dad, and even though they don't live together anymore she knows that he loves her very much. They spend time choosing their favourite books for the book bag ('In the book bag it goes – check') and share a special fairy tale about a Troll King and a Mermaid Queen. Gorgeous illustrations bring the library and books to life in this delightful celebration of imagination, and the magic of stories. An ideal book for reminding us that families come in all shapes and sizes.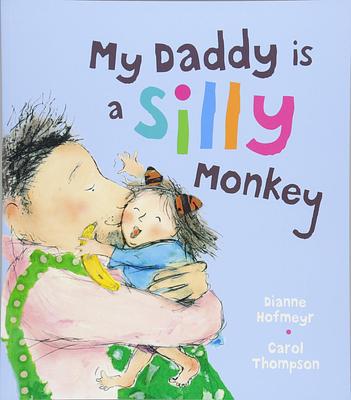 Carol Thompson
Diane Hofmeyr
My Daddy is a Silly Monkey
This delightful story shows the loving relationship between a daughter and dad in a single-parent home. Dad does everything for his girl from the moment they wake up – and she imagines her dad as a different animal at each point together: a silly monkey, a naughty crocodile and even a whirly twirly swirly octopus! Juggling life is certainly tiring for this single dad. But it's also full of fun and imagination and love. The illustrations are brimming with energy and bring Hofmeyr's playful use of language to life just perfectly.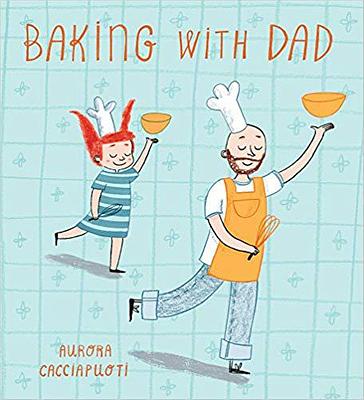 Aurora Cacciapuoti
Baking With Dad
It's baking day! A dad and his daughter set to work choosing the perfect ingredients (no snails or pencils, please) and mix, shake, and whisk away in the kitchen. There's a little bit of mess - and a few stray eggs - but mostly an atmosphere of celebratory happiness fills the room. The childish illustrations are lively and engaging, and are bound to inspire little ones to get in the kitchen with their dads, stepdads, uncles or grandads!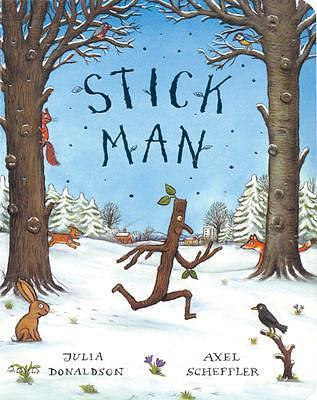 Axel Scheffler
Julia Donaldson
Stick Man
Poor Stick Man! His early morning jog turns into much more of an adventure than he'd planned when he finds himself being picked up by a playful dog, a nesting swan and a host of other characters looking for the perfect stick. Thankfully, his dream of returning to his Stick Lady Love and children is realised with the help of a special, festive visitor! Donaldson's trademark rhyme – and Sheffler's lively, bold illustrations – infuse Stick Man's story with enough humour and emotional ups and downs to keep little ones engaged from start to finish.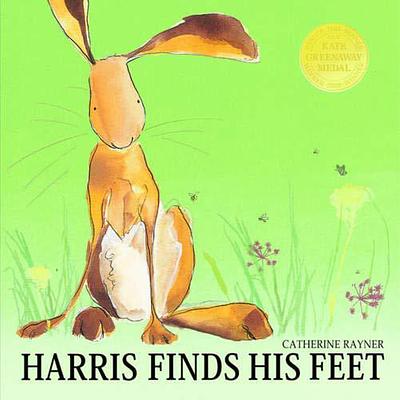 Catherine Rayner
Harris Finds His Feet
'Why do I have such enormous feet, Grandad? Harris sighed.' And so Harris and his grandad set out to discover the world, and their feet, together – one large step at a time. This lyrical story explores many themes connected to nature, relationships and loss. But mostly, it explores the connection between grandparent and grandchild. Each watercolour spread is like its own work of art, with a colour palette that shifts on each page to show changes in emotion. A beautiful, soothing read for children of all ages.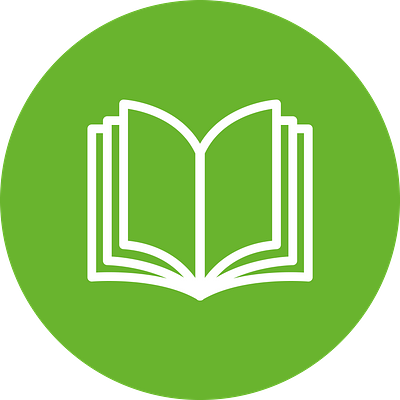 Pick up these books through our bookshop.org affiliation! As well as supporting independent bookshops, a small portion of the profits helps our programmes to change more lives through reading and writing.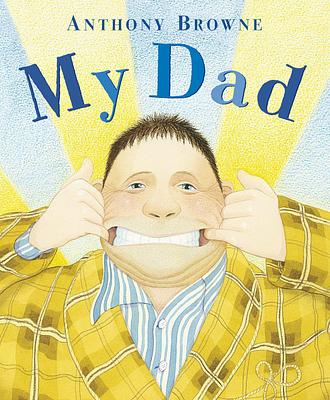 Anthony Browne
My Dad
In this homage to dads everywhere, we discover what sets our narrator's dad apart from others. As well as being unafraid of anything (even the Big Bad Wolf!) this dad is as big as house and as wise as an owl. He's a champion wrestler, runner and tightrope walker. But most importantly, this dressing-gown-wearing hero loves his child – and surely that's what matters most. Browne weaves together the sentimental and the funny in this exploration of dads and father figures. The seemingly simple illustrations are filled with detail to pore over again and again. ​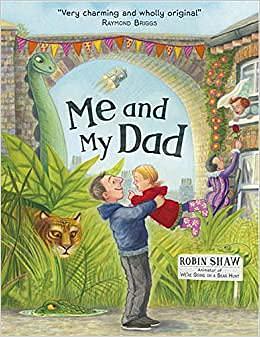 Robin Shaw
Me and My Dad
This charming picture book perfectly captures the loving relationship between a little girl and her dad as they wander through town one day and end up in a bookshop. There's so much fun to be had just from walking down the street! Can you spot some treasure, a snappy croc, or even a sneaky dinosaur? Full of imagination, this beautifully illustrated book shows just how exciting an ordinary day out can be.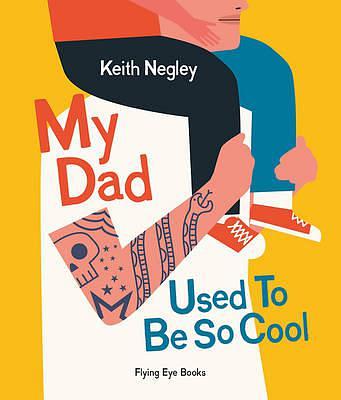 Keith Negley
My Dad Used To Be So Cool
When a little boy spots a drum kit in the cupboard and a motorbike for sale in the garage, he imagines all the cool stuff his dad used to do. But now all his dad does is fold laundry and hoover the house – is he still cool? A book for the parent as much as the child, Negley's minimal text and bright, graphic-style illustrations brilliantly portrays a father and son relationship in a funny and playful way.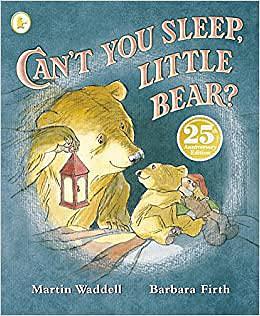 Barbara Firth
Martin Waddell
Can't You Sleep, Little Bear?
Little Bear is having difficulty getting to sleep. It's just too dark! Big Bear tries everything to settle Little Bear down, before finally coming up with a magical idea to explain the beauty of darkness. This timeless story doesn't explicitly suggest Big Bear is a dad - but it does suggest he's a loving, patient and reassuring presence in Little Bear's world: whether he is dad, stepdad, or other father figure doesn't really matter. A classic bedtime story to cuddle up and share with your Little Bear.