Looking for more in Book Lists?
12 festive books to share with little ones this Christmas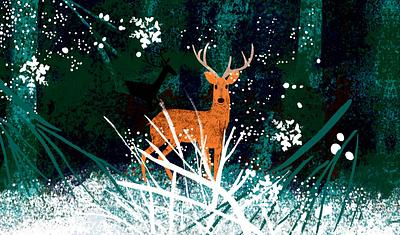 Cuddle up and enjoy these seasonal stories with your little ones!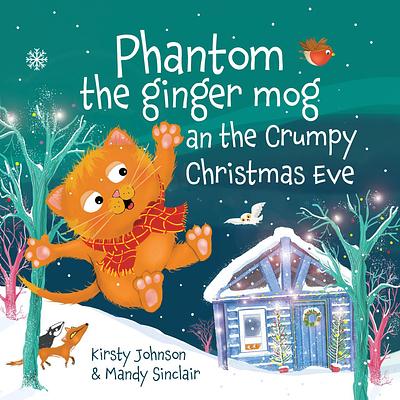 Kirsty Johnson
Mandy Sinclair
Phantom the Ginger Mog an the Crumpy Christmas Eve
Phantom the ginger mog is heading out for a wander on a chilly Christmas Eve… what will he see – and what will he eat? Venturing through the pine trees and snow, he stumbles upon a beautiful Yuletide scene, eats lots of tasty Christmas food, and even gets offered a lift home from Santa and his reindeer! With bright illustrations that sparkle with Christmas cheer, you and your little ones will love this festive Scots story.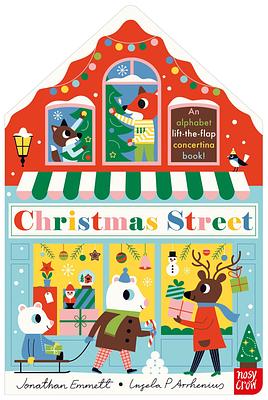 Ingela P Arrhenius
Jonathan Emmett
Christmas Street
This is an adorable alphabet journey through all the magical, festive sights of Christmas Street. Children are bound to delight in the lift-the-flaps, which reveal colourful and Christmassy images on every page, and you'll love cosying up with them too. For an added bonus, the book extends out as a concertina to show a lovely wintery scene!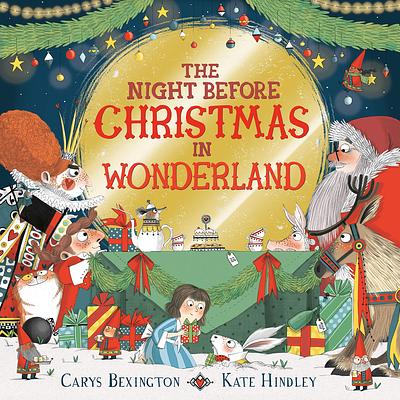 Carys Bexington
Kate Hindley
The Night Before Christmas in Wonderland
This book is a glorious mashup of two classic tales. The Queen of Hearts hasn't allowed Christmas since the White Rabbit missed the last Christmas post when she was little, and her letter didn't make it in time. When an elf discovers it mouldy on a shelf, Santa's epic journey through Wonderland begins. The illustrations are full of expressive characters, and the narrative brims with charm. With an evil queen (or just a grumpy princess?), an elusive Cheshire cat and an opulent palace – Christmas colliding with Wonderland is a spectacular event not to be missed.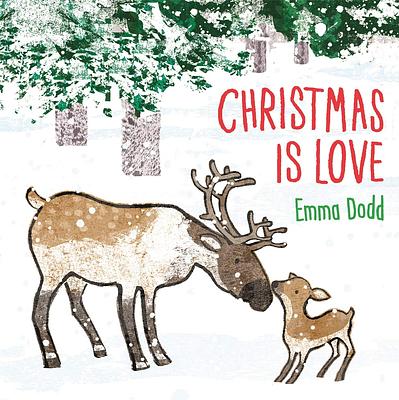 Emma Dodd
Christmas is Love
Christmas means many things. Most of all, as one reindeer calf discovers in this treasure of a board book, it means love. Featuring adorable imagery of a reindeer calf with their parent against a beautiful wintery backdrop, coupled with rhyming text that creates a lovely flow from one page to the next, it's the perfect read during those quieter moments over the festive period.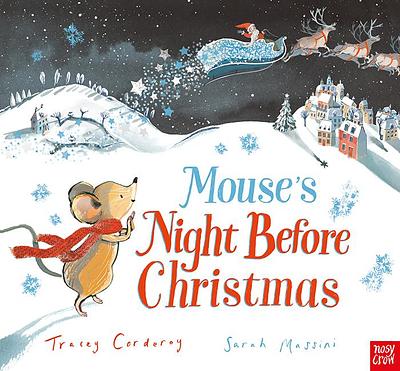 Sarah Massini
Tracey Corderoy
Mouse's Night Before Christmas
This heartwarming retelling of the classic Christmas tale will have wee ones captivated this festive season. When Santa gets lost in a blizzard, a lonely little mouse is on hand to help him deliver his presents - but will mouse's own Christmas wish come true? We can't tell you that! But we can tell you it's definitely a book to put on your list. With its traditional illustrations and pitch perfect rhyme, this is a truly magical tale for Christmas time.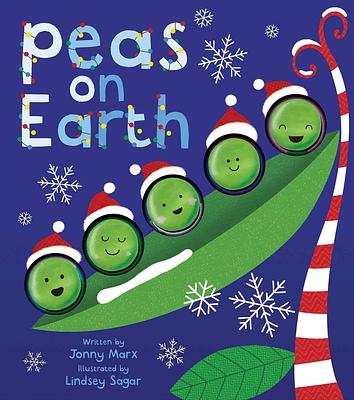 Jonny Marx
Lindsey Sagar
Peas on Earth
Christmas is the best time of year for these five festive peas! In this board book, a rhyming countdown to Christmas takes place, as each pea takes part in different festive activities. Soon enough, there's just one pea left – until they all come together again for presents, that is! Children are bound to be left smiling along with the little peas as they follow this adorably illustrated Christmas adventure.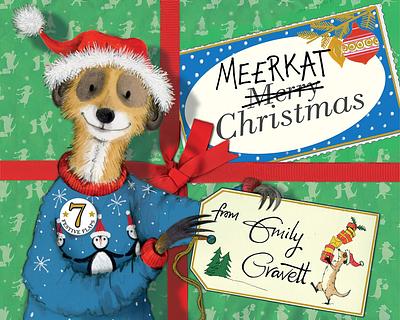 Emily Gravett
Meerkat Christmas
All of the meerkats are excited about Christmas in the Kalahari...except for Sunny. He decides that his Christmas doesn't look quite as 'perfect' as it should so sets off on a journey to find somewhere more Christmassy. With its fun, festive flaps, and rich illustrations, this is a book that can be read again and again. You'll spot something new each time! At its heart is also a touching message about the diversity of Christmas and the importance of family.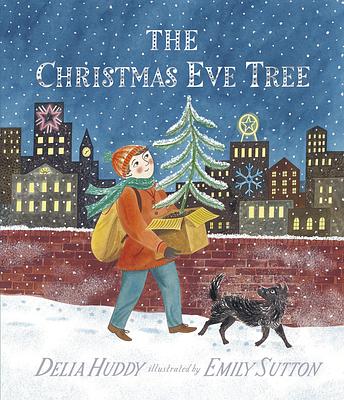 Delia Huddy
Emily Sutton
The Christmas Eve Tree
An ugly little fir tree is taken to the city where no one wants to buy him – everyone wants the big grand trees. However, when a boy experiencing homelessness takes ownership of the tree, it finds itself at the centre of a magical Christmas Eve it will never forget. Emily Sutton's illustrations have a classic yet modern feel and wrap the message of the book in enough Christmas magic to make it a story children will love to talk about, and read again and again.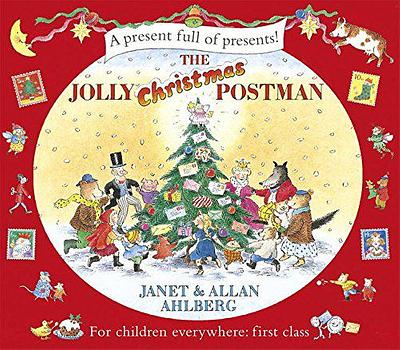 Allan Ahlberg
Janet Ahlberg
The Jolly Christmas Postman
An absolute classic for the festive season! Join the Jolly Postman as he sets off to deliver Christmas mail to a host of nursery rhyme characters and fairy tale friends. With detailed illustrations, and actual letters, cards and games to share on each page, this is a book that will keep little ones engaged for days on end. The glorious rhyme and use of dialogue beg for it be read aloud, with as many different voices as you can manage!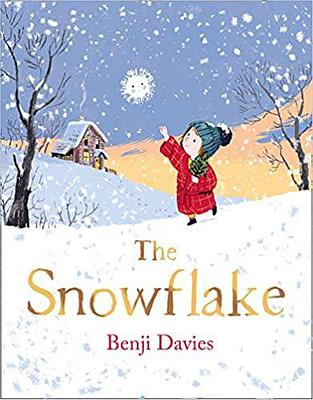 Benji Davies
The Snowflake
High up in the clouds a tiny snowflake is made. Down below, a little girl longs for the perfect star for her Christmas tree. With a stunning colour palette of purples and whites, this enchanting story of a girl and a snowflake looking for their place in the world will bring a little sparkle - and wintry cheer - to everyone's festive season.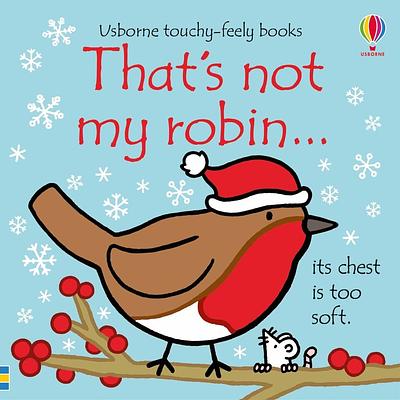 Fiona Watt
Rachel Wells
That's not my Robin
This seasonal book in the award-winning series is a real treasure! Perfect for baby's first Christmas, little hands will love exploring wee robin's chest and wings - as well as looking for the cheeky white mouse on every page. The tactile elements are always high quality and the bright, graphic illustrations are ideal for engaging for little ones.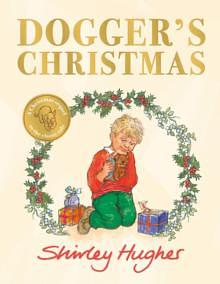 Shirley Hughes
Dogger's Christmas
Fans of the original Dogger story will love this charming sequel complete with carol singers, tree decorating...and toys! Dave is so excited about his new Christmas presents he doesn't notice his beloved Dogger is missing (again!). Can he find him before it's too late? A traditional, uplifting story for children of all ages.