Looking for all Articles by Eve Ainsworth?
Football's Forgotten Legends: Writing about the Dick, Kerr Ladies
Author Eve Ainsworth writes about the Dick, Kerr Ladies football team and shares her top tips for writing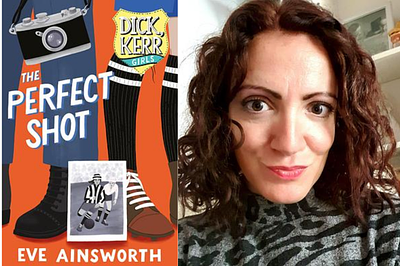 Author of Kicking Off and The Perfect Shot, Eve Ainsworth, shares her passion for writing about the history of women's football, as well as her top writing tips.
The Dick, Kerr Ladies football team
It's always particularly special to write something you care about. So, to be given the opportunity to tell the story of the Dick, Kerr Ladies football team was a dream come true for me. These women represented some of my main passions – football, working class values, strong females coming together, and the value of friendship.
This team was born in 1917 when women were encouraged to work in munitions factories during World War I. A group of like-minded women were working together in the Dick, Kerr factory and formed strong friendships. During this time, women were actively encouraged to exercise and keep fit, as the work was mentally and physically demanding – so, at lunchtimes, they would play small games of football. Many of the women had picked up skills from their brothers or friends from the street and were soon able to show that they had ability of their own. It wasn't long before they caught the eye of one of the factory's managers – Alfred Frankland. Noticing the talent and skill being played out in front of him, he decided to set up a team. The Dick, Kerr Ladies football team was born!
Mr Frankland arranged for the team to play against other ladies' teams in the area. Expectation wasn't high at the time, but no one should have underestimated these women. They soon drew in huge crowds and raised significant amounts of money for injured soldiers. During quite a bleak and desperate period in British history, this team set their local community alight with hope and pride. The wonder of sport was once again bringing people together. Of course, there were many objectors. Women's equality was still in the shadows and the suffragettes were still campaigning. It was argued that women shouldn't be taking part in sport at all – that it was shameful and shocking, and most puzzling of all, that it was 'damaging to the woman's body.' The Dick, Kerr team rose above these objections. All they wanted to do was play!
These women didn't just play amazing, skilful football – they also continued to raise thousands of pounds for charity, command impressive gate sizes and were able to tour the world playing other emerging and talented women's teams. The world was beginning to open up for the Dick, Kerr Ladies and other women's teams forming towards the end of World War I and the years shortly after. Who knows where they, or indeed women's football, might be today if in 1921 the FA hadn't banned women's football.
1921 changed everything. The FA decided to ban women from playing football on FA approved grounds. The reasons stated were surrounding concerns for 'women's health' and the appropriateness of women playing the game – but many privately considered the FA's decision to be far simpler. Women's football was becoming too popular and was posing a risk to the men's game. A ban was a simple way of fixing the problem. This ban stayed in place for 50 years (yes, 50!) and is the reason why women's football has been held back for so long. Can you imagine if the men's game had suffered a similar fate? It was an awful, criminal decision.
Although disheartened by the ban, the Dick, Kerr Ladies refused to give up and their legacy must never be forgotten. It is their resilience and sheer determination that inspired me and so many others. I want new, young readers to learn the early journey of the Dick, Kerr women and see that opportunity and success is possible, even if barriers are placed in the way. The secret is to keep believing!
My top tips for writing
(These tips could also be applied to football!)
Have determination

– believe in yourself always. You are your best promoter. Don't let self-doubt get in your way. If you believe in yourself, others will believe in you too.

Have resilience

– don't give up! Sometimes writing (or sport!) can be hard. You need to keep going. Do a little bit every day.

The power of friendship

– surround yourself with like-minded people. The Dick, Kerr Ladies had each other. Find other writers online or in writing groups. Share your work.

Keep practising!

The more writing (or football!) you do the better you will become.

Enjoy it!