Looking for all Articles by Nadine Aisha Jassat?
How I wrote a novel in verse
Award-winning novellist and poet Nadine Aisha Jassat shares the lessons she uncovered writing her debut novel.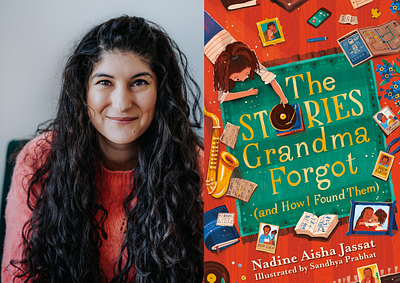 I'd known for a long time that I wanted to write my debut novel The Stories Grandma Forgot (And How I Found Them): a book about a young, mixed girl, and her relationship with her grandmother with Alzheimer's. Both of these themes were very close to my heart, and so I set out to write the book, beginning it in prose. And while what I wrote was beautiful – I would often hesitate, or worry over how to go from one plot point to another. I didn't feel the natural flow I'd felt elsewhere when writing, in both poetry and prose.
Then, I heard Dean Atta, author of The Black Flamingo and Only on the Weekends, speaking about the process of writing a novel in verse. Dean made me think: What if I sit down and try it? Just a few lines, I told myself. Then, a few stanzas. Then, a whole chapter. Before I knew it, I was hooked.
Finding freedom in writing in verse
Writing in verse felt like flying. It was freedom. It felt like, truly, being myself. I was able to embrace all the yearnings for storytelling and character that I'd had in my writing before this, both in my short stories and poetry, while also exploring new challenges, like bringing together a page turning plot. I was able to bring to the page one of my absolute favourite things about poetry – the distillation of emotion, imagery, and meaning in the smallest of moments or details. And I was able to do so while creating a whole new world, and characters, and story: while writing a novel.
That's not to say that a poetry collection can't do any of these things, nor a novel written in prose. They can, and many do. But for me, writing a novel in verse was like finally unlocking a part of myself, and my craft – and, importantly, it was how the story wanted to be told. Ultimately, it released a feeling of joy, freedom, and permission to tell stories in exactly my own way.
What writing a novel in verse has taught me
Here are a few of the things I learned along the way.
There's great potential simply in the act of trying something new
Whether you're a prose writer who has never written poetry, or a poet who has never written prose, trying something new could give you a whole new perspective.
Find and follow what feels right for you
Sometimes, connecting with your writing – or indeed, what should happen next in a story – can be as simple as considering what would feel good to write next, what would feel fun, or exciting, to you. What feels right for you may be different at different times in your writing journey, but if ever you don't know where to go or how to begin, simply asking yourself: 'What would feel good to write next?' could be an interesting place to start.
You don't have to stick inside the lines
There's no one way of being a writer, or writing a book. Instead, embrace the different elements that you're interested in. There are so many amazing creatives doing just this: Nikita Gill writes novels in verse and illustrates them herself, Iona Lee combines poetry and visual art, and Safiya Kamaria Kinshasa combines dance, poetry and storytelling both in her live performances, and on the page. Check them out!
Now I'm working on my second novel in verse, I'm so excited to see where my craft and my love of stories and poetry will take me – and whether the stories I have to tell in future will want to be told in verse novels, poetry, prose, or something else entirely. I'm excited for you to have the same journey, and see where your talent and passion takes you.
Find out more about Nadine' upcoming Authors Live event on Thursday 9 November.