Looking for more in BookWeekScotland or Scotland's Stories?
About the Book Week Scotland book
Every year, to celebrate Book Week Scotland, Scottish Book Trust produces a free book, made up of true stories from people all over Scotland.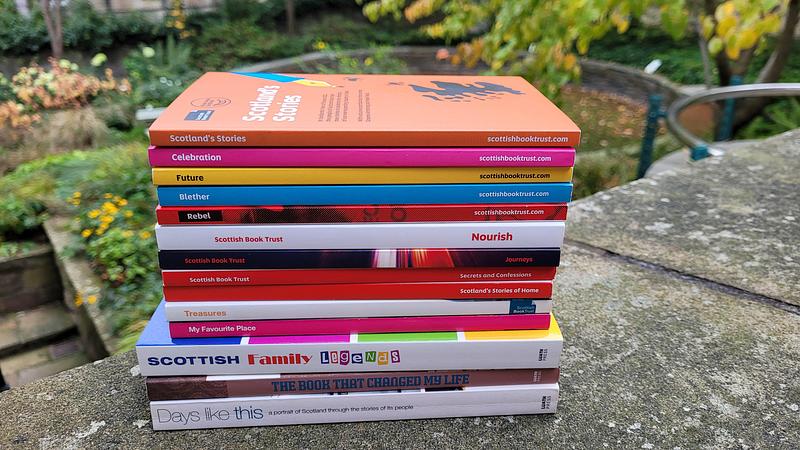 The book is distributed around libraries, arts venues, bookshops and schools around the country, to help encourage a love of reading.
Encouraging writing and storytelling
The book begins earlier in the year, through our Scotland's Stories writing project. Scotland's Stories encourages people to submit their true, personal stories, inspired by a particular theme. It's a project for everyone: from those who write regularly to someone that's never picked up a pen. We believe everyone has a story to tell and that telling that story can be a powerful, transformative experience.
This year's book
This year's theme is Adventure and we are excited to see the types of stories that people have been inspired to write! A small number of our favourites will be selected for publication in the free book distributed in time for Book Week Scotland 2023 (13-19 November).
Submissions are currently closed.
Don't miss out!
Sign up to receive reminder emails when the books are available to order or when submissions open for Scotland's Stories.
Celebrating Scotland's Stories in Book Week Scotland
The book is one of the easiest ways for people to engage with Book Week Scotland and has been beloved by our partners for years. We are indebted to the hundreds of gifters that spread the book far and wide throughout the week, sharing them with friends, family and colleagues, and connecting readers to a multitude of perspectives and memories.
This year we'll be sending 70,000 copies of Adventure around the country to celebrate Book Week Scotland 2023 (13-19 November). The books will be available to order in early July so if you'd like to help us get it into as many hands as possible please check back here then.
Previous Book Week Scotland books