Looking for more in BookWeekScotland?
About the Book Week Scotland book
Every year, to celebrate Book Week Scotland, Scottish Book Trust produces a free book, made up of true stories from people all over Scotland.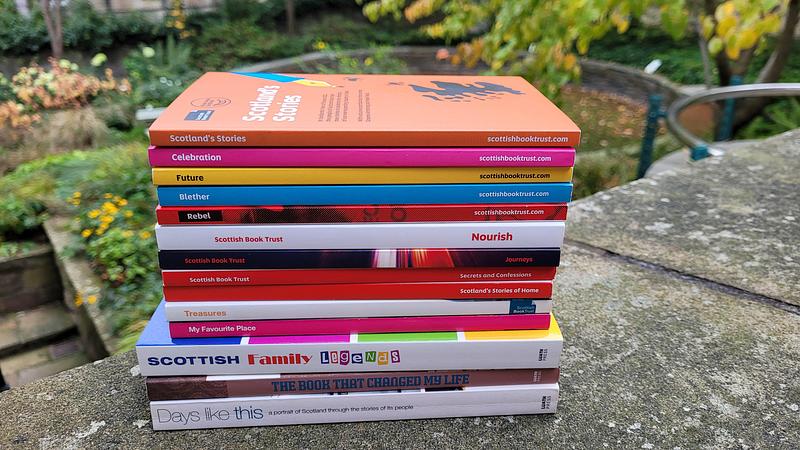 The book is distributed around libraries, arts venues, bookshops and schools all over the country, to help encourage a love of reading.
Encouraging writing and storytelling
The book begins earlier in the year, through our Your Stories(this will open in a new window) writing project. Your Stories encourages people to submit their true, personal stories, inspired by a particular theme. It's a project for everyone: from those who write regularly to someone that's never picked up a pen. We believe everyone has a story to tell and that telling that story can be a powerful, transformative experience.
This year's book
In 2022, our theme was Scotland's Stories and we received hundreds of wonderful stories(this will open in a new window) from the public. 25 pieces were then selected for publication in the final collection distributed around libraries, arts venues, bookshops and schools all over the country in time for Book Week Scotland 2022 (14-20 November).
We are very proud of this year's collection and were delighted share these fantastic stories with the public. Whether it's the memory of picking berries in summer time surrounded by family, the transcendent joy of attending a ceilidh or a newly found family finding their feet in a foreign land, these pieces highlight the rich and varied tradition of storytelling in Scotland, paying tribute to the histories already written, and those still to be told.
Celebrating Your Stories in Book Week Scotland
The book is one of the easiest ways for people to engage with Book Week Scotland and has been beloved by our partners for years. We are indebted to the hundreds of gifters that spread the book far and wide throughout the week, sharing them with friends, family and colleagues, and connecting readers to a multitude of perspectives and memories. Help us spread a love of reading and order copies today!
(this will open in a new window)Order Scotland's Stories books
Read Scotland's Stories online and listen to the audiobook
Previous Book Week Scotland books