Looking for more in Writing and Authors or Live Literature?
Apply for Live Literature part-funded sessions
Apply now for our Live Literature programme and we'll pay over half the fees to run an author event in your local community.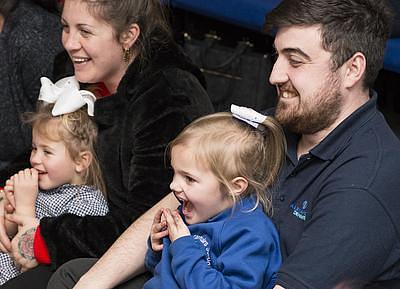 Are you a school, library, community group or not-for-profit organisation based in Scotland?
The current application window covers Live Literature events taking place before 31 March 2023. There will be a series of rolling deadlines throughout the year, up until our final deadline of 21 November 2022.
How it works
You contact an author from our Live Literature Author Directory to deliver an event or author visit in your local community. The team at Scottish Book Trust are available to help.
The set author fee is £175.

We will pay the author directly, covering half of the £175 fee plus all author expenses

within set guidelines. All you need to do is pay a set contribution of £75 plus VAT per author session, which Scottish Book Trust will send you an invoice for directly.
Events can take place

in person or remotely

, allowing you to be flexible when planning your Live Literature session.
How to apply
Create or log in to your Scottish Book Trust account

and complete our short form

(the form times out after 90 minutes, but you can either save a draft online or copy and paste the form into a document and work on it offline). We'll ask you what you intend to do, why you've chosen this type of event, and what you hope it will achieve.

Your application will be reviewed by a panel.

We'll send you the result of your application within two weeks of the next panel meeting.
The application form will be available throughout the year, but decisions will only be made at the scheduled panel meetings. Please see our key application dates below for more details. Our final deadline for applications is 21 November 2022.
Get in touch
For all enquiries, or if you need to make an application in a different way due to access reasons, please email live.literature@scottishbooktrust.com(this will open in a new window)