Looking for more in Reading and Stories or Bookbug?
Sharing songs, rhymes and stories before birth
It's never too early to start singing and sharing stories with your baby.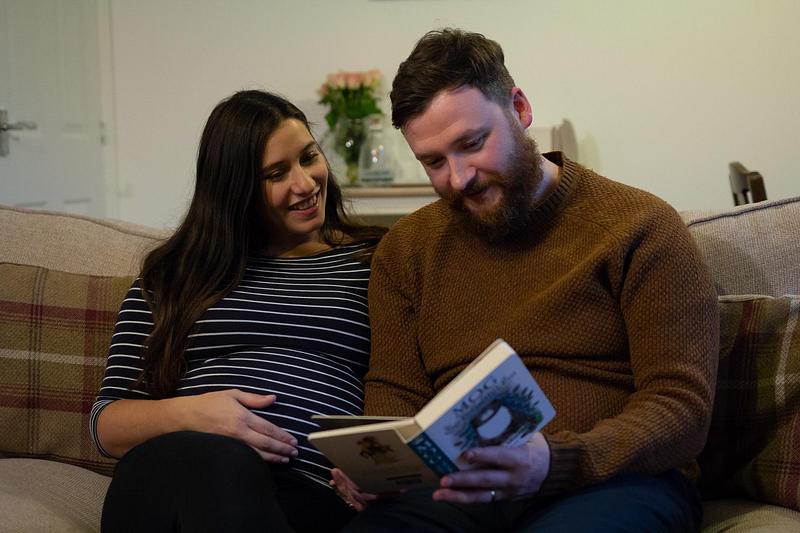 Babies can hear you from around 22 weeks of pregnancy, and hearing your voice helps build their bond with you. Sharing songs, rhymes and stories during pregnancy can be a lovely way to relax and get the whole family involved. It is a great way for mums, dads, siblings and other family members to start bonding with the baby.
Research has also shown that the way babies experience speech before birth has an impact on their language development. Babies learn language through hearing it, and even before birth, your baby is using speech, sound and rhythm to help them learn.
Getting started
Start with a chat: Talk to your baby about your day. Get used to talking aloud to your baby first and then try singing a song or saying a short rhyme.
Find a quiet space: Babies hear lots of sounds in the womb, so keeping other noise to a minimum helps them to hear your voice. Remember, your baby will be hearing their mother's heartbeat and other sounds as well as your voice
Pick a favourite: Choose a song, rhyme or a story that you like – it's much easier and more fun if you're enjoying it too. You could read the newspaper or a magazine, your favourite book whether it's fiction or non-fiction, or try singing your favourite song. Traditional children's songs and nursery rhymes are a great choice, but you can also sing other types of song if you prefer
Share rhymes with your baby: Rhythm and rhyme are easier for your baby to hear. Try a simple nursery rhyme such as Round and Round the Garden or read a rhyming story like Each Peach Pear Plum. Take a look at our Rhyming Books to Read to Bump book list for more ideas.
Watch and feel: You may notice that your baby is more active when they hear your voice. Try calming stories, songs or music when your baby is quiet, or at bedtime.
Make it a habit: Try to spend a few minutes every day singing, reading or talking to your baby.
Babies love repetition: Repeating songs, rhymes or stories will help your baby to become familiar with them
Keep it going: After your baby's birth, try a familiar song, rhyme or story. Babies remember what they heard in the womb, and hearing a something familiar can be soothing
Find new ideas
Visit the Bookbug Song and Rhyme Library or download Bookbug's Songs and Rhymes app to learn new songs and rhymes. You can also download the Bookbug Hello Bump! album, featuring songs, rhymes, instrumental music and a story.
Free books from Bookbug
Get started today with your free books from Bookbug in your Baby Box(this link will open in a new window).
After your baby is born