Looking for more in Reading and Stories or Bookbug Bags?
Bookbug Explorer Bag 2023: plan your gifting celebration!
Here are some handy hints and tips to prepare your gifting celebration and get everyone excited about receiving their brilliant new bag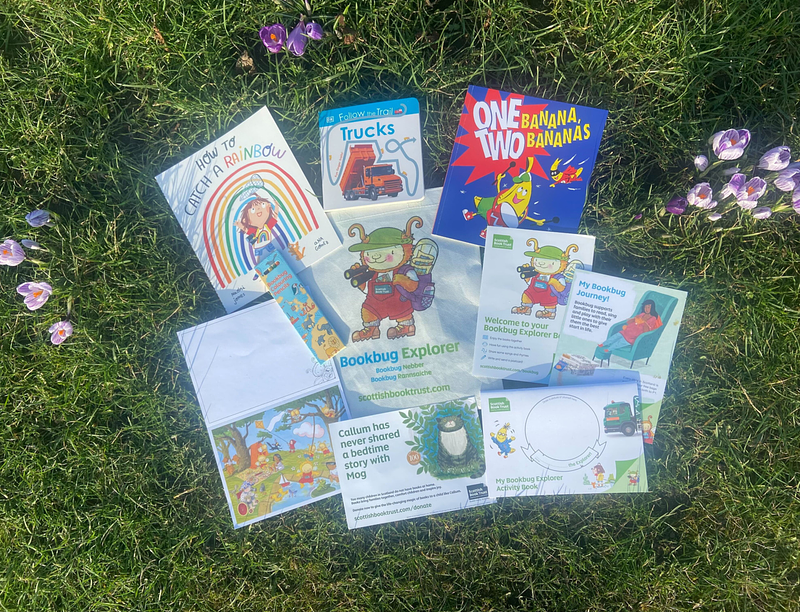 The Bookbug Explorer Bag contains books and materials to encourage families to read, talk, cuddle, and share songs and rhymes with their children.
If you work in a nursery setting, you will have received an Explorer resource pack to help you get the most out of gifting, but we've also pulled together some handy hints and tips that might inspire you.
Explorer resource kit
Find out more about each book and inspire curiosity and creativity with some fantastic activities in our Explorer resource kit.
The PDF resource was designed to be printed. If you require a digitally accessible version, please download the Word document.
Session plans
Try out our session plans to fit stories, songs and rhymes into your gifting celebration.
Symbol resources
CALL Scotland have created a pack of symbol resources to accompany each of the books in the Bookbug Explorer Bag, which can be used with pupils with additional support needs (ASN) and those with communication difficulties, as well as children with English as an additional language (EAL).
(this link will open in a new window)Discover symbolised resources for the Bookbug Explorer Bag
Quick tips for gifting the Bookbug Explorer Bag
Watch our short film from our in-house trainer Lindsay Finnie who gives some practical advice about bag gifting, including information on what's included in the Bookbug Explorer Bags, ideas for gifting the bags to the wee ones in your setting, and short activities linked to the books.
Bookbug Explorer Bag gifting webinar
Learn how to make the most of the Bookbug Explorer Bag in your setting!
Gifting an Explorer Bag in mixed age settings
Read our hints and tips for gifting in a mixed age setting.
Getting more bags
Need more bags? Contact your local Bookbug Co-ordinator.
2022 Explorer Bags
Looking for more information on last year's bags? You can still access all of our guides, resources and videos.