Looking for more in Learning resources?
Bookbug Session Plans: One Banana, Two Bananas
Learning type:
Professional learning
Category:
Author/book resource, Talking and listening
A fun Bookbug session to celebrate One Banana, Two Bananas by Adam and Charlotte Guillain and illustrated by Sam Lloyd, one of the fabulous books in our Bookbug Explorer Bag for 2023! This session is all about counting, romping rhymes, and food-based songs with a whole lot of silliness for children and grown-ups.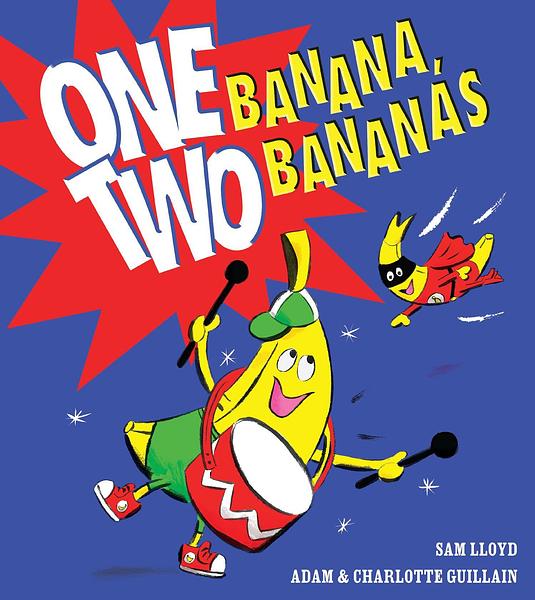 Introduction song
Benefits
Familiar start – lets everyone know a Bookbug session has started.
Tips
Smile and use the names of the children. Clap or tap along to the beat and use signs if you know them. You can also use Makaton to support The Hello Song.
Familiar rhyme
Benefits
The steady beat and strong rhythm of this rhyme is great for supporting children's pre-literacy skills.
Tips
Change the words to say your child's name at the end. Can they do the same with a friend's name? Sing slowly and clearly so children can join in the rhyme and do the actions too. You can clap along or tap on your knees. Then, see if they can say the rhyme faster and faster!
Active rhyme
One Potato, Two Potato, Three Potato, Four
Benefits
Encourages gross motor skills. Hold your hands out in front of you and make two fists. Put one fist on top of the other for 'one potato'. For 'two potatoes', keep the top fist in the same position and bring the bottom fist up and plonk it on top. Keep doing this so that your fists are climbing higher all the time. This rhyme is also great for counting in a fun way – repeat several times!
Tips
In a circle, everyone sits or stands holding one or two hands before them as a fist. One child is chosen to go around the circle, touching the top of each fist with their own as the group chants 'one potato, two potato. . .' etc. When the chant reaches 'more. . .' the fist that is touched is 'out'. This hand goes behind the child's back and the rhyme restarts, continuing until only one fist remains. Last one in becomes the leader or 'it'. Repeat but with different words, e.g. 'if you want a cuddly friend', 'if you want a tickly friend'.
Song with actions
Benefits
An upbeat fun, silly song with lots of opportunity for movement and dance.
Tips
This is a great way to introduce snack time. Say the rhyme while you peel a banana! Make up new words and actions. Try: 'bananas up, bananas down', 'bananas in (move into a circle), bananas out'. You could also change go bananas to 'jump bananas, jump, jump bananas. . .', 'hop bananas, hop, hop bananas. . .'
Book
One Banana, Two Bananas by Adam and Charlotte Guillain and Sam Lloyd
Benefits
Help your wee one to count to ten in this hilarious rhyming picture book. With a catchy counting rhythm and a whole lot of silliness, this is a great way to help children learn to count to ten in a fun, accessible way.
Tips
One Banana, Two Bananas is a catchy rhyming book with lots of interaction – little people can join in the rhyme and predict what comes next. This book can also help to promote healthy eating. Are there any other food songs and rhymes you know?
Active songs
Benefits
There are lots of opportunity for movement and imaginary play pretending to be a tree.
Tips
Facing your child with them on your lap, try using your fingers as the 'apples' then encourage your little one to use their hands too. Little people can reach up tall and move their arms, hands and bodies as the wind blows the branches and leaves. They can crouch down as the apples fall from the tree and count them as they pick them up from the ground and put them into an imaginary box. You can change the fruit to pears, oranges, plums etc.
Benefits
Encourages face-to-face interaction with your child, promoting facial expressions, emotions, strong eye contact and mimicking.
Tips
You could sit in a circle and everyone hold hands and row together. In groups of three, two people can make a boat and one person can go in the middle to be the passenger.
Lullaby/calming song
Benefits
A familiar song which is soothing and relaxing. Plenty of opportunity for cuddles and promotes bonding between children and their grown-ups.
Tips
Grown-ups can rock or gently swing their child while making the sound of the sea or the waves.
Last song
Benefits
Brings the session to a clear end.
Tips
Thank all of the children and grown-ups for coming. Give them any information they need about the next session.
Please read our guide on permission to read books aloud online(this link will open in a new window).
This book was included in the 2023 Bookbug Explorer bag. If you will be gifting this bag to children in your setting, check out our tips for planning a gifting celebration(this link will open in a new window).