Live Literature, the Scotland-wide programme that helps fund and support author events in communities all over the country, is turning 50 and we'd love for you to help us celebrate.
Do you have a story about a Live Litertaure event from years gone by? A funny memory or a touching moment? Whether it's an event, a school residency or something that took place before Scottish Book Trust got involved, we'd love to hear all about it!
(this link will open in a new window)Share your memories – authors
(this link will open in a new window)Share your memories – organisers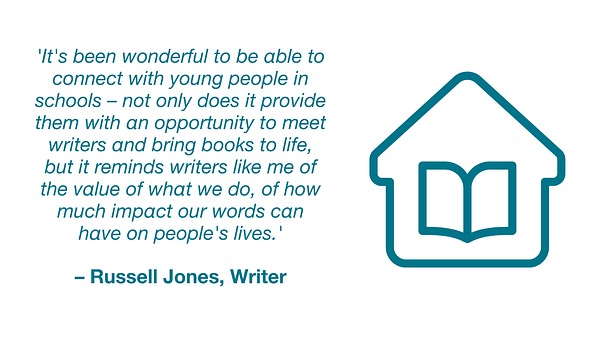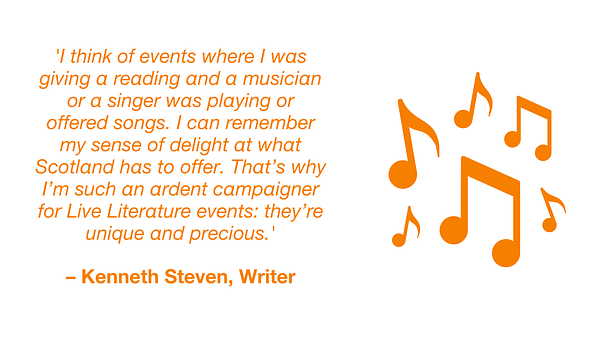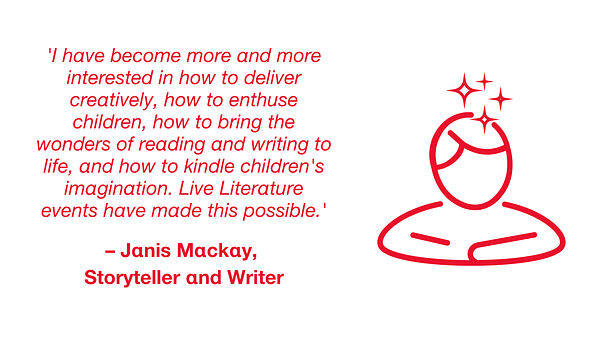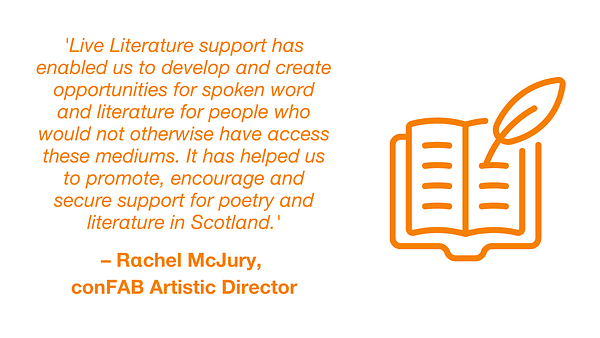 What Live Literature does today
Live Literature supports author visits across Scotland, bringing the magic of reading and writing to over 16,000 people each year. It has allowed authors, storytellers, poets and other creative professionals to meet audiences and deliver events in a wide variety of settings.
How Live Literature started
While Live Literature didn't pick up its name until much later, the programme's start stretches all the way back to the late 60s.
1968–70: Scottish Arts Council's Literature Committee provides ad-hoc funding for poetry readings
1970: Building from this, the Committee shows an interest in a Writers in Schools programme run in England by the Arts Council of Great Britain
1971: Pilot for Writers in Schools programme is run in Scotland, providing writers a set fee of £15 for a single visit, plus expenses
1972: Following the success of this pilot, Writers in Schools is rolled out nationally. Education authorities and schools are sent a leaflet which includes programme details; a list of available writers and their published work; some potential topics for their talks. Scottish Arts Council will reclaim 50% of writer fees for education authorities
1976: Writers in Schools was expanded to include a Writers' Directory
Live Literature in recent years
While the programme has held the same goals and ideals from the start, we're constantly looking for ways to help it grow and reach as many people as possible. For example, in 2015 we launched the Schools Residencies progamme, offering schools the chance to work with an author for a year on one project.
In 2019, we revamped the author directory to include more details of author work and links to websites and we're always looking for ways to expand Live Literature where we can. For example, the introduction of our ASN School Residencies has grown into our Sensory Storytelling programme(this link will open in a new window).
We're also just about to run our first Live Literature Coffee Morning, where we'll provide a friendly space to chat and catch up as well as topics for discussion.
Live Literature applications open now
Interested in running a Live Literature event or Schools Residency? Applications are open now.
(this link will open in a new window)School residencies (this link will open in a new window)Part-funded Live Literature sessions