Looking for more in Support Us?
About our Christmas Appeal
Too many children in Scotland do not have books at home. Books bring families together, comfort children and inspire joy.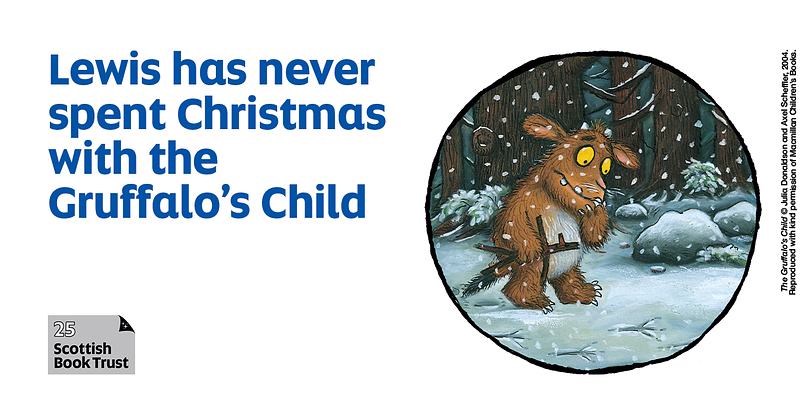 'One refugee family were so delighted. They had nothing, but this has meant their boys had books' – Learning professional
According to a recent report by the Scottish Government, the need for food banks has continued to grow in Scotland, rising 30% between April 2022 and March this year, compared to the same period in 2021–22. New data from the Joseph Rowntree Foundation reports that over a million people in Scotland are living in poverty, around a quarter of whom are children.
Books help families bond, bring joy and comfort, give children a sense of escapism and, importantly, improve their mental health and wellbeing. In 2021, our research revealed that 85% of parents from Scotland's most deprived areas said that reading helps them bond with their child and that reading makes their children happy, while 95% of parents from all areas in Scotland said they think it is important for children to own their own books.
Marking its 25th anniversary this year, Scottish Book Trust works to tackle inequality and break the poverty cycle through access to books and reading. Since 2020, Scottish Book Trust has distributed over 290,000 books to children and families in need through food banks, community hubs and other charities across Scotland.
Julia Donaldson, Axel Scheffler and Macmillan Children's Books have given the charity kind permission to use illustrations from The Gruffalo's Child to help support and raise awareness of the charity's Christmas appeal.
As the cost-of-living crisis escalates, more children and families will go without, and they need our support. That's why we are undertaking a fundraising campaign to ensure everyone in Scotland has equal access to books.
Where does my donation go?
All funds raised will enable Scottish Book Trust to deliver more life-changing work. In addition to the funding we receive from the Scottish Government and Creative Scotland, we need the support of trusts and foundations, corporate sponsors and individuals.
Every donation will make a difference to children and adults in Scotland. Here's what your support can do:
You understand the huge difference having books makes to children every day in so many ways. Will you donate today and give the life-changing magic of books to a child like Lewis?