Looking for more in Reading and Stories?
Reading is Caring
Reading is Caring uses shared reading to support people living with dementia and those who care for them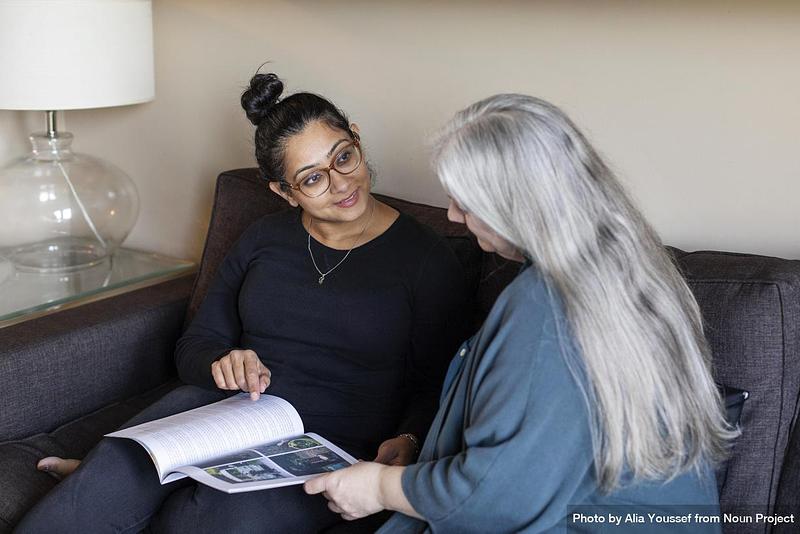 Reading is Caring is a new programme supporting people living with dementia and those who care for them (professional carers and family care partners) through shared reading workshops.
There are an estimated 90,000 people with dementia in Scotland. Around two-thirds are living at home at any one time, with the remainder in acute or residential care. Sharing books and stories can help care partners make strong connections with people living with dementia and bring positive mental health and wellbeing benefits to everyone involved.
This project is currently running in the Scottish Borders, with ongoing research and evaluation. We hope a wider roll-out of workshops across Scotland will be possible.
It was as if when we read together, she was lost with me in the story, and we then talk about the story as if her dementia was no longer there
Get involved
We are currently offering free online workshops for care partners in the Scottish Borders. These workshops equip care partners (both professional carers and family care partners) with the knowledge and tools needed to undertake shared reading with someone living with dementia.
If you live in the Scottish Borders and care for someone living with dementia, please get in touch with Koren Calder, Reading Communities Outreach Manager, by emailing koren.calder@scottishbooktrust.com(this will open in a new window).
(this will open in a new window)Get in touch
Workshops
Our workshops currently take place online in small groups. However, we have a flexible schedule and can arrange sessions to suit your circumstances. Please get in touch for more information on our latest workshop dates(this will open in a new window).
We take the personal life experiences and preferences of the person you are reading with into account to tailor sessions and help you build relevant skills and confidence.
A Reading is Caring Handbook and Reading Diary will also be sent to all those who sign up, in the post. These books accompany the workshops and can be worked through alongside the real-time delivery. They have been designed to enable care partners to tailor the Reading is Caring programme to their individual requirements and circumstances and capture progress at the same time.
[The content] opened up a whole new line of ideas and techniques for me to help support my mother (who is living with dementia in a care home setting) and help her have better, positive, emotional memories
Why shared reading?
Reading books and stories together provides stimulation for people living with dementia. It allows them to reflect on their life experiences through memories or emotions evoked by what they are reading and contribute in a meaningful way.
Reading is Caring teaches care partners how to share stories and create their own life story book box. This includes learning how to select and tailor reading to enjoy together with the person they care for, as well as gathering pictures, objects and other sensory triggers to complement the reading.
Shared reading can then be used as a way to give enjoyment and comfort to the person living with dementia and their care partner. Using the life story boxes can help relieve stress, evoke positive memories, build connections, and maintain loving relationships. If they have been trained, multiple family members and any professional carers can use Reading is Caring, which helps the person living with dementia to enjoy a consistent, connective experience in all of their main relationships.
I have been reading to my dad for a while now since he lost the ability to read for himself. We share so many interests, particularly around nature, birds and wildlife, and I really find that through books we can enjoy continuing long held shared interests
Our supporters
Reading is Caring is generously supported by funders, including trusts and private individuals, and we thank them for their help.
Better World Books
McCarthy Stone Foundation
The D'Oyly Carte Charitable Trust
The DWF Foundation
The William Syson Foundation