Looking for more in Reading and Stories?
Reading is Caring
Reading is Caring uses reading to support people living with dementia and anyone who cares for them
If you live in the Scottish Borders, Edinburgh or the Lothians, you can sign-up for free online workshops now by emailing readingiscaring@scottishbooktrust.com(this will open in a new window)
It was as if when we read together, she was lost with me in the story, and we then talk about the story as if her dementia was no longer there.
Reading is Caring trains people who care for someone living with dementia – including partners, friends, family members and professional carers – to create personalised, shared and sensory reading experiences through free workshops that can help maintain their caring relationships, spark memories and relieve stress.
These workshops provide the knowledge and tools needed to share reading with someone living with dementia. Now in its third year, Reading is Caring has been proven to provide a consistent, connective activity for family, friends and professional carers to use at every stage of the dementia journey.
In one-on-one and small group workshops, our team explores the experiences and interests of you and the person you care for to tailor sessions and build your confidence. Together, you'll develop storytelling skills and gather specific reading materials, pictures, objects and other sensory items to share.
I have been reading to my dad for a while now since he lost the ability to read for himself. We share so many interests, particularly around nature, birds and wildlife, and I really find that through books we can enjoy continuing long held shared interests.
Get involved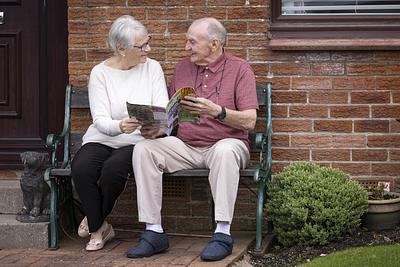 We have a flexible schedule, can arrange sessions to suit your unique circumstances and provide support to cover the costs of care so you can take part. Please get in touch for more information on our latest workshop dates (listed below) and how we can help. Due to our current level of funding and staff resource, Reading is Caring takes place in one area at a time.
Reading is Caring is for partners, family members, friends and carers of people living with dementia, so there are currently no opportunities for volunteers.
Want to learn more about the workshops before taking part? Check out our Reading is Caring FAQ.
Workshop dates
Half-day online workshop dates
Reading is Caring workshops are taking place online at the following times and dates. You must attend Workshop 1 before attending Workshop 2.
You can select a combination of dates that suit you across the following months. The initials included beside workshop times below indicate which trainer will be leading the session – Koren (KC) or Keira (KOS). It is recommended, but not mandatory, that you sign up for Workshop 1 and Workshop 2 with the same trainer.
Hour-long library workshops
We also offer six free Reading is Caring workshops in certain libraries to learn about our personalised reading support package. The workshops are structured for you to attend all six, or drop in to those you can. You can drop in on the day, enquire in the library or email readingiscaring@scottishbooktrust.com(this will open in a new window) for more information.
I was reading to her from a book we had a shared history with and holding her hand as she died. I think it helped. Even towards the end when she couldn't speak or open her eyes but was peaceful, we would get a raised eyebrow or twitch of the lip in response to poems and texts she knew and loved.
Our supporters
We can only continue to deliver Reading is Caring with the support of our generous funders, including trusts and foundations, private groups and people like you.
If you'd like to help Reading is Caring reach more people across Scotland, please donate to Scottish Book Trust.
Better World Books
The D'Oyly Carte Charitable Trust
The DWF Foundation
The William Syson Foundation