Looking for more in Reading and Stories or Bookbug?
Bookbug Session guidelines for early years settings
Everything you need to know about running a Bookbug Session in your early years setting.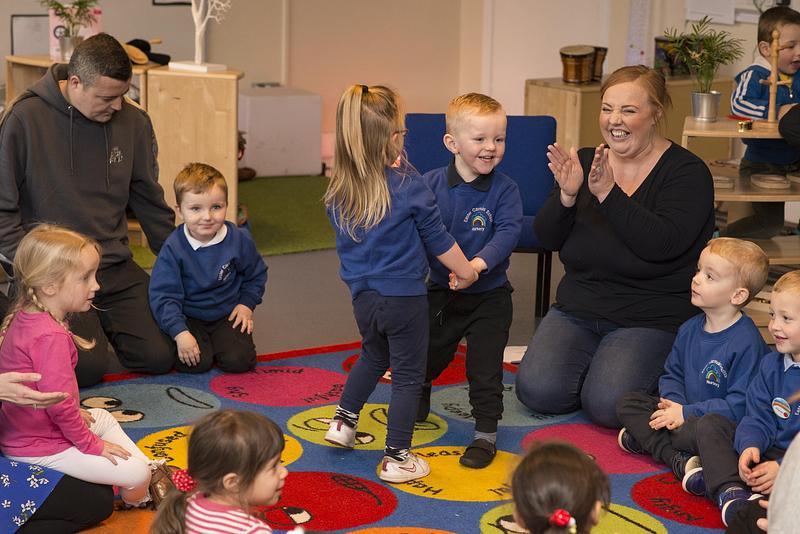 Bookbug Sessions are a great way to engage mums, dads and carers in a nursery or early years setting. They build relationships with families, strengthen the links between learning at nursery and home and help promote how stories, songs and rhymes support children's brain development (emotional, thinking, language and literacy skills) with parents and carers.
A Bookbug Session held in an early years setting may differ slightly from a community Bookbug Session. Here are some things to consider when planning.
Who can run a Bookbug Session?
Bookbug Sessions should always be led by a trained Bookbug Session Leader who has completed Bookbug Session Leader training, and all Bookbug Session Leaders should abide by the Bookbug Session Leader agreement. If you are running a Bookbug Session in your nursery, please let your local Bookbug Co-ordinator know.
Including mums, dads and carers
Bookbug Sessions are primarily aimed at families, so think about how you will invite parents and carers to join in with your Bookbug Session.
We know that it might not be possible for every child to have a parent or carer present. Even if a child's parent or carer is unable to attend, all children should have the opportunity to participate in the Bookbug Session.
Do not be discouraged if parents and carers aren't able to attend or don't immediately get involved – keep reminding them or try having one or two Bookbug Sessions as part of a bigger special event to engage them. It may take time to establish your Bookbug Session. Here are some ways to encourage family participation:
Include a Bookbug Session as part of your Bookbug Explorer Bag gifting event.
Run an intergenerational Bookbug Session by inviting grandparents and working with local care homes to join in the fun.
Run sessions that incorporate songs, rhymes and stories in different languages.
Share photos on your early years setting's social media or sharing platform to let families see what happens at sessions.
Share the list of songs and rhymes for families to discuss with their child at home.
If parents can't attend, signpost families to online and local library Bookbug Sessions.
Adapting the Bookbug Session when a parent or carer can't attend
Interaction and participation are at the core of all Bookbug Sessions. You may need to think carefully about which songs and rhymes you include and how you could adapt the activity for children who do not have a parent or carer with them.
If children do not have a parent or carer present, they could:
Join in with a nursery staff member
Work together with partners or small groups
Use a teddy or doll – allow children to take on the responsibility of being the 'adult role'
Alternatively, you could choose songs and rhymes that don't require a partner. Some partner games and activities work well if you put the group into a big circle and encourage everyone to work together. Try games like Cross, Cross, Line, Line where everyone can sit in a circle and trace on the person in front of them. Other circle games like Ring o' Roses and Zoom Zoom Zoom are great ways to get people moving that don't require a partner.
Making your Bookbug Session open to the public
Please consider making your Bookbug Sessions open to the wider community, not just families that attend your setting. Many early years settings have had great success in engaging wider communities and you will be providing a valuable opportunity for all families to share in song, rhymes and stories. It will also allow children that may be attending your early years setting in future to become familiar with your setting.
Planning your Bookbug Session
Here are some things to think about:
A suitable space:

Adults and children should be able to sit in a circle together and have space to move around.

Advertising your session

: We have Bookbug Session posters available to advertise your session. You can download Bookbug Session posters

(this link will open in a new window)

(part of the Bookbug posters and leaflets bundle) or get some from your local Bookbug Co-ordinator

(this link will open in a new window)

. Display the posters where parents can see them, or pass them to parents as you tell them about the session or advertise the session to parents digitally through social media or your sharing network. You could also work with the children to design an invitation to send home. A template letter is available to download below to help you tell parents about the Bookbug Session.

Time and Frequency of Bookbug Sessions:

Think about how frequently you'd like to have your Bookbug Session. Try different days and times as a way of engaging more families and making sure that all children who attend your nursery have an opportunity to participate in a Bookbug Session. Try running your sessions at drop-off or pick-up time so that more parents can get involved.

Plan a taster Bookbug Session at induction:

If parents are attending an induction, could you include a short Bookbug Session as part of this? It would be a great way to get to know your families. You can also let parents know that Bookbug Sessions will be happening in early years settings and how you will let them know about the upcoming Bookbug Sessions.

Recording numbers:

Scottish Book Trust needs to know how many Bookbug Sessions you run in your setting and how many adults and children attend. This information is crucial for reporting to funders. Please think about how you will collect and record this information after each session so that it can be easily given to Scottish Book Trust. Please keep the Bookbug Session Leader's email address up to date with Scottish Book Trust so we can email them quarterly to collect this information.

Local Bookbug Co-ordinator:

If you are running a Bookbug Session in your nursery,

please let your

Bookbug Co-ordinator

know.

This is important to make sure that they can keep you up to date with any local or national programme updates. They may also be able to provide you with additional stickers!