Looking for more in Reading and Stories or Bookbug?
Bookbug Session Leader Training
Find course details, information on application dates and how to apply below.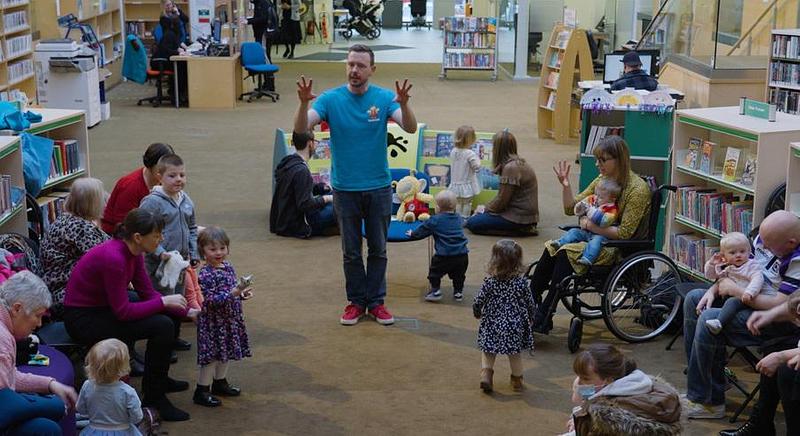 Bookbug Session Leader training is for those who plan to deliver Bookbug Sessions (free song, rhyme and book sessions) in libraries or other community venues with groups of children (0-5 years) with their mums, dads or carers. Our interactive training is a balance of practical exercises and researched-based theory about book sharing, music and child development.
Although delegates will participate in songs and rhymes in the group, delegates will not be asked to sing on their own.
Please note: if you are working to support individual families, Bookbug for the Home training might be more relevant to you.
If you have already attended Bookbug Session Leader training, and are looking for a refresher, please register for Bookbug Session Leader Refresher training.
Course details
The course offers a range of online or in-person learning opportunities for delegates to:
Build their understanding of the importance of songs, rhymes and stories for both children and families
Learn how to plan a Bookbug Session, selecting appropriate songs, rhymes and a story
Consider how to make their Bookbug Sessions welcoming, accessible and inclusive
Practise singing, rhyming and reading aloud
Identify ways to encourage families to sing, read and rhyme at home as part of their everyday routines
Cost
Funded at no cost for participants
Format
Online
11 hours, comprised of:
2 x 3.5 hour live interactive sessions, taking place online using either Zoom or MS Teams, a week apart. Attendance is required at both to complete Bookbug Session Leader training. There will be comfort breaks throughout each session.
3 hours of self-directed learning (1.5 hours of work before the first live session and 1.5 hours of work after the first live session.)
1 hour of post-training mentoring/support (optional)
In-person
9 hours, comprised of:
6 hour in-person training session
2 hours of self-directed learning before the in-person training course
1 hour of post-training mentoring/support (optional)
Eligiblity and how to apply
Due to high demand, places on Bookbug Session Leader training are awarded through an application process. Applicants must:
Be affiliated with an organisation, either as a staff member or volunteer, which will support the applicant to run Bookbug Sessions.
Plan to deliver regular Bookbug Sessions
Plan to deliver Bookbug Sessions to groups of children (0-5 years old) with their mums, dads or carers, not just to groups children by themselves.
Agree to abide by the Bookbug Session Leader Agreement
Be over 16
The online application form is completed through Eventbrite, and must be completed in one attempt. We therefore recommend that the applicant prepares answers to the questions before attempting to complete the online application form. You can download a copy of the questions below.
The application should only be completed by the prospective delegate. If you are awarded a place on a training course, this is not transferable to another member of staff - it is for the named person only.
What are we looking for in your application?
Your application will be judged on:
The eligibility criteria listed above
Indication of need: In order to ensure that our funded training places have the greatest impact, we want to know why the place is needed and who your Bookbug Sessions will engage. For instance, are you targeting families who are not currently reached by Bookbug Sessions? Are your Bookbug Sessions aimed at a specific need in your area?
Your local authority area: We aim to support Bookbug Sessions to reach as wide a range of people as possible and are spread throughout every local authority in Scotland.
The number of applications from one organisation: if we get multiple applications from one organisation/location, we may need to limit the number of spaces offered to that organisation. It is not currently possible to request an in-house Bookbug Session Leader training course.
Your commitment to start running Bookbug Sessions within 2 months of being trained
Upcoming training application periods
Applications are currently closed.
The next round of applications opens on Monday 5 June 2023.
Sign up for our regular Working with Bookbug(this will open in a new window) newsletter to be notified when the next round of applications are open.
Accessing online training sessions
If you have any questions or you need additional support with the application process, please contact the Bookbug team at bookbugtraining@scottishbooktrust.com(this will open in a new window) or 0131 524 0179.