Looking for more in Reading and Stories or Bookbug?
Promoting your Bookbug activities
Everything a Bookbug Session Leader needs to promote their events and activities, including logos and branding guidelines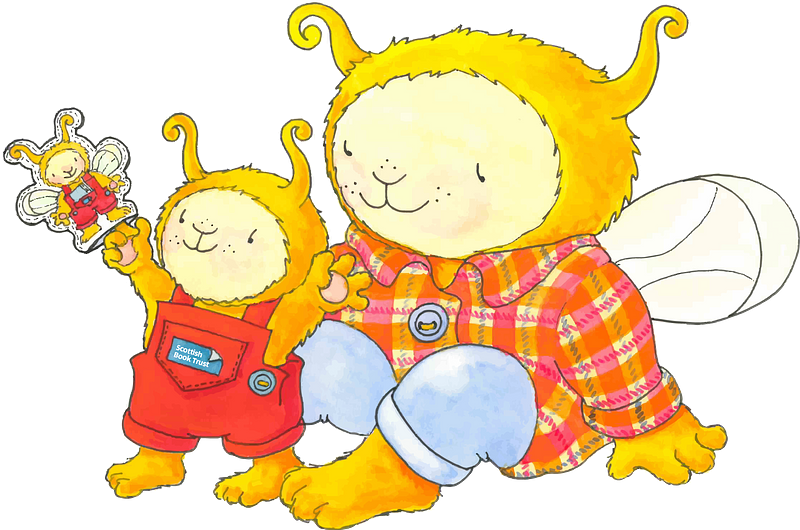 There are lots of resources available to help you promote Bookbug activities in your community. We have posters, leaflets, and lots of other resources to download at the bottom of the page.
Advertising
You can request free posters, flyers, leaflets and stickers to help you tell families about your Bookbug Sessions or events. Local Bookbug Co-ordinators receive these each year and you can contact them to ask for a supply of materials. You can also contact them to request to borrow a pop-up banner if you are holding an event. Find out who your local Bookbug Co-ordinator is here.(this link will open in a new window)
If you are on social media, please email yasmin.hackett@scottishbooktrust.com(this link will open in a new window) so we can make sure we're connected with you and share your updates. Join Bookbug's Facebook, Twitter and Instagram communities too to help us share information with you.
Branding
Branding is important in linking the key messages of the Bookbug programme, ensuring that mums, dads and carers connect Bookbug Bags with Bookbug Sessions and reading with their children.
Using Bookbug branding will deepen the impact of your local programme by reinforcing Scottish Book Trust's messaging about the importance of sharing stories, songs and rhymes.
The key elements of the Bookbug brand are:
The Bookbug logo
Bookbug Bags
Bookbug Sessions
Bookbug's Library Challenge
The Bookbug costume
Logos and images
You can download the Bookbug and Scottish Book Trust logos for your local resources and website at the bottom of the page. For all communications and advertising materials please use both the main Bookbug logo and the Scottish Book Trust logo.
The logos for the different Bookbug ages (Baby, Toddler and Explorer) are also included, but if you are unsure which to use, the main logo can be used across any materials. Before using the logos, please read our branding guidelines.
You can also download images of the Bookbug Bags and contents to use on your own promotional materials.
Please remember that Bookbug is funded by the Scottish Government and the Bookbug brand cannot be used to promote commercial, political or religious interests. If you have any questions about how and when you can use Bookbug please contact bookbug@scottishbooktrust.com(this link will open in a new window).
Bookbug Sessions cannot be charged for, or held in places which are only accessible by parents paying a fee. You cannot request or recommend that families make a donation to attend a group where a Bookbug Session is taking place. For information about why this is important please read our statement(this link will open in a new window).
Creating your own materials
If you wish to produce any printed or online marketing materials of your own, here are some brand guidelines to help you produce items that fit Bookbug's brand identity:
Use a clear, large font for accessibility. We recommend Arial in font size 12 minimum.
The word Bookbug should always have a capital letter and appear as

one

word. It should only ever be one single colour, preferably black or Pantone colour 638 C.
If you would like any further help with creating print or digital marketing materials, or to check any of your materials with us for our branding, please contact emma.dunn@scottishbooktrust.com(this link will open in a new window).
Bookbug costume
The Bookbug mascot costume is available to borrow for special events and activities, including Explorer or P1 Bag gifting events. The costume is very popular with both adults and children and is useful for promotional photographs. To find out about borrowing the costume in your area, please contact your local Bookbug Co-ordinator. Please note that demand is high during Bookbug Week and Book Week Scotland.
Press
Scottish Book Trust's marketing and publicity team can support in promoting your Bookbug activity, including local press coverage and social media. For special events like Bookbug Week we can also provide a local press release template that you can use. You may need to liaise with your local council press office about the best time to send this out, and who to send it to. If you would like help with local coverage, please contact abi.baross@scottishbooktrust.com(this link will open in a new window).