Looking for all Articles by Éadaoín Lynch?
Why libraries are important: The social impact of funding cuts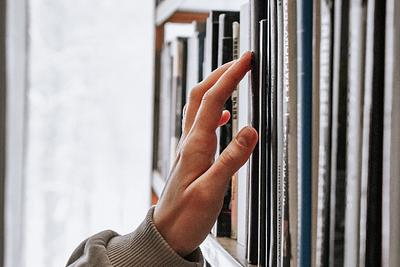 Scotland has a proud history of public libraries, going back to 1883 and the foundation of the first Carnegie library in the world, in Dunfermline. (It's still open today, and runs regular Bookbug sessions!)
But the library sector has been facing enormous challenges over the last 15 years, and particularly since the beginning of the Covid pandemic. Scottish Book Trust has undertaken independent research to establish the ongoing impact of our public libraries, and to showcase their immense value as a public service.
Where libraries succeed
While undertaking Reading in Scotland research(this link will open in a new window) (2022), Scottish Book Trust found many people who rely on, and love, their local library:
It is ESSENTIAL that a free well-stocked library is readily available for everyone.
According to the same study, 75% of people used the library to get print books for themselves, before the lockdown, and 94% of those with children used the library to get print books for them.
Libraries of course offer access to books for free, but they also offer unique opportunities for their community.
Scottish Library and Information Council (SLIC) reported in 2020(this link will open in a new window) that libraries 'contribute towards improving people's health and wellbeing [. . .] all within a trusted and welcoming community space with friendly knowledgeable staff.'
Further research shows that libraries,
Help alleviate social isolation
Reduce the attainment gap
Reach a strongly diversified audience across all protected characteristics
Offer safe spaces for people to remain indefinitely, without expectation of payment
Provide free computers and Wi-Fi to help people get online, access other services and support, and apply for jobs
Directly impact positive mental health and wellbeing (SLIC 2022;

(this link will open in a new window)

CILIP 2019

(this link will open in a new window)

)
In terms of economic and sustainable development, public libraries act as 'anchor institutions,' meaning that they provide cultural and social infrastructure regeneration to their local communities.
Libraries are also key to promoting digital accessibility, particularly in more rural or isolated areas, helping to close the UK's digital skills gap—which costs the economy an estimated £63bn annually.(this link will open in a new window)
Economic impact
Despite continuous community support, there have been consistent and acute cuts to funding public libraries.
In the decade from 2008 to 2018, Scottish public libraries faced a 14% decrease(this link will open in a new window), from 604 open libraries to 521.
Since 2010, more than 1 in 8 public libraries in Scotland have been forced to close(this link will open in a new window). Funding over the same period was cut by 30%, even though annual visitor numbers increased by over 40%.
There is profound public concern around these cuts and closures, as reflected in the Reading in Scotland report:
I am concerned that many of the pupils at the school I work in are not so lucky. Many pupils do not all have books at home, they do not all have money for books, they do not all have internet access to access public library ebooks, and they do not all have adults at home encouraging them to engage with books and stories – this disparity was there before but will be growing ever greater.
For me a library was and is now one of my essential life services. After lockdown I will be delighted to get back to the library. My local library does some amazing things; e.g. new mums, school children on a Friday and older groups.
I grew up in poverty, so the local library was essential for me. I worry for children today with so many libraries closing.
Estimates suggest that every £1 invested in libraries returns between £5 and £7(this link will open in a new window) – a staggering return of between £5bn and £6bn a year for the UK economy.
What Scottish Book Trust is doing
Currently, Scotland still has just over 500 public libraries in operation around the country, providing invaluable services to each of their communities.
Scottish Book Trust works closely with many of these, reaching out to people all across Scotland with programmes like Live Literature, Bookbug, Digital Storytelling, and our annual celebration Book Week Scotland!
Scottish Book Trust is also partnered with the Dolly Parton Imagination Library to gift a free book each month to all care-experienced children, and all adopted children in Scotland, from birth to the age of five.
Find out how you can support Scottish Book Trust or get involved in your local library(this link will open in a new window) today!