Looking for all Articles by Éadaoín Lynch?
Promoting BPOC representation and diversity in children's books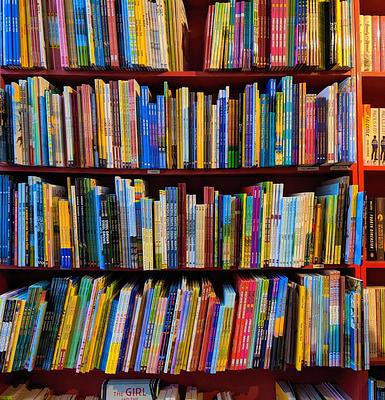 At Scottish Book Trust, we believe books and reading can provide magic, comfort and joy.
We also know that books play a significant role in affecting how children see themselves and the world around them, in addition to supporting their mental health, and developing their empathy.
In that light, it is crucial to show, promote, and centre diversity in the books children are reading.
Seeing yourself in what you read
'Diversity' refers to all intersections of identity. Recent research shows how children's books privilege white male stories(this link will open in a new window), and centre able-bodied or ableist characters;(this link will open in a new window) this inequity applies, too, to stories featuring migrants, neurodivergence, and non-Christian religions, among others (DiverseBooks.org(this link will open in a new window)).
The absence of diversity in children's books is reflected in children and young people's attitudes to reading: 2 in 5 of children and young people say they find it difficult to find books with characters or people like them(this link will open in a new window), increasing to 1 in 2 children aged 8 to 11.
There is a further split between children of different ethnicities: nearly 1 in 2 children and young people from Black ethnic backgrounds say they struggle to see themselves in what they read(this link will open in a new window), compared to over 1 in 3 from white backgrounds.
Impact study: Representation
of Black people and people of colour
In better news, there has been an increase in BPOC representation in recent years: according to the 2022 Centre for Literacy in Primary Education (CLPE) report(this link will open in a new window), 20% of the children's picture books, fiction and non-fiction titles published in 2021 featured characters of colour, compared to 15% in 2020, 10% in 2019, and 4% in 2017.
As the CLPE Chief Executive notes in their report, 'We applaud the change that has happened so far, but it is not yet embedded or sufficient.'
This expanding visibility of characters of colour has occurred in picture books and non-fiction; the CLPE notes that representation in fiction books has remained the same.
Despite this increase, moreover, there is a disparity between the proportion of those reading, and how they see themselves reflected back: 33.9% of all children of primary school age in England in 2020 are 'from a minority ethnic background,' but only 8% of children's books published that year feature a main character from a minority ethnic background (CLPE 2021).
This disparity does not just concern how many characters of colour there are, but how many creators of colour have opportunities to publish.
In 2022, BookTrust published their report Representation of people of colour among children's book creators in the UK(this link will open in a new window), which demonstrated that, 'In 2021, 11.7% of children's book creators were people of colour and they created 9.1% of unique titles.'
Their additional Diversity Report(this link will open in a new window) in 2019 noted that, 'between 2007 and 2017, white children's book creators had around twice as many books published compared to creators of colour: on average approximately 4 books in comparison to approximately 2 books.'
The same report indicated that the barriers to inclusivity included lack of role models; financial insecurity and class disadvantage; and under-representation of people of colour in the industry.
Future steps
This research suggests that there is a growing commitment to secure appropriate and inclusive BPOC representation in children's books, but also a crucial necessity to ensure sustained, systemic change.
'More than 3 in 5 children and young people agreed [that] it is important to read books from a range of backgrounds,' notes the National Literacy Trust(this link will open in a new window), 'and nearly half said they liked to read stories with characters who are different from them.'
It is our hope at Scottish Book Trust that feedback such as this encourages change in the industry, and that children's books continue to promote and showcase diversity in their characters and stories.
Lists of diverse children's books
Check out some of our book lists featuring diverse stories and characters!