Looking for more in Reading and Stories?
Scotland's Stories: Community Campfires
As part of Scotland's Year of Stories, Scottish Book Trust brings Scotland's Stories: Community Campfires –a series of story making residences in communities across Scotland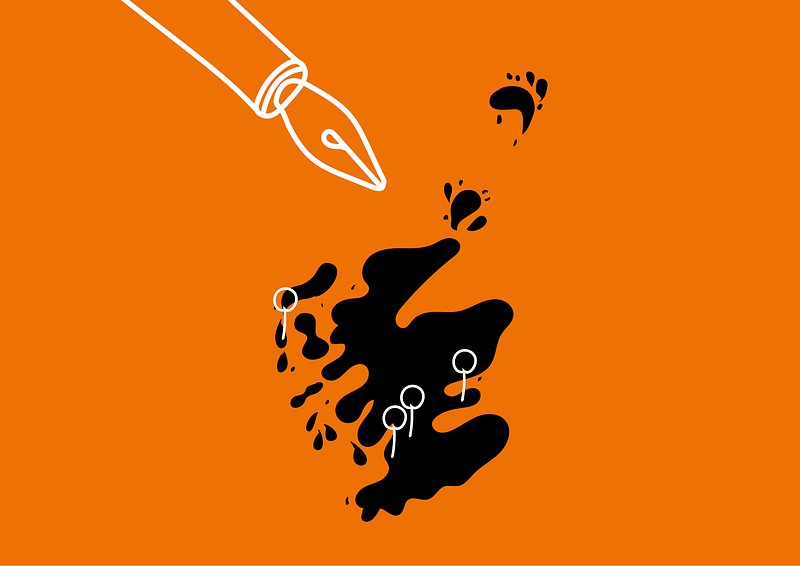 What is Community Campfires?
Throughout April and May, we were thrilled to run Scotland's Stories: Community Campfires, a tour of story making residencies across four Scottish communities as part of Scotland's Year of Stories 2022(this will open in a new window).
Working in partnership with local libraryservices in North Ayrshire, Inverclyde, Fife and the Western Isles, we brought a band of story makers –including Luke Winter and his Story Wagon(this will open in a new window) – to support individuals to tell, make and share the stories that matter to them.
Each residency ended with a Community Campfire – an event for the community to share the stories they made over the preceding five days.
This project was designed to celebrate the power of storytelling in all forms with opportunities for participants to capture their stories in a variety of ways including the written word, through digital stories, in collaboration with a professional filmmaker and through a recorded conversation. The stories created reflect Scotland's rich tradition of storytelling and the vibrancy of its communities.
Scotland's Stories
The funding support from Scotland's Year of Stories allowed us to build on our existing Scotland's Stories project which encourages people all over Scotland to share their stories, their way. Every person taking part in our Scotland's Stories: Community Campfires residencies had the option to submit their stories to our Scotland's Stories project and have their story featured on the Scottish Book Trust website. Additionally, over 16s had the chance to be featured in a free book, made up of some of our favourite pieces, which Scottish Book Trust distributed 70,000 copies of during Book Week Scotland 2022.
During Book Week Scotland
We held a special in-person event to celebrate all the amazing stories that were gathered during each Community Campfire residency as well as individual online events showcasing each area we visited. You can catch up on the events at the links below.
Additionally, each of the fantastic libraries we collaborated with put on an event to showcase the people – and the stories – that made their residencies so unique.
About Scotland's Year of Stories 2022
Scotland's Year of Stories 2022(this will open in a new window) spotlights, celebrates and promotes the wealth of stories inspired, written or created in Scotland. Stories are vital to every part of Scotland. Every community has its own tales to tell, places to highlight as inspiration for well-known books and films, visitor attractions that showcase our literature, poetry and storytelling heritage and all kinds of places and spaces where stories, old and new, can be enjoyed. From icons of literature to local tales, Scotland's Year of Stories encourages locals and visitors to experience a diversity of voices, take part in events and explore the places, people and cultures connected to all forms of our stories, past and present.
Join the conversation #YS2022 and #TalesOfScotland