Looking for more in Reading and Stories or Our research?
Reading is Caring evaluation
Read the independent evaluation of the 2019–21 Reading is Caring evaluation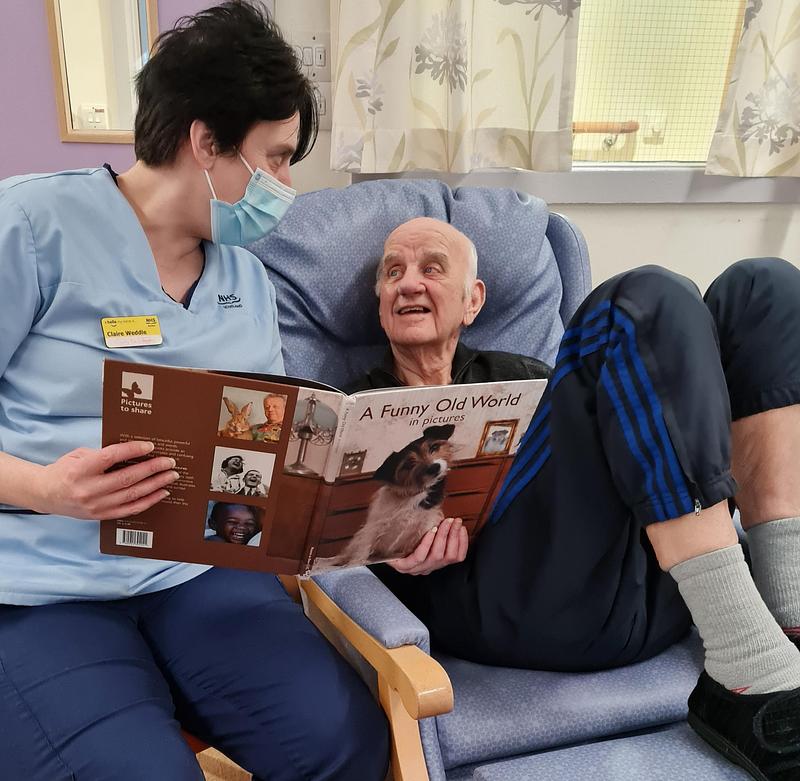 The pilot of our Reading is Caring programme first launched in 2019. Reading is Caring is a programme supporting people living with dementia and those who care for them (professional carers and family care partners) through shared reading workshops.
This independent evaluation of the 2019–21 pilot programme examines the programme's impact on people living with dementia and those who care for them, and reflects on delivery during the pandemic and possible future developments.
Download the full evaluation report
Key conclusions
The Reading is Caring programme:
Offers

comfort

to people living with dementia – it promotes relaxation in everyday situations and relieves stress in more challenging circumstances
Supports the

inclusion

of people with dementia as they become more involved and responsive than may usually be the case
Provides people living with dementia a means to share aspects of their

identity

and validates the things that are important to them and that have shaped who they are
Offers an enjoyable, stimulating form of

occupation

for people with dementia and provides a focus for further conversation, reflection, discussion as well as potentially other activities
Supports

attachment

and feeling close to others as reading can prompt people living with dementia to share memories they have not done previously; play a more equal part in caring relationships; and make connections at a deeper level than is often possible through everyday conversation
Helped care partners and care staff to feel more

confident in engaging in shared reading

, particularly reading aloud and slowing down their reading where appropriate (which may feel unnatural at first), but also using different types of text and integrating shared reading with other activities
Strengthens

caring relationships

and brings together the wider family and support network of the person with dementia in a shared endeavour. Shared reading is seen as a highly positive aspect of caring relationships.
Impacts the

mental health and wellbeing of care partners and care staff

. It can be useful, not just to the person with the dementia, but also to the care partner/care staff in stressful situations, and can help care partners/care staff to feel they are making a positive difference.
What participants said
'I found it really powerful and raising awareness of the benefits that reading can bring to the carer and someone living with dementia – can bring them back together again and help to build a positive relationship.' – Reading is Caring trainee
'. . . if things are difficult or if you're having a difficult day; if the person's having a difficult day; if you feel you're not coping terribly well actually sit down and read something together. And it will take you right away from the here and now and into some other world. And, you know, that you can share and talk about, and I would say, that's, that's a big thing for me . . . ' – Care partner trained in the Reading is Caring approach
'And then, you know, he really had a good morning and it just kind of totally changed the mood and changed, you know, how he was . . . he couldn't cope with even the littlest things to being, you know, feeling much happier and more contented.' – Care partner trained in the Reading is Caring approach