Looking for more in Reading and Stories or Bookbug?
What's inside the 2023 Bookbug Explorer Bag?
Find out what's in the 2023 Bookbug Explorer Bags and where to get them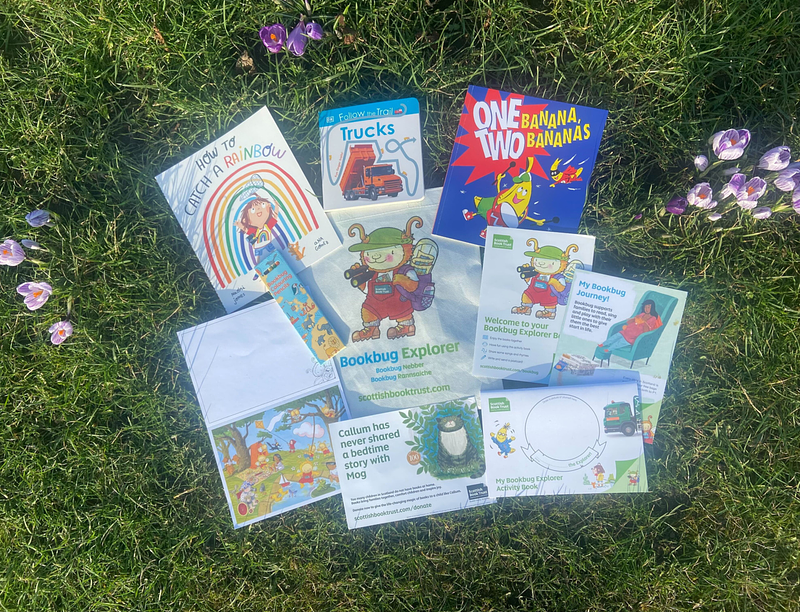 The Bookbug Explorer Bag is gifted at childcare settings when your child is 3. Home educated children who have not received their bag at nursery can request these from their local Bookbug co-ordinator. Please note that older versions of the bags are still in circulation while stocks last, so you may not receive the most recent bag.
One Banana, Two Bananas
by Charlotte Guillain, Adam Guillain and Sam Lloyd
Ten bananas from Banana Bungalow are trying to escape a very hungry monkey! Will they get away? Count along with this picture book that's full of rhyming fun and silliness in spades. It'll have little ones and grown-ups alike laughing along at each of the antics the bananas get up to.
Follow the Trail Trucks
by DK
Follow glossy trails as trucks go up, down and all around, chugging along to all of their different destinations! Children will love to explore various facts about trucks, learning as they follow the wee trails. With a mixture of photos and cute illustrations, this is an engaging board book that's sure to delight your little explorers.
How to Catch a Rainbow
by Naomi Jones and Ana Gomez
Freya wants to hunt for rainbows – but catching them can be tricky! This colourful picture book lives up to the word 'rainbow', and will resonate with your own little explorers as you share this book together. What colours can you find in everyday objects and the natural world around you? With a little creativity and imagination, Freya discovers a world that's full of rainbows.
Other contents
Alongside the books featured in the bag, you'll also find:
A pack of bright colouring pencils
Postcards featuring a special Bookbug illustration and a blank space for wee ones to draw on
A book full of fun activities and space to draw
A welcome leaflet which explains which helps you to get started with your new bag
A My Bookbug Journey leaflet, which explains which Bookbug bags you will receive next
Please note: Bags are not suitable for babies or young children to use unattended.
CALL Scotland have also created a pack of symbol resources to accompany each of the books in the Bookbug Explorer Bag. They can be used with children with additional support needs (ASN) and those with communication difficulties, as well as those with English as an additional language (EAL).
(this link will open in a new window)Discover symbolised resources for the Bookbug Explorer Bag
Looking for information about last year's Explorer Bag?
Explore the 2022 Bookbug Explorer Bag contents
Looking for the rest of the Bookbug Bag contents?
Are you an early years practitioner involved in bag gifting?
(this link will open in a new window)Plan your Explorer Bag gifting event