Looking for more in Reading and Stories or Bookbug?
What's inside the 2023 Bookbug Baby Bag?
Find out what's in the 2023 Bookbug Baby Bags and where to get them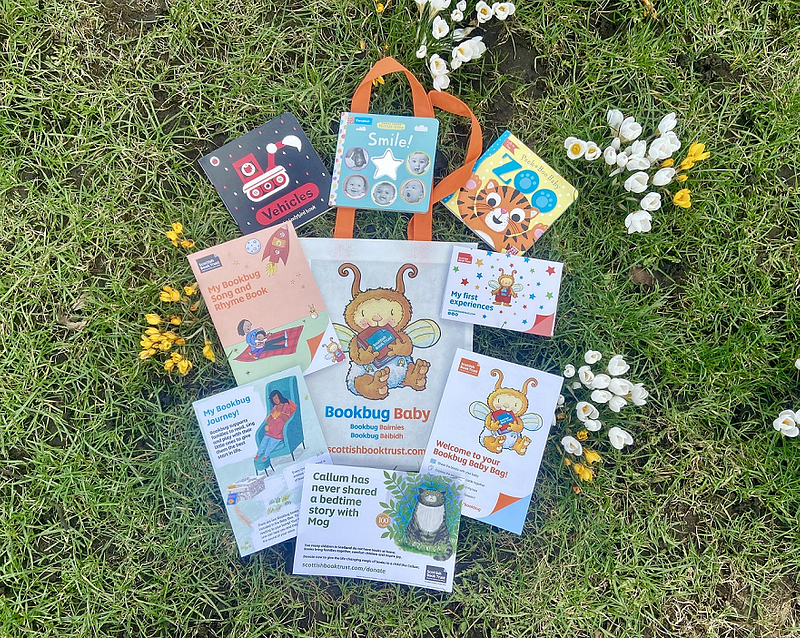 The Bookbug Baby bag is gifted by your health visitor when your baby is 3–5 weeks. Ask your health visitor, local library or the Bookbug Co-ordinator in your local authority if you have not received a bag for your child. Please note that older versions of the bags are still in circulation while stocks last, so you may not receive the most recent bag.
Peekaboo Baby Zoo
by Pat-A-Cake and Zoe Waring
Lift the flaps and discover some new animal friends with your baby in this sweet board book! With brightly illustrated animals smiling on every page and a mirror at the end, little ones will love to come back to this book again and again.
Mirror Baby: Smile!
by Campbell Books
This adorable board book is full of opportunities to smile with your little one. Featuring black and white images of happy babies that will spark your own baby's curiosity, and a mirror surprise at the beginning, this is sure to be a joyful reading experience.
Baby Ladybird Black and White Vehicles
Designed to support the development of babies' eyesight, this high contrast board book is perfect for even the youngest of wee ones. Cute illustrations of children and animals can be found in each of the vehicles throughout the book – making it a great and simple read for those children that are always on the go!
Other contents
Alongside the books featured in the bag, you'll also find:
My Bookbug Song and Rhyme Book, featuring well-known songs and rhymes to enjoy together
Illustrated experience cards to mark occasions such as playing peekaboo, going to your first Bookbug Session or sharing a bedtime story
A welcome leaflet which helps you to get started with your new bag
A My Bookbug Journey leaflet, which explains which Bookbug bags you will receive next
Please note: Bags are not suitable for babies or young children to use unattended.
Looking for information about last year's Baby Bag?
Explore the 2022 Bookbug Baby Bag contents
Looking for the rest of the Bookbug Bag contents?