Looking for more in Learning resources?
Bookbug Session Plan: All Kinds of Families
Learning type:
Professional learning
Category:
Author/book resource, Talking and listening
A fun Bookbug session to celebrate All Kinds of Families by Sophy Henn, one of the fabulous books in our Bookbug Explorer Bag for 2022! This session is all about children and grown-ups sharing special times together and, of course, incorporating some fun animal songs and sounds to accompany the book.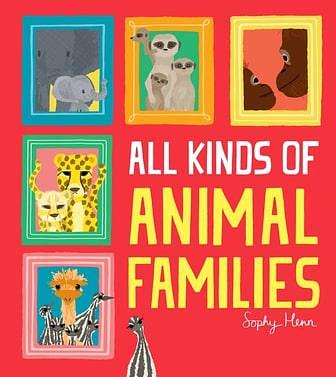 Introduction song
Benefits
Familiar start – lets everyone know a Bookbug session has started.
Tips
Smile and use names if you know them.
Transition song
If You're Happy and You Know It
Benefits
A familiar song which will help grown-ups to feel confident joining in straight away. Starts the session on a bright, positive note!
Tips
You can repeat this song with different actions – stamp your feet, shake your head, say yippee. Be creative and add ones that you think your group will enjoy!
Familiar rhyme
Benefits
The steady beat and strong rhythm of this rhyme is great for supporting children's pre-literacy skills. Children will love the anticipation at the end.
Tips
Babies and toddlers might like to be bounced on a grown-up's lap, whilst bigger toddlers and pre-schoolers will enjoy trotting around like ponies!
Active rhyme
Benefits
A simple rhyme celebrating fun and friendship which works best with grown-up and child or a little one and their friend.
Tips
Repeat but with different words e.g. 'if you want a cuddly friend', 'if you want a tickly friend'.
Song with actions
Benefits
A lovely short song with lots of opportunity for touch and tickles. Anticipation promotes eye contact and shared laughter.
Tips
Let parents know that this song can easily be incorporated into baby's routine, perhaps during nappy changing or while they're lying in a crib. Toddlers might like to try the actions on a grown-up or their teddy, whilst pre-schoolers might like to move and sound like a leopard.
Story
All Kinds of Families by Sophy Henn
Benefits
Celebrate diverse families with this adorable picture book, with every page full of colour and life. There's lots to learn as it's packed with interesting facts about the different animal families you might find in the wild.
Tips
All Kinds of Families is a very interactive book – the pictures and facts give the chance for children to share their views. Why not ask what their favourite animal is or what noise they might make?
Active song
Benefits
Another familiar song which both children and grown-ups will feel confident to join in straight away. Animal sounds are great for speech development and encourage lots of laughter.
Tips
Change the usual farm animals to the creatures from All Kinds of Families!
Lullabies / calming song
Benefits
A familiar Scots song which is soothing and relaxing. Plenty of opportunities for cuddles promotes bonding between children and their grown-ups.
Tips
Encourage parents to get face to face with little ones. Repeat the song again but this time quietly to end the session on a nice calm note.
Last song
Benefits
Brings the session to a clear end.
Tips
Thank all of the children and grown-ups for coming. Give them any information they need about the next session.
Please read our guide on permission to read books aloud online(this link will open in a new window).