Looking for more in Reading and Stories or Bookbug?
Online Bookbug Sessions: Book recommendations and publisher permissions
Permissions advice and recommendations for books to include in your online Bookbug Sessions.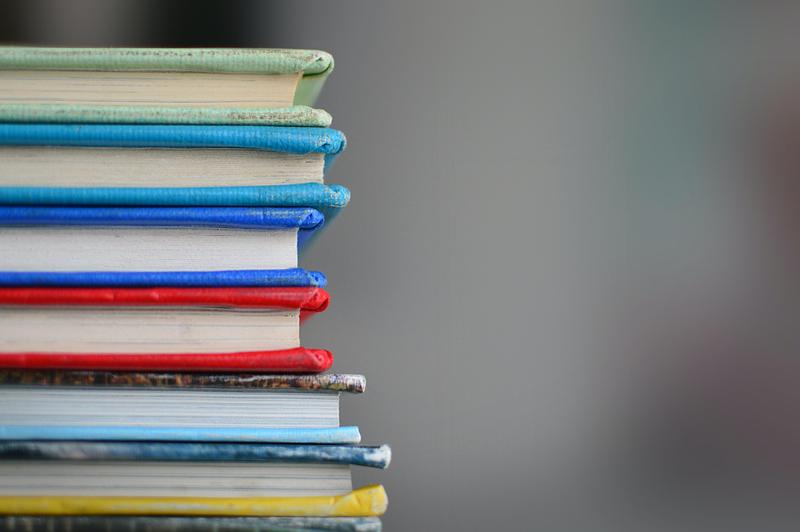 When sharing books online, it's essential that you have the permission of the publisher, credit the book correctly in the video and also take the film down after the specified date. If you're looking for inspiration for your online Bookbug sessions, we've collected some of our favourites together with the publisher permissions you need to share them in your session.
If it's baby books you are after, check out some classics from Child's Play, or maybe you've got some Bookbug bag books stashed away, like the ones from Macmillan. Whatever you decide to choose, please have a quick check of the permissions for each publisher. If you're in a position to buy, Hive(this will open in a new window) or World of Books(this will open in a new window) have a great selection.
Please note all videos must be available free of charge.
Bookbug Bag Books
Scottish Book Trust has secured permission from publishers for books included in the Bookbug Bags and Baby box in 2021, 2022 and 2023 to be used as part of LIVE online Bookbug Sessions by local Bookbug Session Leaders across Scotland.
If you wish to keep these sessions as recordings online, we would need extra permission to do so (unless indicated below):
2021 Books
Amazing Baby: Peek-a-boo Baby

by Emma Dodd (Templar)

Baby Faces

(Dorling Kindersley)

Don't Worry, Little Crab

by Chris Haughton (Walker Books)

Follow the Trail: Minibeasts

(Dorling Kindersley)

Hey Diddle Diddle

by Annie Kubler and Sarah Dellow (Child's Play)

Peek-a-boo Baby Moo!

By Zoe Waring (Hachette)

Rosie's Walk

by Pat Hutchins (Penguin Random House)

Shapes With Little Fish

by Lucy Cousins (Walker Books)

Sleep Tight Very Hungry Caterpillar

by Eric Carle (Penguin Random House)

Stanley's Café

by William Bee (Penguin Random House)

The Runaway Pea

by Kjartan Poskitt and Alex Willmore (Simon and Schuster)

Arlo The Lion Who Couldn't Sleep

by Catherine Rayner (Macmillan) *

Inch and Grub

by Alastair Chisholm and David Roberts (Walker Books)

My First Book of Woodland Animals

by Zoë Ingram (Walker Books)
2022 Books
The Button Book

by Sally Nicholls and Bethan Woollvin (Andersen)

Ready Steady: Roar!

by Pat-a-Cake (Hachette)

All Kinds of Families

by Sophy Henn (Harper Collins)

Get Out of My Bath!

by Britta Teckentrup (Nosy Crow)

Wonderful World of Colours

by Tim Hopgood (Oxford University Press)

The Littlest Yak

by Lu Fraser and Kate Hindley (Simon and Schuster)

Baby's Very First Black and White Book: Animals

(Usborne)

Little Baby's Playtime

by Nick Sharratt and Sally Symes (Walker Books)

Monster Clothes

by Daisy Hirst (Walker Books)
2023 Books
Peekabook Baby Zoo

by Pat-A-Cake and Zoe Waring (Hachette)

Mirror Baby: Smile!

by Campbell Books (Pan Macmillan)

Baby Ladybird Black and White Vehicles

(Penguin Random House)

The Whales on the Bus

by Katrina Chaman and Nick Sharratt (Bloomsbury)

Tickle My Ears

by Jörg Muhle (Gecko Press)

Puddling!

by Emma Perry and Claire Alexander (Walker Books)

One Banana, Two Bananas

by Charlotte Guillain, Adam Guillain and Sam Lloyd (HarperCollins)

Follow the Trail Trucks

by DK (DK)

How to Catch a Rainbow

by Naomi Jones and Ana Gomez (Oxford University Press)
*Online recording permission expired in December 2022
Bloomsbury
Permissions policy
Bloomsbury requests that all educators, authors, librarians and booksellers notify email childrensmarketing@bloomsbury.com(this will open in a new window) when you post or stream a story time, read-aloud video or live event. Please provide information about the event.
When your event has finished, please immediately delete the link associated with the event and the recording of the event from your account.
Our recommendations
Car Car Truck Jeep

by Katrina Charman and Nick Sharratt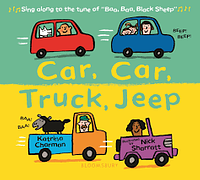 Children will love singing along to the tune of 'Baa Baa Black Sheep' in this simple, bold, and colourful celebration of all things that go.
Hello, World!

by Smriti Prasadam-Halls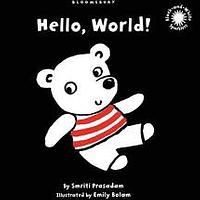 A fantastic high-contrast board book for little ones. Using simple language, there is a familiar object on every page for babies to identify, with lots of black and white with the occasional colour to help baby's vision.
Child's Play
Permissions policy
Please state that 'this picture book has been reproduced with kind permission of Child's Play (International) Ltd.' and if possible, read out the 'text and illustrations' copyright information listed in the front of the book. After the live feed has ended, please delete the video within 24 hours. Read the full Child's Play permissions policy(this will open in a new window) online.
Our recommendations
One, two, three… Run!

By Carol Thompson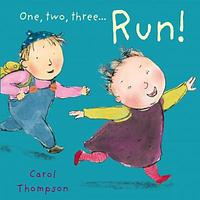 Run, climb, crawl or jump – the children in this playful book love exploring early movement.
The language is full of expression and perfect for reading aloud – and the inclusive illustrations are delightful.
Feeling Great - Just like me!

By Jess Stockham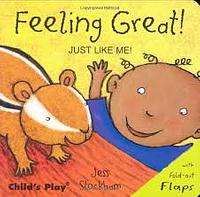 How do you feel? Sleepy, grumpy, or maybe even excited? Explore a range of feelings with the help of animal friends in this sturdy lift-the-flap book.
Perfect for starting conversations with little ones about their own emotions.
Macmillan
Permissions policy
Readings must be done on a non-commercial basis and read verbatim with no additional content added. Please show the cover of the book, and where possible share on social media and tag Macmillan @MacmillanKidsUK, and please take the recordings down after four months. These permissions are in effect until the end of April 2022.
Our recommendations
The Something

by Rebecca Cobb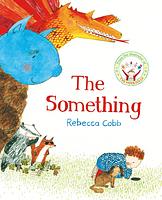 When a little boy finds a hole in the back garden, he wonders what could be down there – a fiery dragon? A home for mice? Or maybe even a troll!
This lovely book is beautifully illustrated, and with a simple, easy-to-read story it is a great one for sharing and using your imagination.
Wow! said the Owl

by Tim Hopgood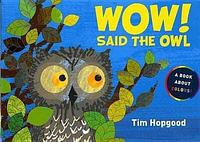 A curious little owl decides to stay awake during the day to see what he's been missing. He's delighted to discover a world of beautiful colours. But when night-time comes around, he realises that the twinkling stars are the most beautiful sight of all. This superbly illustrated book is a lovely way to explore colour.
Nosy Crow
Permissions policy
1. Please email Nur nur@nosycrow.com(this will open in a new window) before any recording takes place and outline the following:
Title, author/illustrator
Platform reading will take place
Date and time the reading/broadcast will take place
2. Readings on public channels, such as Youtube or Facebook (including unlisted videos) must be removed within 24 hours of posting.
You can find Nosy Crow's full Permissions policy here(this will open in a new window)
Our recommendations
The Same But Different Too

by Karl Newson and Kate Hindley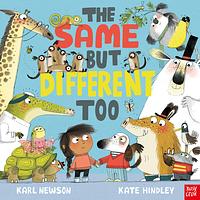 This is an opposites book with a difference - can you climb as high as a koala or drink tea like an anteater? All the distinct qualities that make us human are celebrated in this funny and charming picture book. Hindley's stylish design makes for beautiful pages of illustration that are brimming with detail, and Newson's simple rhyming text is a joy to read.
There's a Bear on my Chair

by Ross Collins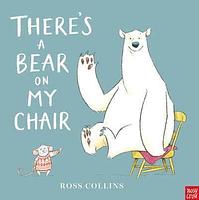 Poor Mouse! There's a Bear on Mouse's chair. Mouse goes to great lengths to try to move the bear along, but Bear holds his ground.
Brilliant illustrations, rhyming text and a range of exciting vocabulary make this a hilarious read aloud.
Penguin including Puffin and Ladybird
Permissions policy
All Penguin books can be used in online Bookbug sessions and the recording can stay online for a maximum of 6 weeks. Please verbally reference the book in the session including the title, author and publisher. If the book is a Puffin or Ladybird book, please state this also and add the Puffin or Ladybird logo as an image on any recordings.
Our recommendations
Goodnight Tractor

by Michelle Robinson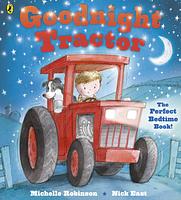 A gentle rhyming story perfect for bedtime. Get ready to say goodnight to all your favourite toys – especially Tractor. Gentle illustrations and lovely rhyming text make this a perfect bedtime read.
Rosie's Walk
by Pat Hutchins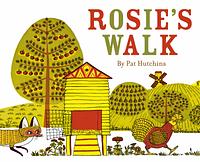 When a dastardly fox tries to snare Rosie the hen, he's thwarted every time. A brilliantly funny, almost wordless picture book that is great for sharing together.
Scholastic
Permissions policy
Scholastic have granted permissions to all libraries for public online readings and request the following when sharing publicly available readings:
They must be live or pre-recorded and shown as live only at the time of the reading session
They must not be available for download
They are only able to take place on the library's official Facebook channel or their website
Once the reading session has completed the video must be removed
Videos of complete readings are not able to be shown on YouTube – any such videos will be removed
Please make sure to credit the author, illustrator and Scholastic, but you don't need to notify them about the readings
The Highway Rat by Julia Donaldson and Axel Scheffler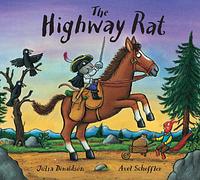 A thieving rat known for robbing innocent animals of food gets his comeuppance when he stumbles across a clever duck. A hilarious rhyming picture book that wee ones will love.
Found You by Devon Holzwarth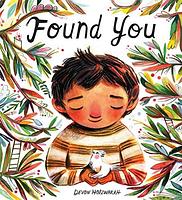 When Sami finds himself in a new, unfamiliar home, he feels scared. That is, until he befriends and helps a little bird, and slowly but surely, Sami starts to make new friends! A lovely story about overcoming loneliness and finding new friendships, featuring gorgeous illustrations.
Simon & Schuster
Permissions policy
Simon & Schuster have granted permission for the use of their books in recorded readings until 31 March 2022.
Be More Bernard by Simon Philip and Kate Hindley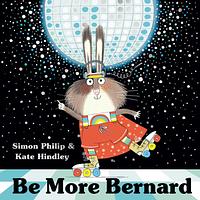 Bernard knows he's not like the other bunnies. Though he tries to hop and bounce just like them, Bernard is different. But soon enough, Bernard helps to bring the other bunnies' true selves out, too! This is an adorable picture book that celebrates difference.
The Runaway Pea by Kjartan Poskitt and Alex Willmore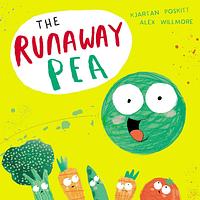 Dreaming of greater things, one evening at dinnertime a pea decides to make a run for it. Full of madness and mayhem, this hilarious tale is perfect for reading aloud.
Faber and Faber
Permissions policy
Permissions to use Faber and Faber books expired on 30 June 2021 and online material should now be removed. Please contact the publisher directly if you have any queries. Faber also have some free book resources available on their site: faberchildrens.co.uk(this will open in a new window).
Hachette
Permissions policy
Permissions to use Hachette books expired on 30 June 2021 and online material should now be removed. Please contact the publisher directly if you have any queries.