Each year, a panel made up of families and Early Years experts from libraries, education, health, Scottish Government and third sector organisations get together to select the nine books that go into the Bookbug Bags. To celebrate the launch of the 2021-22 Bookbug Bags, we have put together a wee summary of all the amazing books and additional goodies that you'll find in our bags this year.
Bookbug Baby Bag
Gifted by your health visitor when your baby is 3-5 weeks.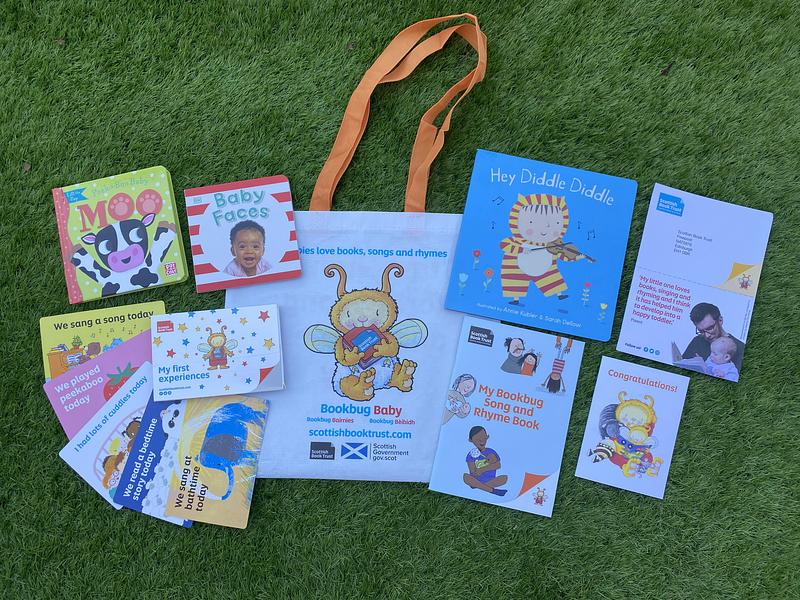 Look out for My Bookbug Song and Rhyme Book which is full of well-known songs and rhymes to enjoy together, experience cards to mark little occasions such as playing peekaboo, going to your first Bookbug Session or reading a bedtime story. There are also three lovely board books to share with your little one:
Hey Diddle Diddle

(Annie Kubler and Sarah Dellow)

Follow everyone's favourite rhyme with this bright and chunky board book. Beautifully illustrated, this is a brilliant read-aloud book to share with your wee one.
Baby Faces

(Dorling Kindersley)

This lovely board book is full of clear photos of little babies and a bouncy rhyme to read along with your small person. They'll enjoy spotting the babies and themselves in the mirror at the end!
Peek-a-boo Baby Moo!

(Zoe Waring)

Can you quack like Dylan the duck or baa like Stanley the sheep? Little ones will love this excellent peekaboo book, and with lots of big flaps to lift it is perfect for sharing with babies.
Bookbug Toddler Bag
Gifted by your health visitor when your child is 13-15 months.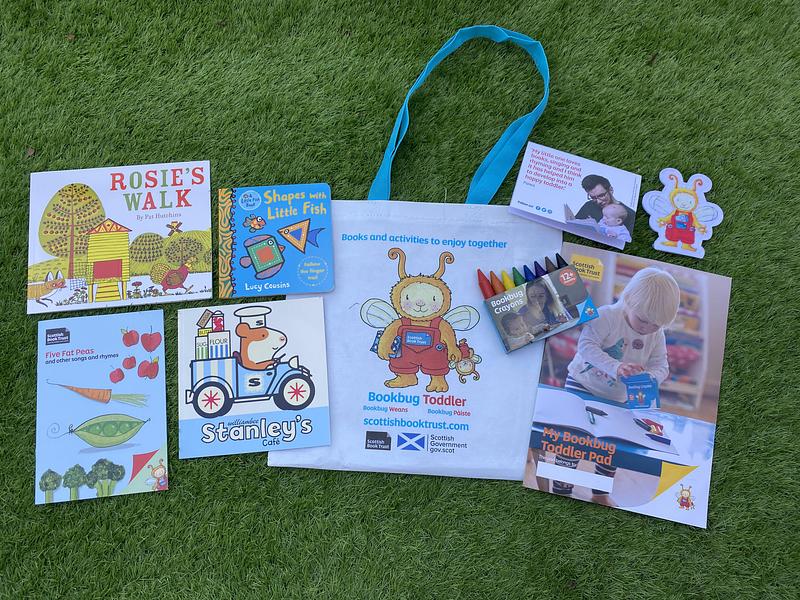 Toddlers will receive a new Bookbug finger puppet, and some chunky crayons for mark making and a bright white pad of paper. Last but not least, the Bookbug Toddler Bag includes two fantastic picture books and one durable board book:
Stanley's Café

(William Bee)

Stanley is a busy hamster, cooking up all sorts of treats for his pals that come into his café. Little ones will enjoy the bright and bold artwork, and it will especially appeal to those who are curious about kitchens and cooking.
Rosie's Walk

(Pat Hutchins)

When a dastardly fox tries to snare Rosie the hen, he's thwarted every time. A brilliantly funny, almost wordless picture book that is great for sharing together.
Shapes With Little Fish

(Lucy Cousins)

Follow the finger trails and discover all the different shapes you can find under the sea in this fun and rhyming board book.
Bookbug Explorer Bag
Gifted at childcare settings when your child is 3.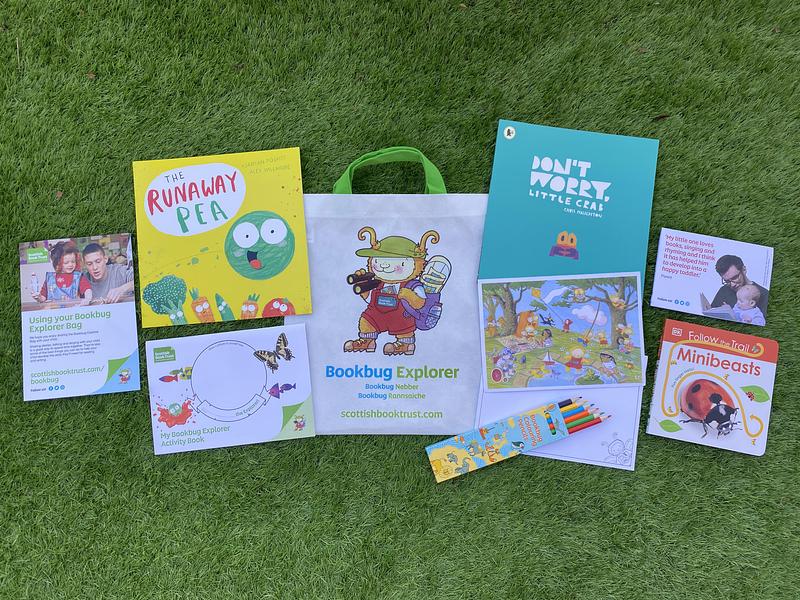 This year's Bookbug Explorer Bag includes a pack of bright colouring pencils, an activity book full of fun activities and space to draw, and of course three brilliant picture books:
Don't Worry, Little Crab

(Chris Haughton)

Little Crab doesn't want to go into the water and would much rather stay on dry land. But with a whoosh and gulp, Little Crab bravely takes the plunge (after lots of encouragement from Very Big Crab) and finds the underwater world both magical and exciting. A brilliant book for calming fears, and with bright eye-catching illustrations this a sweet story for sharing together.
Follow the Trail: Minibeasts

(Dorling Kindersley)

From bright, stripy honey-bees to black spotted ladybirds, Follow the Trail: Minibeasts is full of exciting facts about your favourite bugs. Each page has a trail for little fingers to follow, and there are different shapes to discover too. Ideal for little explorers, this is a fab book for taking on outdoor adventures and learning about the natural world in a fun and accessible way.
The Runaway Pea

(Kjartan Poskitt and Alex Willmore)

Dreaming of greater things, one evening at dinnertime a pea decides to make a run for it – 'he pinged off the plate with incredible force… then slipped and went splat in a puddle of sauce.' Full of madness and mayhem, this hilarious tale is perfect for reading aloud. Little ones will love spotting the pea as he bounces round the kitchen, and the story ends with a lovely environmental message.

Please note: these are the 2021-22 bags. Some local authorities will still be distributing 2020-21 bags, which contain different books and contents. All Bookbug Bags contain high quality, age-appropriate books and resources for families to enjoy.