Looking for all Articles by Juliet Robertson?
The joy of reading outside
Educational consultant Juliet Robertson explores the many benefits of sharing books outside.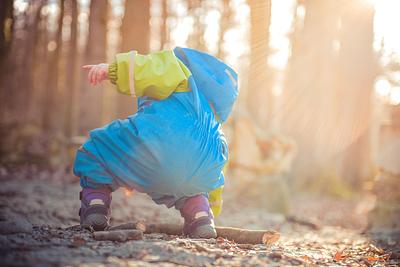 There are many health benefits to spending time outside. Children are more physically active and there is space and freedom to move. They develop their co-ordination by moving over different surfaces and using their whole bodies to climb, crawl and explore a park, a garden, a wood or a beach. Time in nature is calming, the ability to focus and pay attention is increased and natural light is beneficial for children's eyesight. All of this lays the foundations of healthy child development that is needed for learning to read.
The opportunity to listen to books outside can be just as enjoyable as indoors. Children's energy levels often occur in bouts; once they are tired they need a bit of down time. Having a book ready to read can be a way of giving children time to rest, have the attention of an adult and enjoy a story which can be a springboard into their next round of play.
Sharing books outdoors helps children to make connections between the book and the world around them, especially with the support of adults to help explain things. A child may encounter a river in a book, but they are unlikely to fully understand the idea without seeing a river and the flow of water. After reading a book such as The Gruffalo, exploring a local patch of trees and wondering where the Gruffalo might live can bring the story to life.
Reading outside needs to be comfortable. An old camping or gym mat could be cut up to make an insulated place to sit and read. It can be put on a park bench or directly onto the ground. It provides a warm dry place to sit or lie. A small fleece blanket enables a child to wrap up. They're not essential, but lightweight pop-up tents can also be taken on an outing to provide shelter whatever the weather.
Looking for a good spot to settle down in can be part of the fun of reading outside. This could be under a shady tree in the summer or a sheltered spot on a windy day. Even sitting in a cardboard box in a garden can be an exciting place for a story.
Look out for books which can stand a bit of rough and tumble outside too. Smaller 'travel' versions of books are useful and can often found in charity shops. There is an increasing availability of waterproof books, and digital books also work well if you have a robust cover on your phone or tablet.
Finally, take photos of your children outside. These can be quickly made into a story that will be much loved. Exploring a park on a cold winter day, finding the iced-over puddles, cracking the ice with a stick and looking at the shards of ice in detail can be captured forever in a little booklet or using a digital story app.
Photo by Alexander Dummer(this link will open in a new window) on Unsplash(this link will open in a new window).