Looking for all Articles by Lindsay Quayle?
You and your baby: sharing stories, songs and cuddles
In the first of a series of articles for new mums, dads and carers, we look at how book sharing, singing and rhyming can help strengthen bonds between families.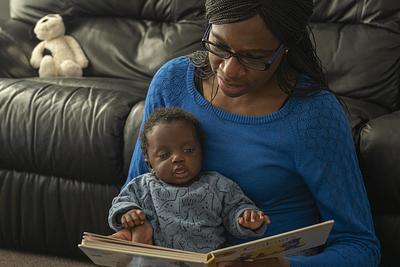 If you have welcomed a new baby into your lives over the last few months, huge congratulations! It might not have been the start you had planned for your little one, but hopefully you've enjoyed the chance to start getting to know each other from the comfort and familiarity of home.
When the time is right, we look forward to welcoming you with open arms to one of our free Bookbug Sessions(this link will open in a new window) in your local library or community venue. You'll have the chance to meet other families in your area, and have fun singing, rhyming and cuddling up with your baby to enjoy a story together.
In the meantime, this is a wonderful chance for you to start building songs and rhymes into your daily routine at home. Babies love music – they love hearing your voice and the feeling of closeness with you. Holding your baby in your arms, or touching them gently as you sing or share a rhyme with them helps them to feel safe and loved. They also respond better to higher pitch voices when they are very little, which is why adults often use a 'sing song' voice to capture a baby's attention.
Your baby may be very interested in your face and will watch intently when you are singing or speaking close to them. Making eye contact and meeting their gaze shows your little one that you are interested and in sync with them. We encourage lots of face-to-face time in our Bookbug Sessions to help strengthen the bonds between mums, dads, carers and their babies.
Cuddling also helps to support the bond between you and your baby – which is why many of our favourite songs and rhymes encourage a tickle or a gentle squeeze! Simple rhymes like Round and Round the Garden or Roon Aboot Moose are perfect for tickles and cuddles, helping to release the 'happy hormones' which bring you and your baby closer.
And of course, cuddling up together to share a story – like singing and rhyming – is one of the best things you can do for your baby's development. It's the first step in building a love of reading and helps little ones to develop early communication and language. But it's also about so much more. It's about sharing a world together. Whether it's a few minutes of calm as you enjoy a bedtime story, or a playful few minutes with a lift-the-flap book, these special moments are a time to treasure.
You can find out more about the benefits of sharing songs, stories, and rhymes with your little one on our Bookbug pages. We've also got some helpful suggestions of black and white books and beautiful books for babies that you might want to look out for when your local library reopens. And don't forget to check out the free Bookbug app or Bookbug Song and Rhyme Library for inspiration to get you started with singing and rhyming.
We look forward to welcoming you and your baby to a Bookbug Session when they're back up and running.