Looking for all Articles by Lindsay Quayle?
You and your baby: developing literacy with stories and songs
In a special article for new mums, dads and carers, we explore how you can support your baby with their developing language and social skills.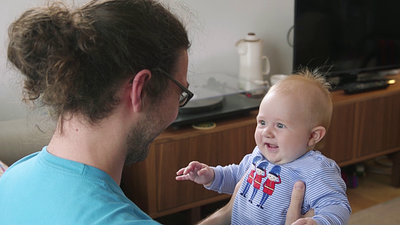 If you've welcomed a new baby into your lives this year, hopefully you have enjoyed lots of time getting to know each other. As well as growing and becoming more aware of the world around them, you may have spotted some big changes in how your little one engages with you - particularly as you share stories, songs and rhymes together.
Your baby might be trying to join in with their own little coos or chuckles when you're reading or singing to them. This is an exciting step in their literacy journey! Make sure that you leave a little gap in your stories and rhymes to let your baby 'take their turn' in the conversation. You can also try imitating the sounds that they make. By copying their sounds, you're modelling turn taking and keeping the lovely conversation going between you. You're also letting your baby know that their voice has been heard.
Many songs and rhymes have lots of repetition in them - this really helps your baby's language development. Babies have to hear sounds and words many times before being able to speak so don't be afraid of repeating songs and rhymes more than once. The same goes for stories. You may notice that your baby enjoys the same story being read over again. This is a great way to support their language development and literacy skills. When they're feeling unsettled, reaching for a book or song that they're very familiar with can also offer a degree of reassurance too.
Songs and rhymes with actions can also support their development at this time. Simple rhymes like Cross, Cross, Line, Line and This Little Piggy have actions that help babies make the connection between the action and the words you are using, boosting their understanding. They will also love watching you do the actions - and it won't be long until they have a go at joining in too !
This is also the perfect time to start letting your baby lead the way with your games and interactions. Little ones are much more engaged, and switched on to learning when they're interested in the activity. Try leaving books on the floor – or at their level – to explore, along with their other toys. If you're able to get to the library, you can show them some books and see if there's anything that ignites their excitement. Look out for clues for the songs and rhymes your wee one favours. Babies communicate through gestures, facial expressions and sounds at this young age; tuning in to your baby and responding appropriately is one of the best things you can do for their development.
And finally, don't forget that babies have short attention spans. There are so many exciting things to be distracted by in their world! Be sure to watch for signs that your baby has had enough - a short time singing or sharing a book when you are both fully engaged is better than time spent battling for their attention.
We hope you have lots of fun sharing books with your babies, and seeing the joy that songs and rhymes can bring you both. Why not bring your baby along to a Bookbug Session? These are free story, song and rhyme sessions for little ones and their families which are held in libraries and community venues across Scotland. You can find out more, and how to join one in your local area on our Bookbug Session(this link will open in a new window) page.