Looking for more in Writing and Authors?
Scottish Friendly Children's Book Tour
The Scottish Friendly Children's Book Tour brings authors, illustrators and a variety of other creative practitioners to schools, libraries and public venues.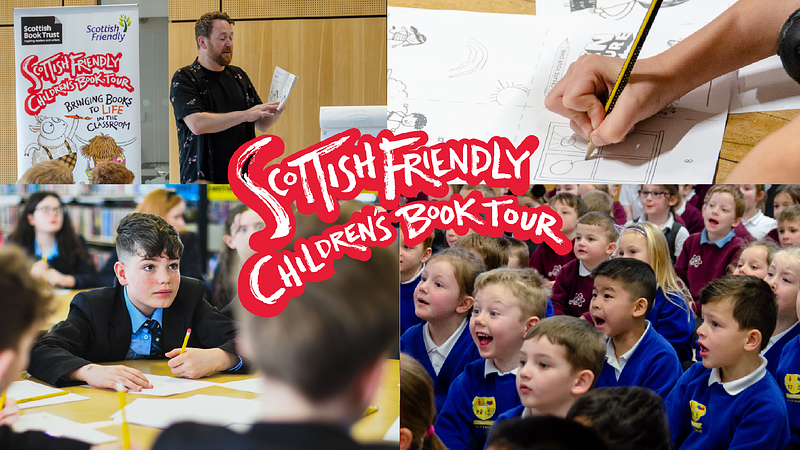 The tour hosts fully-funded events with authors, illustrators, poets, storytellers and other creative practitioners in every local authority in Scotland to inspire a love of reading, writing and illustration in schools. The tour also visits schools in England, Northern Ireland and Wales. Previous tours included Julia Donaldson, Chris Riddell, Joseph Coelho, Pamela Butchart and David Almond.
Following the announcement from Scottish Government about the latest COVID-19 restrictions the virtual author tours planned for January – March will go ahead with a limited schools audience. These live events will be available to watch on demand. Applications will be open to anyone who wants to join live.
Upcoming events
Hospital visits
As well as running school events, the Scottish Friendly Children's Book Tour also runs storytelling sessions and author visits in hospitals in Scotland.
Find out more about our hospital visits
Scottish Friendly Assurance
Scottish Friendly Assurance has been sponsoring the tour for over 20 years(this will open in a new window). Through its support, The Scottish Friendly Children's Book Tour reaches an average of 6,000 children every year in a vast range of communities, from rural schools with as few as 8 pupils to 2,000 seat theatres.
Scottish Friendly Assurance is a progressive and modern financial services group, which has been around for over 150 years. It provides investors and families with a wide range of financial products.
You can find out more about Scottish Friendly on their website(this will open in a new window).