Looking for more in Reading and Stories?
About Your Stories
Find out more about Scottish Book Trust's annual writing project – Your Stories – and how you can get involved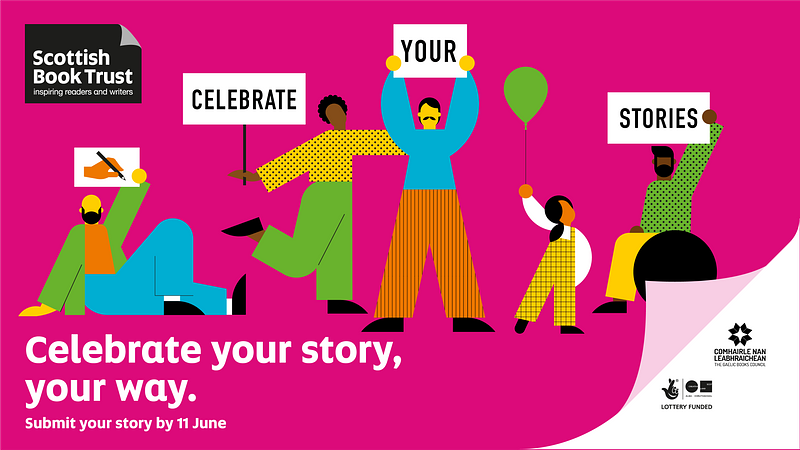 Your Stories is an annual writing project developed to encourage all types of people to share their experiences. From those who write regularly to someone that has never written before. It's all about helping people tell their story, their way. Every year we use a different theme to help people write about their lives. In 2021, we're asking people to write stories on Celebration. Despite the challenges we are all facing, Celebration remains a powerful force in our day to day lives. Whatever victory we celebrate – large or small – it helps us take stock and reflect on what is important in our lives, giving us hope for a brighter tomorrow. Every piece we receive is featured on our website and a handful of our favourites are selected for inclusion in a free book that Scottish Book Trust distribute across the country during (this will open in a new window)Book Week Scotland – our annual celebration of all things books and reading.
Writing prompts, workshops and inspiration
If you're looking for inspiration to help you get started, take a look at some of our handy writing prompts, with tips and tricks to get pen to paper/fingers to keyboard! You can also read through some of the entries already submitted to get inspired. We have produced five sub-strands for Celebration to encourage a variety of responses. You may want to use these as inspiration for your piece if any resonate strongly with you. These strands are available to download at the bottom of this page. We also organise free writing workshops, led by some of Scotland's most talented writers, to help you get your story down on paper. If you fancy getting involved but aren't quite sure where to start, why not sign up.
Impact
To be able to showcase all these wonderful stories and provide a platform for individuals to grow their confidence, fostering their love of reading and writing, is incredibly special and something we are very grateful for. We are lucky to receive such great support year on year, with hundreds of entries coming in from the public. The resulting collection of stories pays tribute to the variety and depth of experience of life in Scotland. You can find out more about the impact of Your Stories from a writer who was included in our 2019 collection, Blether.