Looking for more in Learning or Walk-the-Walk?
Guidance for support workers
We would like every learner and support worker to enjoy reading and re-reading Walk The Walk. We hope that the answers to these frequently asked questions will help you to get the most out of using the resource.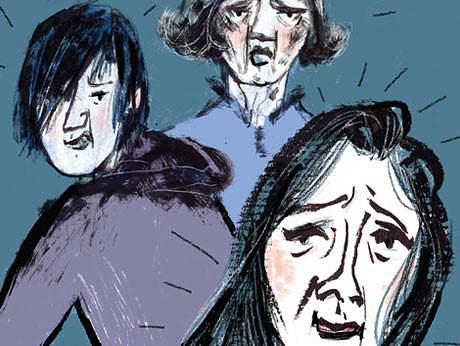 Who is
Walk The Walk

for?

Walk The Walk is a graphic novel for learners aged sixteen and above who struggle with literacy. It was created using Scottish Book Trust's custom methodology, and literacy learners were involved in the research, pilot and control stages of the book's development. However, Walk The Walk can also be used with other learner groups, including reluctant readers and youth groups.
Where can I access hard copies of
Walk The Walk

?

Hard copies of the book can be found at your local library or through adult learning service providers in each local authority and at colleges throughout Scotland.
I've never talked about sectarianism with my group before: can I still use this book?
Walk The Walk is designed to enable all support workers to discuss the subject of sectarianism in their learner groups with confidence. Each activity is structured in a way that encourages self-reflection as well as group discussion. In addition, a glossary is provided so that support workers can help learners get to grips with any words or terms that may be new to them, and a list of useful websites.
How should I read
Walk The Walk

with my group?

The best way to read Walk The Walk is aloud, in a group setting. We have discovered that even shy learners really enjoy reading different characters out loud and getting into the role. The characters in Walk The Walk have been specifically developed to allow all learners to get involved. The sentences are short, familiar dialects are used throughout, and an activity to help learners familiarise themselves with the pronunciation of characters' names is included at the beginning.

A learner who is very confident reading aloud can choose a character with more lines (like Gran or Robbie), while a learner who is less confident can choose a character with only a few lines (like Karen or Johnny). Learners who don't feel confident to read aloud also benefit from hearing the lines brought to life by other readers as they follow the action via the book's illustrations. There are additional benefits: as research shows, 'repeated reading' is one way of improving both reading speed and comprehension.

What better way to make this process engaging than to rehearse a script, read it aloud together and perform it?
What if none of my learners want to read aloud?
We know that reading aloud can be daunting. However, whenever we trial our graphic novels with learners, we discover that once they hear others reading aloud, they become more keen to get involved.
During the development of this book, groups enjoyed adopting different accents and voices, illustrating increased enjoyment and confidence in reading aloud. If your group is hesitant, we suggest reading the first few pages aloud yourself – perhaps with help from another staff member – so your learners can get used to the reading level.
How long does it take to read through
Walk The Walk

?

Different groups of learners read at different speeds and with varying levels of confidence. However, we have found that the book can be read in two two-hour sessions. Additional time should be built in to complete the supporting activities.
What level of support will my learners require to complete the activities?
Different activities require different levels of support worker input. In the notes for each activity, we have given an indication of the amount of support learners may require.
Is
Walk The Walk

suitable for learners whose first language is not English?

Yes. We hope that a wide variety of learners will find Walk The Walk accessible and engaging. We have provided a glossary, which learners can refer to if they're unsure about certain words or phrases. We have also created a learner activity that allows learners to get to know the names and faces of the book's characters before they start reading. This activity is called 'What's in a name?' and it includes notes for support workers.
How do I use the support notes and learner activities?
As you read through Walk The Walk, you will notice symbols at the bottom of select pages. These are points at which we recommend you stop reading to facilitate discussion with your group and complete some activities. To help you, we have provided discussion questions and activity sheets for each of these jump-off points.
All the activities are designed to build on the learners' progress through the book, and to complement each other – so if you can, we'd recommend completing all the activities in a sequential order.