Looking for more in About us or Press releases?
Scottish Book Trust reveals 75% of Scots are worried about dementia
Charity launches appeal for dementia support programme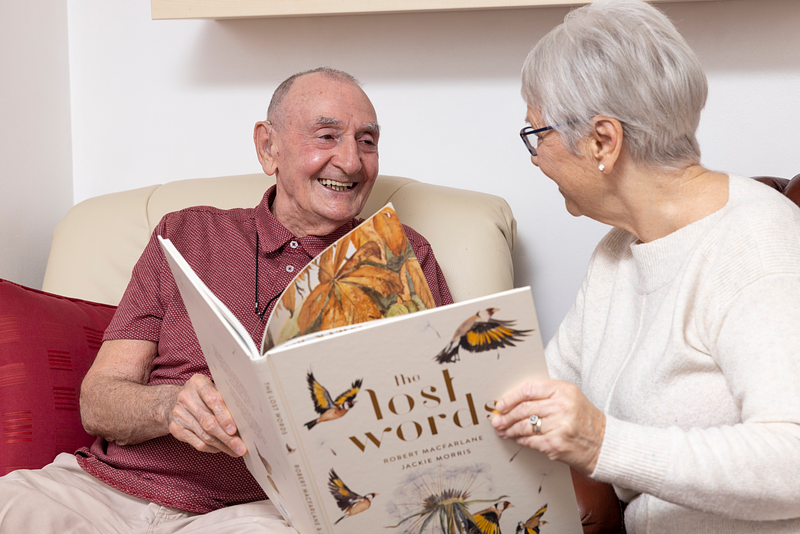 Scottish Book Trust is launching a fundraising appeal to support more people affected by dementia, as new research commissioned by the charity reveals 75% of Scots are worried about how they might be affected by dementia now or in the future.
The charity runs Reading is Caring, a new programme which provides personalised training on creating shared, sensory reading experiences to support people living with dementia and those caring for someone with dementia.
New research commissioned by the charity, revealed during Dementia Awareness Week, shows almost 80% of Scots are worried about losing a meaningful connection with loved ones while over 70% are worried about losing precious memories. Those aged 55 and over were more likely than average to be concerned about losing a sense of identity (72%) and not being able to do the things they love (61%).
Reading is Caring is designed to ease daily challenges by creating special moments of connection, sparking positive memories and relieving stress. It is currently only available in one region of Scotland and the charity is raising funds to reach more people in need of support.
A recent Reading is Caring participant, caring for her husband who has dementia, said: 'Reading is Caring has made an amazing difference. Even on days when John is feeling less bright, it makes him laugh and smile and he's much more relaxed.'
Marc Lambert, CEO, Scottish Book Trust commented: 'More and more people in Scotland are living with dementia or caring for someone with dementia. We have seen the huge difference Reading is Caring personalised training makes to daily lives of those affected by dementia and it is equally beneficial to the person living with dementia and the person caring for them. We want to reach more people all over Scotland with our specialised support.'
Reading is Caring is currently running in the Scottish Borders and will move to Edinburgh and the Lothians in August.
All funds raised from the appeal will go to Reading is Caring. Learn more about Reading is Caring and donate.
Notes to editors
For all media enquiries including photography or case studies, please contact Keara Donnachie on keara.donnachie@scottishbooktrust.com or 07956 773 749.
Research source: Scottish Book Trust commissioned a survey of 1,000 respondents based in Scotland, led by Censuswide, May 2022.
About Scottish Book Trust
Scottish Book Trust is a national charity that believes everyone living in Scotland should have equal access to books. Our work provides opportunities to improve life chances through books and the fundamental skills of reading and writing. Access to books and a love of books bring many important benefits from family bonding and advancing children's learning, to unlocking creativity, helping employability and improving mental health & well-being. Scottish Book Trust aims to support all communities across Scotland, with particular focus on those who are vulnerable and under-represented.
Our programmes and outreach work include:
Gifting books to every child in Scotland to ensure families of all backgrounds can share the joy of books at home, through Bookbug and Read Write Count
Working with teachers to inspire children to develop a love of reading, creating innovative classroom activities, book awards and author events such as Authors Live with the BBC and our Scottish Friendly Children's Book Tour
Supporting and nurturing Scotland's wide-ranging literary talent, both emerging and established through our training, awards and writing opportunities including New Writers Awards
Creating events to share books and connect writers with communities, including Book Week Scotland
Providing support to people living with dementia, and their carers, through Reading is Caring
In addition to the funding we receive from the Scottish Government and Creative Scotland, we need the constant support of trusts and foundations, corporate sponsors and individual donors.
Visit the Scottish Book Trust website
Follow Scottish Book Trust on Instagram(this link will open in a new window)
Follow Scottish Book Trust on Twitter(this link will open in a new window)
Follow Scottish Book Trust on Facebook(this link will open in a new window)