Looking for more in Writing and Authors?
Spark on screen: The book-to-screen adaptations of Muriel Spark
Professor Willy Maley writes on Muriel Spark's long relationship with cinema. This piece was originally published Monday 17 October 2016.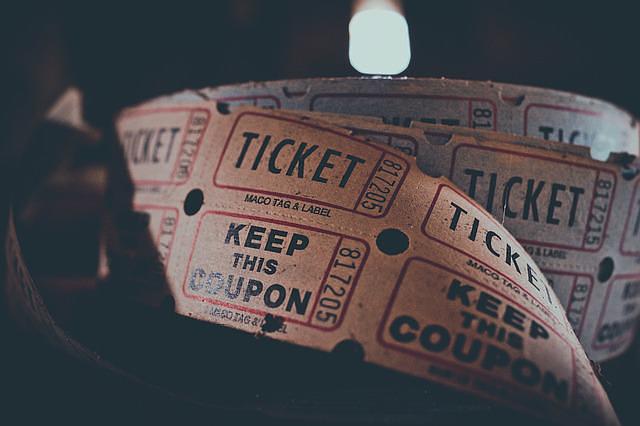 Muriel Spark had a life-long fascination with cinema. Her parents instilled in her the habit of regular cinema attendance, and cinematic reference, themes and motifs occur in many of her stories.
It pleased her that her most famous novel, The Prime of Miss Jean Brodie, was made into a highly successful film in 1969, with Maggie Smith memorably playing the charismatic Miss Brodie. But the success of the Brodie book, play and film has arguably overshadowed the rest of her work, including adaptations of her other novels. Spark once said: "A lot of my other books are overlooked due to Maggie Smith. Lots of people think that she wrote it". Her view of this particular adaptation was that it was "too brightly coloured for a true depiction of the Edinburgh scene". But on the bright side she said: "I was lucky in having a very good film script writer and the others were really rather good too. I haven't had an unpleasant experience. […] I think it is because I write very short books and it is easier for people to adapt. They can just take the dialog out, and there's very little they can go astray on".
Given that Spark personally took the view that her books were easy to adapt, it seems remiss that only a handful of her 22 novels have had this treatment. Some might say this is due to her subject matter being too subtle or sedate: we tend to think of Morningside rather than homicide when we think of Spark on screen. But as the critic Patrick Parrinder observes: "Muriel Spark films would be good news for the tomato-ketchup manufacturers. Among these bloody and unnatural acts are the stabbing of Lise (who has carefully chosen a non-stain-resistant dress for the occasion) in The Driver's Seat; the slicing of a victim's body in half by two jealous women in Territorial Rights; the murder of a secretary by her boss in The Ballad of Peckham Rye, the murder weapon being a corkscrew stabbed nine times into her neck; and the trail of goat's blood stretching halfway across the island in Robinson".
The Driver's Seat, Muriel Spark's own personal favourite novel, was also turned into a film, but did not have the same appeal with audiences as Brodie. It is a sort of Psycho in reverse, with the female protagonist, Lise, actively seeking her killer. Filmed in 1974 as Identikit with Elizabeth Taylor, Ian Bannen and Andy Warhol, it features the memorable strap lines, "She drove them crazy and hoped for the worst", and "Was she mad enough to plot her own murder?" While Maggie Smith's performance as Miss Jean Brodie is instantly recognizable, Taylor's portrayal of Lise is not. Spark was characteristically witty about it: "The film never came to anything. Elizabeth Taylor took the part of the protagonist, who was a girl who wanted to be killed. It was very sick. It's my favourite book, because I think it's well-made. But there was no way in which Elizabeth Taylor could look as if she wanted to die. She looked as if she wanted to drink."
A few of Spark's early works enjoyed a late flowering onscreen. The 1975 BBC three-part adaptation of The Girls of Slender Means (1963), directed by Moira Armstrong and starring now-author Kate Atkinson and Miriam Margolyes, was a triumph of television drama. The Abbess of Crewe (1974) became a 1977 film called Nasty Habits with Glenda Jackson in the title role. It is essentially the Watergate Scandal set in a convent, a book about omniscience, overhearing, overseeing, and being oversexed, a kind of Carry On Up The Convent, or, in its own words, "Jesuit Novices on the Spree". Spark's third novel, Memento Mori (1959), is a brilliant study of old age. The 1992 BBC film version, directed by Jack Clayton, whose credits included Room at the Top, and starring Maggie Smith and Thora Hird, won the Writers Guild of Great Britain screenplay award.
Yet there the list of screen adaptations ends. The majority of Spark's stories have still not been adapted despite their enormous potential: for example, The Public Image (1968), an odd take on fame and the world of film in which Annabel Christopher, "a twentieth-century Jane Eyre", is repackaged and marketed to cinema audiences as "The English Lady-Tiger", but has her image tarnished by her jealous husband; Not to Disturb (1971), a sort of Agatha Christie meets Upstairs, Downstairs with a vengeance; The Hothouse by the East River (1973), a tale of zombies in New York – think The Others meets The Sixth Sense, or The Waste Land meets Peter Pan; The Takeover (1976), an Italian romp about property and theft and the worship of Diana; and Territorial Rights (1979) a kind of Carry-On up the Canal or Mirth in Venice. And Spark's biggest book, The Mandelbaum Gate (1965), her only epic – she called it her Passage to India – also awaits adaptation.
Then there is Reality and Dreams (1996), a Spark novel whose actual theme is the art of filmmaking. It opens with a seminal Sparkean statement: "He often wondered if we were all characters in one of God's dreams". Tom Richards, the protagonist, is so used to controlling the scene that he finds it hard to let go when a fall from a crane during a risky shoot sees him confined to bed. And again the film theme surfaces in her last novel, The Finishing School (2004), where creative writing student Chris is being courted by a producer for the film rights to his historical novel about Mary Queen of Scots.
When Dame Muriel's centenary is celebrated in 2018 it ought to be the cue for screenings of all of her adapted work. But an even more fitting tribute to her skill and her enduring interest in the medium of film would be a surge of interest in the scripting of her remaining work. Spark is a national treasure, a writer of the stature of Burns, Scott and Stevenson. The time has come for her to be celebrated as such. Roll out the red carpet and order the ketchup.