Looking for more in Writing and Authors or Applying for the New Writers Awards?
Callan Gordon Award
This award has been set up to celebrate the life of Callan Gordon, a young Scottish writer. Callan's family have generously supported this opportunity for young writers between the ages of 18 and 35.
Applications for the Callan Gordon Award are currently closed.
Running every two years, the Callan Gordon Award offers an additional writer a spot as part of our New Writer Awards.
Entries are invited in English, Scots and a combination of both. One award is given every two years, for writers of short stories or poetry.
Callan Gordon (1983-2011)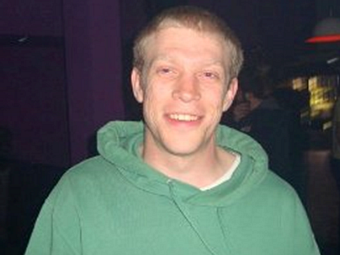 Tragically Callan took his own life on the morning of the 10th of September 2011. Callan's life revolved around writing; he was a keen observer of everything around him, using his poems and short stories to understand and communicate the way in which he viewed the world. Callan has left his fingerprints on all our lives and will never be gone from our hearts and our memories. We are glad that his memory will live on in the Callan Gordon Award for New Writers in association with the Scottish Book Trust.
If you would like to donate to the award and support a young Scottish writer, please visit the Gordon Family fundraising page (this link will open in a new window)on JustGiving.
How to apply
The Callan Gordon Award is not currently open for applications. When it is, you will be able to apply for the Callan Gordon Award through your New Writers Awards application. You will be asked to opt in as part of the application form.
Apply for the New Writers Awards
Have any questions or concerns? Email applications@scottishbooktrust.com(this link will open in a new window).
Check our Privacy Statement to see how we use and store information about your application.
Iain Gordon talks about Callan: TEDx
Equality and Diversity
Scottish Book Trust is committed to promoting equality and diversity. To help us monitor how well we're doing, entrants will be asked to fill in a short Equalities and Diversity survey before completing a New Writers Award application form. The answers will be completely confidential, stored anonymously, separate to your application and not accessible by the judges.