Looking for more in Reading and Stories or DigitalStorytelling?
Digital Storytelling: Macmillan Cancer Support
We have partnered with Macmillan Cancer Support to offer online workshops to help people affected by cancer tell their stories.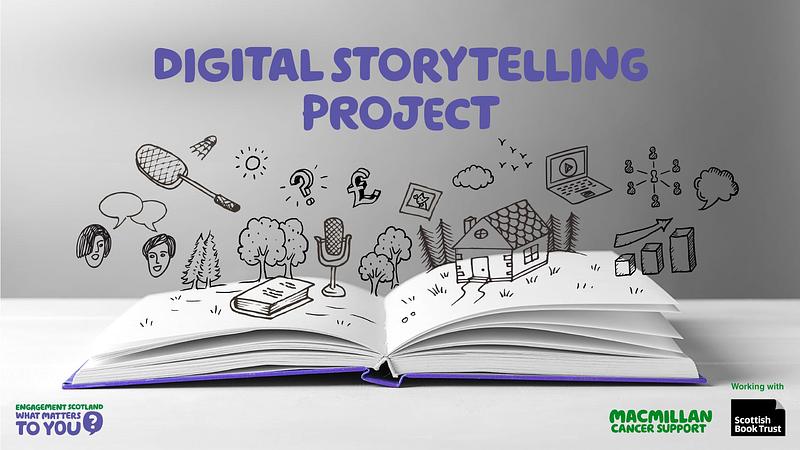 Our stories are incredibly powerful things. They can help change society, and show us that we're not alone.
Many of us have been affected by cancer, but this universal experience can mean something different to each of us. We want to hear about the things that matter to you and help you tell your story, your way.
Tell the story of what matters to you
Macmillan Cancer Support and Scottish Book Trust are offering online digital storytelling workshops for people affected by cancer. This project will run until the end of April 2022.
Whether you've had a diagnosis or known someone who has, our storytelling workshops are a free, safe way to try out storytelling in a small group. We'll spend the first session getting to know each other, watching and chatting about some digital stories, and gathering ideas for our own stories. After this, we'll share stories in pairs or groups, and we'll support you to write your story, and create a finished video using simple digital tools. Finally, we'll share and celebrate the finished stories within the group.
Our mission is to amplify the voices of people affected by cancer across Scotland, to achieve positive change for cancer service users. You can keep your story private, or share it with our wider community.
We run weekly taster sessions where you can find out more about the workshops before deciding whether you want to take part.
For more information you can register your interest for the workshops or a taster session, or email Macmillan Engagement team at WMTY@macmillanorg.uk(this will open in a new window).
(this will open in a new window)Register now
Genevieve's story
'Ordinary is more precious, more extraordinary than anything else in your life but only realised when you envisage it gone.' – Genevieve Irvine