Looking for more in About us or Press releases?
Press release: Rare book sculptures auction to spread joy of reading to all
A collection of rare book sculptures, especially created for Scottish Book Trust by an anonymous artist dubbed the Bookish Banksy, are to be auctioned online from Tuesday 25 January until Tuesday 1 February.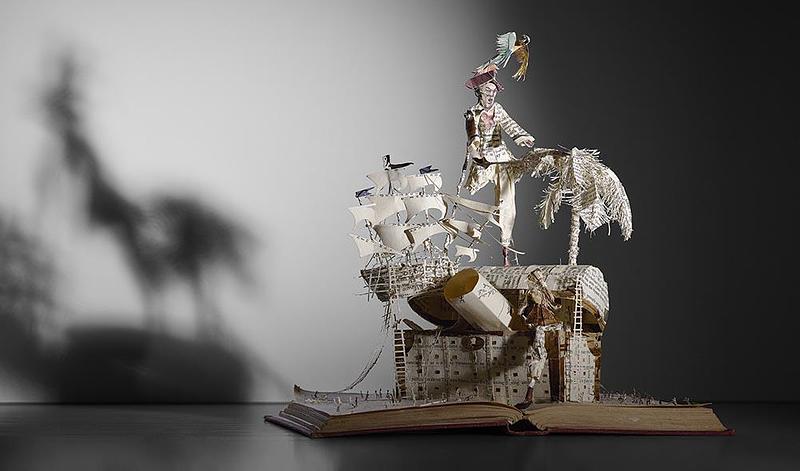 Book lovers will be invited to place their bids with fine art auctioneers Lyon & Turnbull, which is selling the five paper creations on behalf of Scottish Book Trust.
The sculptures were originally commissioned in 2012 by the charity to mark the first ever Book Week Scotland.
The mysterious artist, who is known to be a woman, first came to the public's attention when she secretly deposited her book sculptures around cultural venues in Edinburgh throughout 2011.
During Book Week Scotland in 2012, the commissioned sculptures – each of which represents a Scottish literary classic – were discovered in a different location around the country by members of the public.
The classics turned into sculptures are; Tam O'Shanter by Robert Burns; Whisky Galore, by Compton Mackenzie; Peter Pan, by J.M. Barrie; Lanark, by Alasdair Gray; and Treasure Island, by Robert Louis Stevenson.
Scottish Book Trust, which promotes the enjoyment of reading and the importance of literacy, has now decided to sell the intricate three dimensional paper pieces to fund its ambition to make books available to all.
The elusive artist has sanctioned the sale of the sculptures. With a starting bid of £800 and guide price of £1,000-1,500, they will be available to view by appointment at Lyon & Turnbull's Edinburgh sale room in Broughton Place, Edinburgh, in the lead-up to the auction.
The book sculpture artist said:
'I always felt that the sculptures were a poor attempt to communicate the transformative magic that happens when a book is read.
'I couldn't be more delighted that by auctioning them off, they might be turned into real books.'
Marc Lambert, CEO of Scottish Book Trust, commented:
'Many children are growing up without access to books or owning their own books at home, and since the pandemic the situation has worsened. Without books, children are missing out and we know the impact of this lasts a lifetime.
'The works featured in these incredible creations all speak of magic, adventure, daring and Scotland's vital place in the history of world literature.
'The auction is part of a major and long term fundraising campaign launched late last year. Over Christmas, this focused on giving books to families in need through food banks, local authorities and other charities.'
Cathy Marsden, a specialist in rare books at Lyon & Turnbull, who has organised the sale, said:
'Books are essential for the development of imagination, self-awareness and giving a sense of escapism, all of which promote good mental health and well-being.
'We hope that each sculpture offered for sale can help Scottish Book Trust provide the gifts of reading and literature which can change lives.'
Issued by Jill Brown Media
(this will open in a new window)Read Lyon & Turnbull's article
Contact:
Jill Brown on jill@jillbrownmedia.com(this will open in a new window) or 07786 927230
Jan Patience on jan@jillbrownmedia.com(this will open in a new window) or 07802 427207
Notes to Editors:
About Lyon & Turnbull
Operating since 1826, Lyon & Turnbull are one of the UK's premier fine art and antiques auctioneers. The company's galleries in London and Glasgow complement the historic Georgian headquarters and main saleroom in Edinburgh. The auction house hosts nearly 40 specialist sales each year across the UK. Sales range from; jewellery and watches to fine furniture and rare books; traditional British and European art to Modern & Contemporary stars; European decorative arts and design to fine Asian art from China and Japan; as well as private and corporate art collections.
www.lyonandturnbull.com(this will open in a new window)
@LyonandTurnbull (this will open in a new window)
www.facebook.com/lyonandturnbull(this will open in a new window)
About Scottish Book Trust
Scottish Book Trust is a national charity that believes everyone living in Scotland should have equal access to books.
Its work provides opportunities to improve life chances through books and the fundamental skills of reading and writing. Access to books and a love of books bring many important benefits from family bonding and advancing children's learning, to unlocking creativity, helping employability and improving mental health and well-being. Scottish Book Trust aims to support all communities across Scotland, with particular focus on those who are vulnerable and under-represented.
Programmes and outreach work include:
Gifting books to every child in Scotland to ensure families of all backgrounds can share the joy of books at home, through Bookbug and Read Write Count
Working with teachers to inspire children to develop a love of reading, creating innovative classroom activities, book awards and author events such as Authors Live with the BBC and our Scottish Friendly Children's Book Tour
Supporting and nurturing Scotland's wide-ranging literary talent, both emerging and established through our training, awards and writing opportunities including New Writers Awards
Creating events to share books and connect writers with communities, including Book Week Scotland
Proving support to people living with dementia, and their carers, through Reading is Caring
In addition to the funding Scottish Book Trust receives from the Scottish Government and Creative Scotland, it requires the constant support of trusts and foundations, corporate sponsors and individual donors.
Follow Scottish Book Trust on Instagram(this will open in a new window)
Follow Scottish Book Trust on Twitter(this will open in a new window)
Follow Scottish Book Trust on Facebook(this will open in a new window)