Looking for more in About us or Press releases?
Press release: Val McDermid joins young people of Scotland for time capsule
The project, called 'See You in 10 Years,' is a partnership between the charity and the National Library of Scotland, who will store the time capsule for 10 years before it is opened in 2030.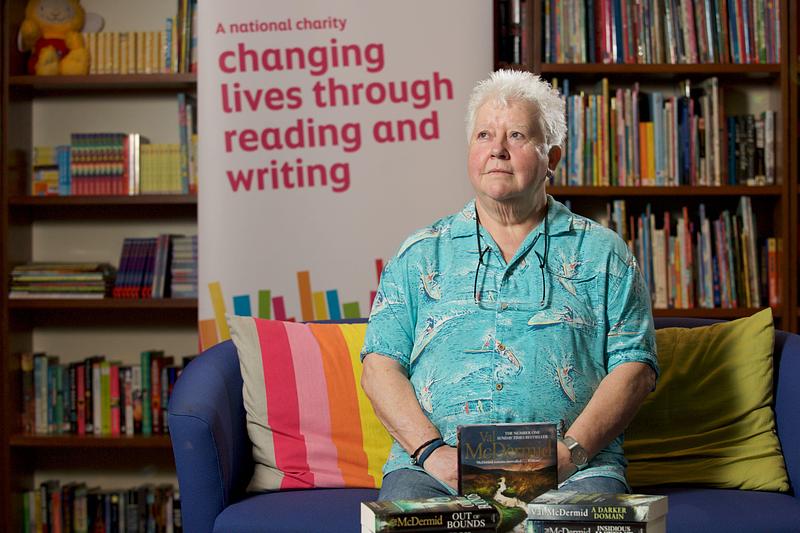 Scottish Book Trust's patron and award-winning author Val McDermid has joined young people of Scotland to contribute to a time capsule for Book Week Scotland.
Fitting with the theme of Future for Book Week Scotland, Val McDermid reflects the time of "fear and chaos" in 2020. The first piece of the author's work will be published in the Future book, a free publication: 50,000 copies will be distributed to libraries, community groups and schools across the country. The second part of McDermid's piece will be locked in the time capsule and revealed in 2030.
Six young writers will also be included in the time capsule, selected by a panel including Scottish Book Trust staff. They will have the opportunity to showcase their work to families and friends alongside Val McDermid during a private celebration. On Friday 20 November, a film documenting the creation of the time capsule will premiere on YouTube.
The young people included in the time capsule are: Skye, 16 from Glasgow; Keir, 17 from Falkirk; Emily, 17 from Falkirk; Reilly, 13 from Kinross; Robecca, 18 from North Ayrshire and Hannah, 17 from Sutherland.
Artist Ali Forbes from Glasgow was commissioned to create the time capsule. A jewellery design graduate of the Royal College of Art and Central Saint Martins, London, Ali first discovered jewellery making and design when she participated in an HND course at Cardonald College.
Book Week Scotland is the country's biggest celebration of reading and writing and it returns for its ninth year from Monday 16 November to Sunday 22 November. Although there will be no physical events this year, the Digital Festival has a stellar line-up including award-winning author Denise Mina; actor and comedian Ruby Wax; bestselling crime writer Louise Welsh and First Minister Nicola Sturgeon.
Val McDermid, author and patron of Scottish Book Trust said:
"Of course, digital media offers platforms where young writers can showcase their work. But digital media is fast-moving and often temporary. It's vital that we find more long-lasting ways to capture writing that addresses the future as well as the here and now, and See You In Ten Years does just that."
Marc Lambert, CEO of Scottish Book Trust, said:
"2020 has been an uncertain year, and there's no better way to document it than with a time capsule. We're grateful to our patron Val McDermid for including a piece of work for See You in 10 Years, and to National Library of Scotland for safeguarding the capsule. We look forward to 2030, when the writing of the young people will be revealed."
Martha Burns Findlay, Head of Public Programmes at National Library of Scotland said:
"The National Library of Scotland is a repository of Scotland's memories which we preserve for current and future generations. We are therefore delighted to host Scottish Book Trust's time capsule for a 10-year period within our stores, safeguarding the capsule until it is re-opened and its contents revealed in 2030. We are equally delighted to be supporting new Scottish writing which will provide a unique glimpse into the world of 2020 through the eyes of young writers in 10 years' time."
Artist Ali Forbes said:
"I applied to the See You in 10 Years project because the brief really captured my imagination: it immediately seemed like a very magical project to be part of. The subject matter really resonated as it feels like we are currently living in a very significant time historically: learning to live with a global pandemic which has no current end in sight. I am thrilled to be involved, not only because it is the first project I am undertaking in Scotland since moving back to Glasgow in July, but also because it gives me the chance to create a beautiful and intriguing object."
The Book Week Scotland 2020 programme is available to view now.
Notes to Editors
Scottish Book Trust
Scottish Book Trust runs Book Week Scotland. A national charity changing lives through reading and writing, Scottish Book Trust inspires and supports the people of Scotland to read and write for pleasure through programmes and outreach work that include:
Gifting books to every child in Scotland to ensure families of all backgrounds can share the joy of books at home.
Working with teachers to inspire children to develop a love of reading, creating innovative classroom activities, book awards and author events.
Supporting Scotland's diverse writing community with our training, awards and writing opportunities.
Funding a range of author events for the public to enjoy and promoting Scottish writing to people worldwide.
In addition to the funding we receive from the Scottish Government and Creative Scotland, we need the constant support of trusts and foundations, corporate sponsors and individual donors.
Book Week Scotland
Initiated by the Scottish Government and supported by £200,000 from the National Lottery through Creative Scotland Targeted Funding and £26,000 from SLIC, Book Week Scotland 2020 will be delivered by Scottish Book Trust from 16 November – 22 November.
Creative Scotland
Creative Scotland is the public body that supports the arts, screen and creative industries across all parts of Scotland on behalf of everyone who lives, works or visits here. We enable people and organisations to work in and experience the arts, screen and creative industries in Scotland by helping others to develop great ideas and bring them to life. We distribute funding provided by the Scottish Government and the National Lottery.
The Scottish Library and Information Council (SLIC)
The Scottish Library and Information Council (SLIC) is the independent advisory body to the Scottish Government on library and information services. It leads the implementation of Ambition and Opportunity: A strategy for public libraries in Scotland 2015–2020, develops innovative projects like Film Education in Libraries and provides support for libraries in the form of advocacy, consultation and research. It administers Scottish Government funding for public libraries (Public Library Improvement Fund), for school libraries (School Libraries Improvement Fund) and funding for the wider library and information sector (Innovation and Development Fund). It supports public libraries to participate in Book Week Scotland by providing Scottish Book Trust with event funding for every public library service and Further Education College Libraries.
National Library of Scotland
The National Library of Scotland is a major European research library and one of the world's leading centres for the study of Scotland and the Scots – an information treasure trove for Scotland's knowledge, history and culture.
The Library's collections are of world-class importance. Key areas include rare books, manuscripts, maps, photographs, music, moving images, official publications, science and technology, and modern and foreign collections.
The Library holds more than 30 million physical items dating back over 1000 years in addition to a growing library of digital material. Every week the Library collects around 5,000 new items. Most of these are received in terms of Legal Deposit legislation, allowing the Library to claim a copy of everything published in the UK and Ireland (everything from children's books to science journals, election leaflets to magazines and websites).