Looking for more in About us or Press releases?
Press Release: The Book Week Scotland adventure begins
One Scot will find a voucher for a year's worth of books in one of this year's free Book Week Scotland books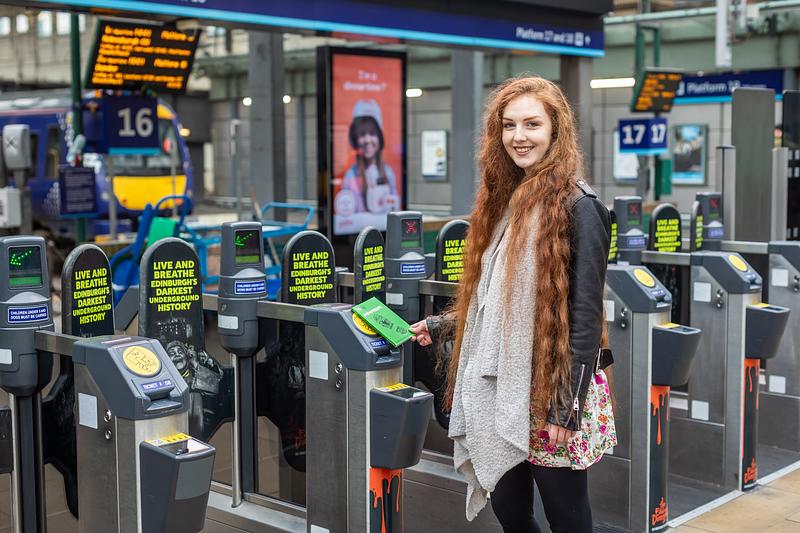 Book Week Scotland begins today, Monday 13 November, with this year's theme of 'adventure'. Book Week Scotland is a national annual celebration of books and reading, with events taking place in libraries and community venues across the country, delivered by Scottish Book Trust – the national charity changing lives with reading and writing.
People picking up a copy of this year's free Book Week Scotland book, Adventure, may be lucky enough to find one of seven special silver tickets, celebrating Scottish Book Trust's 25th anniversary, tucked inside the pages. The silver tickets are redeemable for book tokens, with six worth £100 and one valid for a year's worth of books (to a value of £500). The tickets have been sent across Scotland, so readers far and wide are in with a chance of discovering one.
The book has been published by Scottish Book Trust, featuring true stories from people across Scotland as well as exclusive contributions from Len Pennie, Summaya Usmani, current Scots Scriever Shane Strachan, Mae Diansangu, and Gaelic writers Alistair Paul and Seonaidh Charity. 70,000 copies of the book will be given out for free during Book Week Scotland through libraries and community spaces, and is also available to order online alongside audio and ebook formats.
Highlights from Book Week Scotland 2023 include:
An evening with Alexander McCall Smith at Biggar Library – Tuesday 14 November, 7–9pm (ticketed event)
The Pleasures of Reading with Val McDermid at Portobello Bookshop, Edinburgh – Thursday 16 November, 7–8pm (free ticketed event and online livestream)
Louise Welsh Cuts It Again at Motherwell Library – Tuesday 14 November, 7–8pm (free ticketed event)
Kavya Prize showcase and prizegiving at The Mitchell Library, Glasgow – Thursday 16 November, 6.15–7.30pm (free ticketed event)
Journeys with a Bearded Genius: Nooruddean Choudry in conversation with Daniel Gray from Nutmeg Magazine – Saturday 18 November, 7–8.30pm (free ticketed event)
Alan Moore in conversation with Heather Parry (free online event) – Sunday 19 November, 3–4pm
An exclusive story by Ambrose Parry, told in daily email instalments
The reading map of Scotland, where people can share what they're reading during the week
Scottish Book Trust has also funded three events through its Emerging Programmers scheme for first-time book event programmers: Being Mixed @ Book Week Scotland in Waterstones Sauchiehall Street, Glasgow, on Tuesday 14 November; the Working Class Writers Showcase at The Music Hall, Aberdeen, on Friday 17 November; and Angus Og's Cartoon Ceilidh in Portree Community Library on Saturday 18 November.
Further details on the above, and more, can be found at bookweekscotland.com(this link will open in a new window).
Marc Lambert, CEO of Scottish Book Trust, said: 'Book Week Scotland is one of the highlights of Scotland's literary calendars, with events for all ages and interests taking place across the nation. Despite the fact that Book Week Scotland is now operating on a shoestring budget due to repeated funding cuts, working with and through our fantastic partners across the country we have been able, even so, to offer an exciting and accessible programme of events at a local and national level. We could not do this without the support of the Scottish Library and Information Council, library services and the many other community partners we collaborate with. And this is vital, because developing a love of reading is a lifelong adventure which brings much pleasure and many benefits to the individual and the communities they live in.'
Pamela Tulloch, chief executive of the Scottish Library & Information Council said: 'Book Week Scotland is an important opportunity to bring communities together to celebrate the power of reading which is why SLIC is proud to be a partner. With a brilliant programme of events lined up in libraries across the country, there's something for everyone. We hope people will take this opportunity to rediscover all that local libraries have to offer.'
Head of Literature & Publishing at Creative Scotland, Alan Bett, said: 'Book Week Scotland is a highlight in Scotland's literary and cultural calendar which continues to provide joy by connecting the reading public with Scotland's authors and their books. Featuring some of the biggest names in our literary scene, this year's programme showcases homegrown talent and provides the space to empower writers and readers alike, across the country and within their own communities.'
Notes to editors
Please direct all media requests to Abi Baross, Marketing and PR Manager at Scottish Book Trust, at abi.baross@scottishbooktrust.com(this link will open in a new window).
Scottish Book Trust
Scottish Book Trust is a national charity that believes everyone living in Scotland should have equal access to books. Our work provides opportunities to improve life chances through books and the fundamental skills of reading and writing. Access to books and a love of books bring many important benefits from family bonding and advancing children's learning, to unlocking creativity, helping employability and improving mental health and wellbeing. Scottish Book Trust aims to support all communities across Scotland, with particular focus on those who are vulnerable and under-represented.
Our programmes and outreach work include:
Gifting books to every child in Scotland to ensure families of all backgrounds can share the joy of books at home, through Bookbug and Read, Write, Count
Working with teachers to inspire children to develop a love of reading, creating innovative classroom activities, book awards and author events such as Authors Live with the BBC and our Scottish Friendly Children's Book Tour
Supporting and nurturing Scotland's wide-ranging literary talent, both emerging and established through our training, awards and writing opportunities including New Writers Awards
Creating events to share books and connect writers with communities, including Book Week Scotland
Providing support to people living with dementia and their carers through Reading is Caring
In addition to the funding we receive from the Scottish Government and Creative Scotland, we need the constant support of trusts and foundations, corporate sponsors and individual donors.
Find us online at scottishbooktrust.com. Follow @scottishbktrust on Twitter(this link will open in a new window), @scottishbooktrust on Instagram(this link will open in a new window) or like Scottish Book Trust's Facebook page(this link will open in a new window).
Book Week Scotland
Initiated by Scottish Government and supported by funds from the National Lottery through Creative Scotland Targeted Funding and SLIC, Book Week Scotland 2023 will be delivered by Scottish Book Trust from 13–19 November.
For more information about Book Week Scotland 2023 and how you can get involved, visit bookweekscotland.com(this link will open in a new window) where you can find information about all the events taking place in your local area. Follow @BookWeekScot(this link will open in a new window) and #BookWeekScotland(this link will open in a new window) on Twitter, or like the Book Week Scotland Facebook page(this link will open in a new window).
Creative Scotland
Creative Scotland is the public body that supports the arts, screen and creative industries across all parts of Scotland distributing funding provided by the Scottish Government and The National Lottery. Further information at creativescotland.com(this link will open in a new window). Follow us on Twitter(this link will open in a new window), Facebook(this link will open in a new window) and Instagram.(this link will open in a new window) Learn more about the value of art and creativity in Scotland and join in at ourcreativevoice.scot(this link will open in a new window).
Scottish Library and Information Council (SLIC)
The Scottish Library and Information Council (SLIC) is the independent advisory to the Scottish Government on library and information related matters. It offers leadership focus and support to libraries and information services countrywide, leading development, promoting innovation and monitoring standards.
SLIC administers Scottish Government funding for public libraries (Public Library Improvement Fund), for school libraries (School Libraries Improvement Fund) and funding for the wider library and information sector (Innovation and Development Fund). It supports public libraries to participate in Book Week Scotland by providing Scottish Book Trust with event funding for every public library service and Further Education College Libraries.
To find out more about SLIC, visit: ScottishLibraries.org(this link will open in a new window)