Looking for more in About us or Press releases?
Press release: Renfrewshire duo win 2023 Learning Professional Award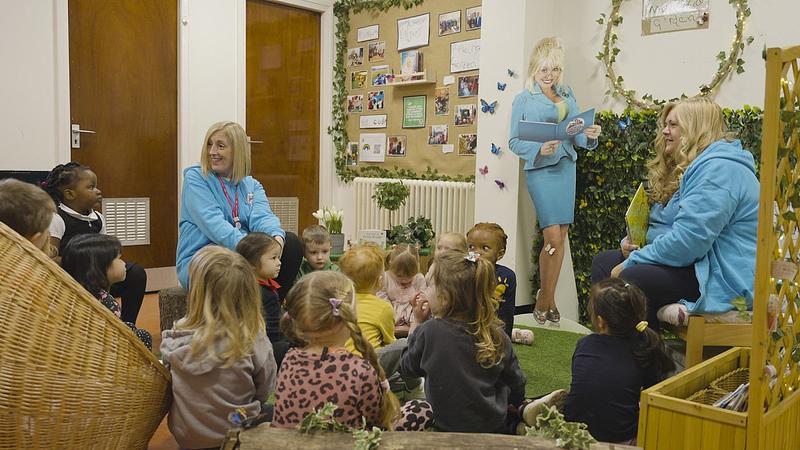 Scottish Book Trust, the national charity changing lives with reading and writing, has recognised the work of two Renfrewshire locals through its annual Learning Professional Award. Nominated by a local primary school headteacher, Julie Paterson and Gail Abraham won the award for their inspiring work to develop early literacy and ensure access to books for children and young people across the region.
Julie Paterson, Literacy and Languages Development Officer, and Gail Abraham, Social Work Practice and Process Development Co-ordinator, were recognised for their outstanding efforts including their work with Dolly Parton's Imagination Library, which has seen more than 63,000 books gifted to children in Renfrewshire in the last two years. Their work resulted in Renfrewshire being the only Scottish region to offer monthly books to all 2–4-year-olds through the Imagination Library, in addition to the local authority's existing programme for care-experienced children.
The national award recognises the hard work learning professionals do to bring the magic of reading to young people and the winning duo will also receive a prize of £500 worth of books.
This is the second time in the award's history that it has been won by a duo, following the win of Elaine Hallyburton and Moira Foster in Dundee in 2021.
In addition to the winners, there were two highly commended nominees for the 2023 Learning Professional Award: South Ayrshire school librarian Haley Milne, and Dunfermline teacher Vicky McCauley.
Julie Paterson and Gail Abraham said:
'We are so thrilled, although we both agree that it is the ambassadors in our early years classes and centres and across our partner organisations who are the real winners. They are true champions of Imagination Library and early literacy and without their efforts, we wouldn't have been able to achieve as much as we have.'
Marc Lambert, CEO of Scottish Book Trust, said:
'Many congratulations to Gail and Julie on winning the Learning Professional Award. The panel were so impressed by their achievements and the positive impact this will bring to many children and families. Our thanks to Browns Books for making this important award possible.'
Claire Smith, Sales Director at Browns Books, said:
'Congratulations to Julie and Gail on winning the Scottish Book Trust Learning Professional Award! You have done outstanding work to bring people together and helped to facilitate the collaboration of a number of departments within Renfrewshire. Reading is vital in the development of young minds, and the riches gained from reading should be afforded to everyone.'
Notes to editors
Please direct all media requests to Abi Baross, Marketing and PR Manager at Scottish Book Trust at abi.baross@scottishbooktrust.com(this link will open in a new window).
Scottish Book Trust
Scottish Book Trust is a national charity that believes everyone living in Scotland should have equal access to books. Our work provides opportunities to improve life chances through books and the fundamental skills of reading and writing. Access to books and a love of books bring many important benefits from family bonding and advancing children's learning, to unlocking creativity, helping employability and improving mental health and wellbeing. Scottish Book Trust aims to support all communities across Scotland, with particular focus on those who are vulnerable and under-represented.
Our programmes and outreach work include:
Gifting books to every child in Scotland to ensure families of all backgrounds can share the joy of books at home, through Bookbug and Read, Write, Count
Working with teachers to inspire children to develop a love of reading, creating innovative classroom activities, book awards and author events such as Authors Live with the BBC and our Scottish Friendly Children's Book Tour
Supporting and nurturing Scotland's wide-ranging literary talent, both emerging and established through our training, awards and writing opportunities including New Writers Awards
Creating events to share books and connect writers with communities, including Book Week Scotland
Providing support to people living with dementia and their carers through Reading is Caring
In addition to the funding we receive from the Scottish Government and Creative Scotland, we need the constant support of trusts and foundations, corporate sponsors and individual donors.
Find us online at scottishbooktrust.com(this link will open in a new window). Follow @scottishbktrust on Twitter(this link will open in a new window), @scottishbooktrust on Instagram(this link will open in a new window) or like Scottish Book Trust's Facebook page(this link will open in a new window).
Creative Scotland
Creative Scotland is the public body that supports the arts, screen and creative industries across all parts of Scotland distributing funding provided by the Scottish Government and The National Lottery. Further information at creativescotland.com(this link will open in a new window). Follow us on @CreativeScots on Twitter(this link will open in a new window), the Creative Scotland Facebook page(this link will open in a new window) and @CreativeScots on Instagram(this link will open in a new window). Learn more about the value of art and creativity in Scotland and join in at ourcreativevoice.scot(this link will open in a new window).
Browns Books
Browns Books, sponsor of the Scottish Book Trust Learning Professional Award, supplies books, eBooks and DVDs for schools, colleges and businesses. More information on Browns Books is available at brownsbfs.co.uk(this link will open in a new window).