Looking for more in About us or Press releases?
Press release: Michael Rosen returns for Authors Live 10 year anniversary
Published 25 February 2020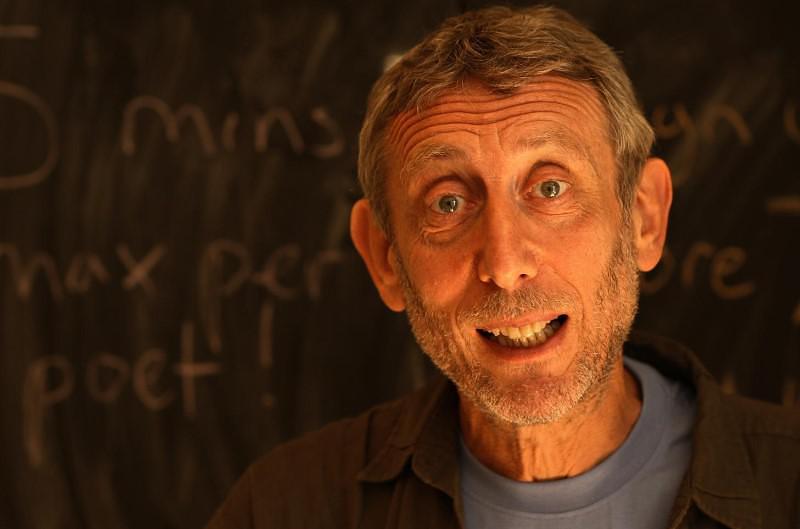 Author and poet Michael Rosen starred in the first ever Authors Live broadcast with BBC Scotland, and he returns to Pacific Quay for a special event for over 10,000 children to mark the ten year anniversary with comic artist Tanya Roberts on Tuesday 3 March 2020.
Authors Live brings the best writers, illustrators and poets straight into classrooms across Scotland and the rest of the UK. A partnership with Scottish Book Trust and BBC Scotland Learning, Authors Live supports primary and secondary school teachers with events themed around modern issues such as conservation, mental health and LGBTQ identities.
For the anniversary broadcast, Michael Rosen will perform a selection of his poems, with live illustration from Tanya Roberts. Presenter Janice Forsyth will discuss the relationship between word and image with Michael and Tanya as well as celebrating the joy of creating poetry and comic books.
Michael Rosen said:
"I am really looking forward to returning to Glasgow for Authors Live. It's great to be back to celebrate the anniversary, a whole decade later."
Tanya Roberts said:
"To be part of the Authors Live 10 year anniversary means so much! I'm looking forward to seeing what I can do with the poems. It's definitely a once in a lifetime experience! I'll do my best."
Since Authors Live began in 2010, there have been 78 broadcasts with over five million views from all 32 Scottish local authorities and across the rest of the UK. As well as watching live, schools can engage with previous Authors Live events through the Watch on Demand Library.(this link will open in a new window) Previous events have featured Malorie Blackman, David Walliams, Julia Donaldson and Jackie Kay.
There are also free CfE-linked resources to support each author broadcast in the classroom. A recent audience survey found that 62% of Authors Live viewers found a new author through the programme, and 46% of learning professionals purchased new books after watching Authors Live (Scottish Book Trust survey, November 2019).
Authors Live is an essential tool for rural schools, who either have few author visits or cannot afford to pay for the travel costs for such an event. The events are also multi-lingual: during Book Week Scotland 2019, 19% of Scottish primary schools were registered for the Scots and Gaelic event: the highest viewing figures in over two years.
During the live broadcasts, the attending school can ask questions in the BBC studio, and others can engage online through the #BBCAuthorsLive on Twitter. To watch Authors Live, schools simply have to register for the broadcast on Scottish Book Trust's website.
Survey Results
62% of Authors Live viewers found a new author through the programme
46% of learning professionals purchased new books after watching Authors Live
93% of viewers have carried out additional activities relating to the programme. Children have written to authors, designed treasure hunts, dreated their own book covers and written their own stories
89% of learning professionals agreed that Authors Live has encouraged the children/young people they work with to read more widely.
Marc Lambert, CEO of Scottish Book Trust, said:
"Over the last ten years, our successful partnership with BBC Scotland has given every school across the country free and equal access to the very best author, illustrator and poetry events. Authors Live is an essential resource for every teacher in Scotland, complimenting the curriculum and providing pupils with the opportunity to engage with the event from their own classroom."
Anthony Browne, Head of Learning and Digital at BBC Scotland, said:
"Authors Live has connected millions of Scottish young people with writers from across the world, helping to share the joy that books and reading can bring to our lives. We are delighted to be celebrating 10 years of working with Scottish Book Trust and we're looking forward to continuing to bring Authors Live to classrooms all across Scotland."
Notes to Editors
Authors Live survey, conducted by Scottish Book Trust (Monday 18 Nov 2019 – Friday 29 Nov 2019, via SurveyMonkey).
Scottish Book Trust
Scottish Book Trust is a national charity changing lives through reading and writing. We inspire and support the people of Scotland to read and write for pleasure through programmes and outreach work that include:
Gifting books to every child in Scotland to ensure families of all backgrounds can share the joy of books at home.
Working with teachers to inspire children tto develop a love of reading, creating innovative classroom activities, book awards and author events.
Supporting Scotland's diverse writing community with our training, awards and writing opportunities.
Funding a range of author events for the public to enjoy and promoting Scottish writing to people worldwide.
In addition to the funding we receive from the Scottish Government and Creative Scotland, we need the constant support of trusts and foundations, corporate sponsors and individual donors.
BBC Scotland Learning:
Authors Live is one of the many free education resources provided by BBC Scotland Learning to teachers and pupils across Scotland. While Bitesize delivers curriculum based resources for primary and secondary pupils, BBC Scotland Lab delivers free digital workshops in schools helping children tell their own stories through film and animation. BBC Scotland Learning also provides a range of audio resources including stories and drama which can all be found at Learn at BBC Scotland(this link will open in a new window).
Creative Scotland
Scottish Book Trust is supported by Creative Scotland through Regular Funding. Creative Scotland is the public body that supports the arts, screen and creative industries across all parts of Scotland on behalf of everyone who lives, works or visits here. We enable people and organisations to work in and experience the arts, screen and creative industries in Scotland by helping others to develop great ideas and bring them to life. We distribute funding provided by the Scottish Government and the National Lottery. For further information about Creative Scotland please visit www.creativescotland.com.