Looking for more in About us or Press releases?
Press release: 'Integral part of the island community' – Isle of Bute library supervisor wins national award
Scottish Book Trust announces the 2023 winner of the annual Bookbug Hero Award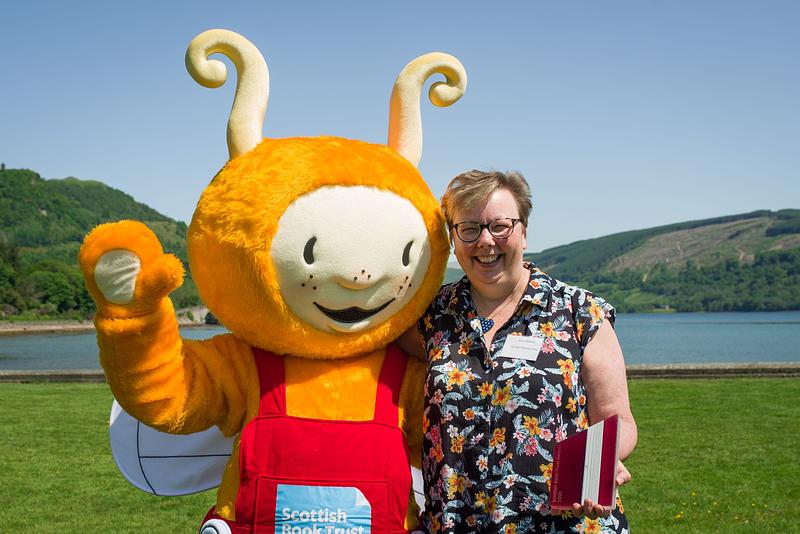 Scottish Book Trust, the national charity changing lives with reading and writing, has today (Wednesday 31 May) announced the 2023 winner of the annual Bookbug Hero Award – Janice Middleton, Library Supervisor at Argyll and Bute Council. The Bookbug Hero Award was established to celebrate the work of those who use Bookbug to change the lives of the children, families and communities they work with.
Janice was described as an 'integral part of the island community' and praised for going above and beyond to reach out and introduce families to Bookbug on the Isle of Bute, regularly touring the island. Janice's efforts to welcome new families from Syria and Ukraine to the island and her library, as well as to create inclusive storytelling sessions for adults with learning difficulties, were also celebrated by the judging panel.
An inspiring team leader, Janice mentors library colleagues on Bute and Tiree to give them the confidence to run their own Bookbug Sessions post-Covid. The reach of her Bookbug videos on social media has been so wide that visiting families from the USA and Canada have come to the library to attend her Bookbug Sessions.
Bookbug is Scotland's universal book gifting programme for 0–5-year-olds, through which every child in Scotland receives four free book bags by their first year at school. Free fun-filled Bookbug Sessions take place all over Scotland in local libraries and community spaces, and Bookbug for the Home practitioners support families on a one-on-one basis.
Four people were highly commended for the award – Audrey Conlin, Childrens' Librarian in South Lanarkshire; Duncan MacNeil, Gaelic Development Officer in Argyll and Bute; Allison Keys, Health Care Support Worker at NHS Lanarkshire; and Aimie Neilson, Early Years Practitioner in South Lanarkshire.
Janice Middleton, 2023 Bookbug Hero Award winner, said: 'I was speechless when I was told I'd won the Bookbug Hero Award. I'm truly honoured, though the truth is the award is all thanks to everyone who attends our Bookbug Sessions at Live Argyll Rothesay Library and all who watch our small videos online. It's amazing that Bookbug and I have travelled so far, without stepping on a plane.'
Marc Lambert, CEO of Scottish Book Trust, said: 'Many congratulations to Janice Middleton, our Bookbug Hero for 2023. We would like to thank Janice for her incredible work, bringing Bookbug and the benefits of sharing stories, songs and rhymes to her community with great enthusiasm. Our thanks to Walker Books for making this award possible.'
Rosi Crawley, Head of Publicity at Walker Books, added: 'Huge congratulations to Janice for her incredible service, which is especially important in such a small community but with a global view that welcomes families from around the world! As ever we're so proud to sponsor this award and recognise the achievements of all those heroes spreading a love of stories far and wide!'
ENDS
Notes to editors
Please direct all media requests to Abi Baross, Marketing and PR Manager at Scottish Book Trust, at abi.baross@scottishbooktrust.com(this link will open in a new window).
Download photos
Photos of the winner(this link will open in a new window) are available to download.
Bookbug
Bookbug is Scotland's national book gifting programme, gifting books to every baby, toddler, 3 and 5-year-old in Scotland in four free Bookbug bags:
1. Baby Bag (gifted by a health visitor to every baby)
2. Toddler Bag (gifted by a health visitor to every toddler)
3. Explorer Bag (gifted at nursery to every 3-year-old)
4. Primary 1 Family Bag (gifted at school to every P1 pupil)
There are also two Bookbug books in the Scottish Government's Baby Box scheme, gifted pre-birth. The Bookbug programme is managed by Scottish Book Trust and run in partnership with libraries, health professionals and nurseries. The programme benefits from sponsorship from children's publishers and central funding from the Scottish Government through a grant from the Children and Families Directorate.
Bookbug Sessions are run by local libraries or community groups, with training for practitioners provided by Scottish Book Trust and funded by Creative Scotland's Youth Music Initiative. There are 27,000 Bookbug Sessions happen across Scotland every year. These are free, fun-filled story and rhyme sessions for babies to four-year-olds, attended by thousands of parents and children a year. Details of local Bookbug Sessions can be found here and on the Bookbug app.
Bookbug's targeted outreach programme, Bookbug for the Home, trains Early Years practitioners to give support to families on a one-to-one basis. Bookbug for the Home practitioners work in every local authority in Scotland.
Scottish Book Trust also supports the delivery of Dolly Parton Imagination Library in Scotland (free books delivered monthly to every looked after and adopted child aged 0–5).
Find us online at scottishbooktrust.com/bookbug(this link will open in a new window). Follow @Bookbug_SBT on Twitter(this link will open in a new window), @Bookbug_SBT on Instagram(this link will open in a new window) or like Bookbug's Facebook page(this link will open in a new window).
Scottish Book Trust
Scottish Book Trust is a national charity that believes everyone living in Scotland should have equal access to books. Our work provides opportunities to improve life chances through books and the fundamental skills of reading and writing. Access to books and a love of books bring many important benefits from family bonding and advancing children's learning, to unlocking creativity, helping employability and improving mental health and wellbeing. Scottish Book Trust aims to support all communities across Scotland, with particular focus on those who are vulnerable and under-represented.
Our programmes and outreach work include:
Gifting books to every child in Scotland to ensure families of all backgrounds can share the joy of books at home, through Bookbug and Read, Write, Count
Working with teachers to inspire children to develop a love of reading, creating innovative classroom activities, book awards and author events such as Authors Live with the BBC and our Scottish Friendly Children's Book Tour
Supporting and nurturing Scotland's wide-ranging literary talent, both emerging and established through our training, awards and writing opportunities including New Writers Awards
Creating events to share books and connect writers with communities, including Book Week Scotland
Providing support to people living with dementia and their carers through Reading is Caring
In addition to the funding we receive from the Scottish Government and Creative Scotland, we need the constant support of trusts and foundations, corporate sponsors and individual donors.
Find us online at scottishbooktrust.com(this link will open in a new window). Follow @scottishbktrust on Twitter(this link will open in a new window), @scottishbooktrust on Instagram(this link will open in a new window) or like Scottish Book Trust's Facebook page(this link will open in a new window).
Walker Books
Home to books for all ages, Walker Books publishes many award-winning authors, illustrators, and literary franchises including Anthony Horowitz, Angie Thomas, Cassandra Clare, Lucy Cousins, Anthony Browne, Patrick Ness, Guess How Much I Love You by Sam McBratney and Anita Jeram, We're Going on a Bear Hunt by Michael Rosen and Helen Oxenbury, and Where's Wally? by Martin Handford. Walker Books is part of the vibrant international Walker Books Group that includes Walker Books Australia; Candlewick Press in America and its new division, Walker Books US; and Walker Productions.