Looking for more in About us or Press releases?
Press release: Julia Donaldson and Axel Scheffler back major fundraising mission for Scotland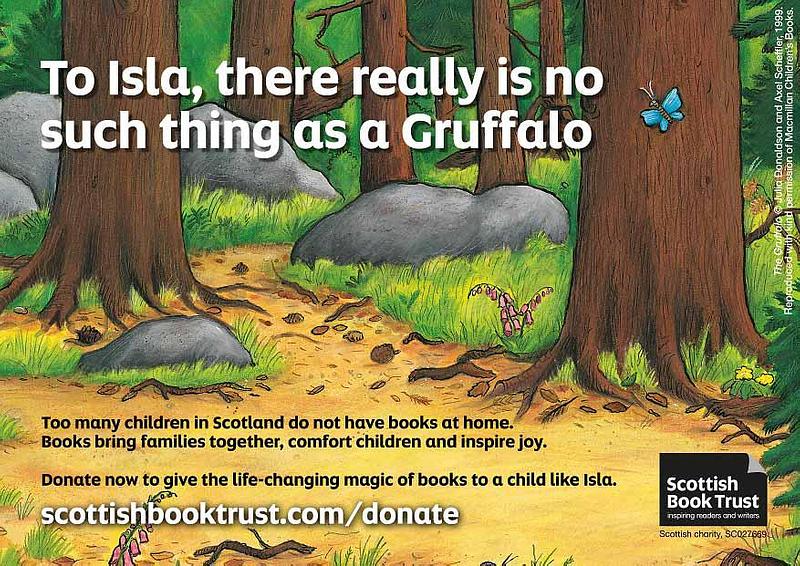 National charity Scottish Book Trust has today launched a major fundraising campaign, backed by The Gruffalo author Julia Donaldson and illustrator Axel Scheffler, to drive its new ambition of ensuring everyone in Scotland has access to books and that no one misses out on the many lifelong benefits this brings. Since the pandemic, the charity has been overwhelmed by increasing demand for its vital work to support vulnerable children and families.
Featuring a woodland illustration of The Gruffalo's 'deep dark wood' from the iconic picture book, with the main Gruffalo character missing from the scene, the campaign refers to the famous line from the story that 'there is no such thing as a Gruffalo' and uses it to illustrate that for many children this is true because they don't have books at home.
Without books, children are missing out and the impact of this lasts a lifetime. Books help families bond, bring joy and comfort, give children a sense of escapism and, importantly, improve their mental health and wellbeing. New research conducted by Scottish Book Trust revealed that 85% of parents from Scotland's most deprived areas said that reading helps them bond with their child and that reading makes their children happy, while 95% of all parents in Scotland said they think it is important for children to own their own books.
Julia Donaldson said: "I have read and performed my stories to many children in Scotland and when The Gruffalo was published, I was writer-in-residence at Easterhouse in Glasgow. I have seen first-hand how books can light up a child, catch an imagination and change a life. A lot of the work I have done has been alongside Scottish Book Trust and I have seen the important and effective work that they do for children and families throughout Scotland. I couldn't be more pleased that The Gruffalo is now leading a fundraising campaign for the charity at a time when families need books and support more than ever."
Axel Scheffler said: "It is sobering to see these well-known pictures from The Gruffalo without the characters included and to be starkly reminded that so many children and families have no access to books. Helping them to gain access is an urgent issue and I hope that this campaign will be able to raise the funds needed for Scottish Book Trust to make a difference to children's lives in Scotland."
Scottish Book Trust also surveyed education and early years practitioners and their responses underlined the need for books at home was great, with over two thirds stating some children they work with only own books gifted to them by Scottish Book Trust. Over 90% of respondents also stated that some pupils had lost reading skill and vocabulary due to lockdown.
Marc Lambert, CEO of Scottish Book Trust, said:
"The need for our work has never been greater than now, and the stark, long-term effects of the pandemic have only exacerbated this. Access to books and reading are absolutely essential for a child's development and life chances – without books at home, young people in Scotland are missing out. By supporting Scottish Book Trust's fundraising campaign, you can help us deliver more of our vital work to support those who need our help the most. We are incredibly grateful to Julia Donaldson, Axel Scheffler and Macmillan Children's Books for their support."
Funds raised from the campaign will enable Scottish Book Trust to deliver more of its life-changing work. Some examples of its programmes include specialist outreach support for young families through Bookbug for the Home, providing tactile books for children with additional support needs, supporting those living with dementia and the people who care for them, and giving books to families in need through food banks and community hubs.
To learn more about the campaign and to donate, visit www.scottishbooktrust.com/donate
Notes to editors:
For all media enquiries including photos of the launch or the authors, please contact Keara Donnachie on keara.donnachie@scottishbooktrust.com(this link will open in a new window) or 07956 773 749.
A case study (Bookbug for the Home) is available to support press release – please contact Keara for more information.
About Scottish Book Trust:
Scottish Book Trust is a national charity that believes everyone living in Scotland should have equal access to books. Our work provides opportunities to improve life chances through books and the fundamental skills of reading and writing. Access to books and a love of books bring many important benefits from family bonding and advancing children's learning, to unlocking creativity, helping employability and improving mental health & well-being. Scottish Book Trust aims to support all communities across Scotland, with particular focus on those who are vulnerable and under-represented.
Our programmes and outreach work include:
Gifting books to every child in Scotland to ensure families of all backgrounds can share the joy of books at home, through Bookbug and Read Write Count
Working with teachers to inspire children to develop a love of reading, creating innovative classroom activities, book awards and author events such as Authors Live with the BBC and our Scottish Friendly Children's Book Tour
Supporting and nurturing Scotland's wide-ranging literary talent, both emerging and established through our training, awards and writing opportunities including New Writers Awards
Creating events to share books and connect writers with communities, including Book Week Scotland
Providing support to people living with dementia, and their carers, through Reading is Caring
In addition to the funding we receive from the Scottish Government and Creative Scotland, we need the constant support of trusts and foundations, corporate sponsors and individual donors.
Follow Scottish Book Trust on Instagram(this link will open in a new window)
Follow Scottish Book Trust on Twitter(this link will open in a new window)
Follow Scottish Book Trust on Facebook(this link will open in a new window)
About The Gruffalo:
First published in 1999 by Macmillan Children's Books, The Gruffalo was recognised immediately as a 'modern classic' (The Observer). Written by Julia Donaldson and illustrated by Axel Scheffler, the book has been translated into 105 different languages and dialects. A second book, The Gruffalo's Child, was published in 2004 and together the two books and their associated titles have sold over 27 million copies in all formats. The Gruffalo Live! theatre show, produced by Tall Stories, has been running since 2001. The BAFTA award-nominated film The Gruffalo, produced by Magic Light Pictures, was released in 2009, followed by The Gruffalo's Child in 2011.