Looking for more in 50 Word Fiction?
November 2021 winners
Our prompt for November 2021 was to write a story featuring a a pair of wellies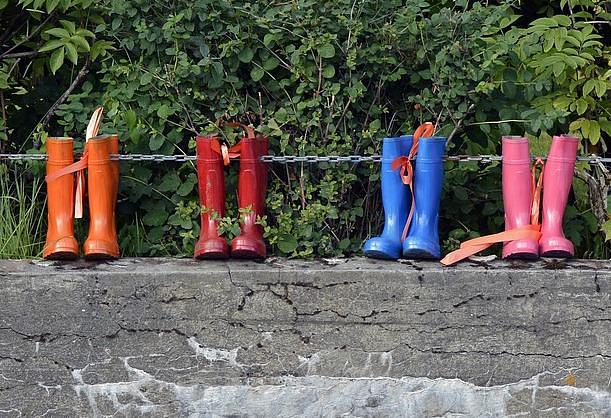 Congratulations to the winners of our November competition. Feeling inspired? Have a go at this month's prompt(this link will open in a new window).
Adult winner
Davy Reid
"Faraboots div ye think your gan in sic a hurry?"
"I'm awa oot tae the duncin', Ma."
"The duncin'! We yer wellies on?"
"Aye. Fit's wrang we that, Ma?"
"Ach, I would nae advise it, quine."
"Foo nae?"
"They'll clash we yer lipstick. Try ma waders instead."
Gaelic winner
Laura Law
Is toigh leam na bòtannan wellington seo. Tha iad pinc, an aon dath ris an dath-lipean as fheàrr le mo sheanmhair. Bidh mo bhòtannan a' putadh a‑steach don ghainmhich fhad 's a bhios mi a' coiseachd chun bhàta agam agus chun mhuir.
Translation by Gaelic Books Council
I like these wellington boots. They're pink, the same colour as my granny's favourite lipstick. My wellies push into the sand as I walk to my boat and to the sea.
Young writers (12–18) winner
Aaron Chen, age 14
I howled as it clutched onto my heels, the rubber on my boots tearing. While it towed me into the sewer, my left hand clutched a lamppost while my right discarded my wellies. It then vanished back into the hole, taking the boots with them.
Young writers (5–11) winner
Luke Ward,
age 9
I've always wondered why wellies are called wellies. Flys are called flys because they fly, so why not call wellies splashies, sploshes or even squelchies?
I just found out why wellies are called wellies because some old guy loved to wear them and just happened to be called Wellington!!