Looking for more in Reading and Stories or Bookbug?
Webinar: Gifting the Bookbug Explorer Bag
Join us for a Bookbug Explorer Bag webinar for staff from nurseries, early years settings, libraries or childminders who are involved in gifting the Explorer Bags to 3-year-olds in their ante pre-school year.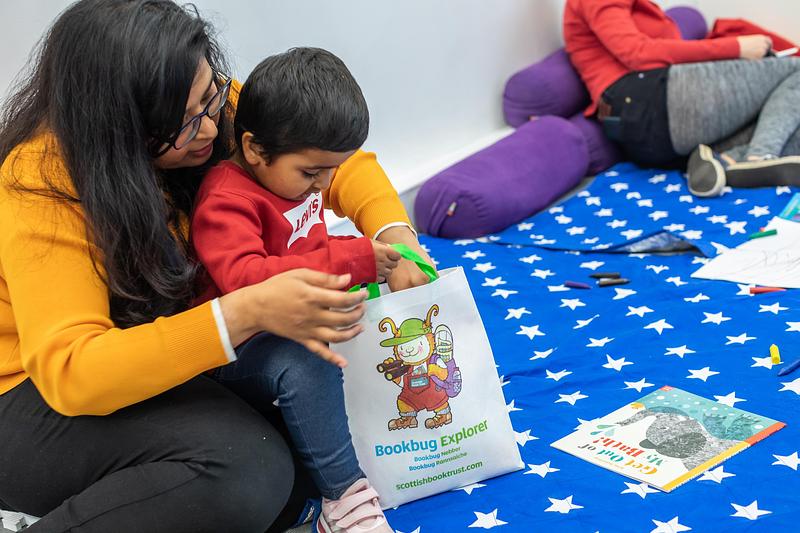 The free Bookbug Explorer Bag is packed with books, music, drawing materials and other resources to encourage parent and child interaction. The 2017 Bookbug evaluation study shows us that the bags are most effective when parents and children are involved in the gifting process. Join us to find out how to make the most of the Bookbug Explorer Bag in your setting!
Each webinar will cover:
what's in the newest Explorer Bag, released in March 2022, and how the resources can be used in early years settings and in the family home
ways to gift the Explorer Bag effectively, including how to excite children about books, stories and reading
ideas for engaging with parents and involving them in your gifting event
key messages about book sharing to pass on to parents
further resources available from Scottish Book Trust
We recommend watching this webinar with your colleagues so you can spend time planning your Explorer Bag gifting activities after the session.
Upcoming webinars
There are no upcoming webinars.
Accessing the webinars
You can attend this webinar from anywhere using a compatible computer, tablet or smartphone connected to the internet. You do not need a camera or microphone to participate. This webinar will be delivered using Zoom. Before the webinar starts, we strongly suggest that you join a test meeting(this will open in a new window) to check your connection and check if your organisation allows access to Zoom using work devices. If it does not, we suggest that you use a personal device or view the available recording on our website. Please see our Zoom usage and security policy for more information. (this will open in a new window)
A recorded version of this webinar(this will open in a new window), featuring the books from the latest Bookbug Explorer Bag, is also available to watch on-demand!
More training and information
Sign up for our regular Working with Bookbug(this will open in a new window) newsletter to be notified when new webinars and training dates are released, or view the rest of our Bookbug training courses.(this will open in a new window)
If you would like further information, please contact us at bookbugtraining@scottishbooktrust.com(this will open in a new window) or 0131 524 0179.