Looking for more in Book Lists?
14 page-turning Scottish sci-fi, fantasy and horror books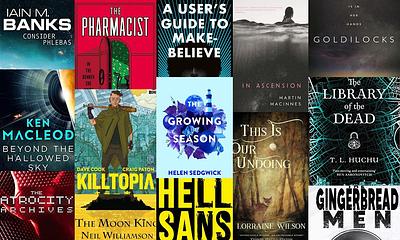 Our friends at Cymera Festival recommend some of their favourite science fiction, fantasy and horror from Scottish and Scotland-based writers.
Scotland is a powerhouse of speculative fiction – from the much-missed Iain M. Banks to newcomers such as Harry Josephine Giles, who won the 2022 Arthur C. Clarke science fiction book of the year for her verse novel Deep Wheel Orcadia.
Since Cymera: Scotland's Festival of Science Fiction, Fantasy and Horror(this link will open in a new window) Writing began in 2019, our programme has featured close to a hundred brilliant Scottish and Scotland-based writers. Some are only at the beginning of their career, like Lyndsey Croal and Rachelle Atalla, and some have made Scotland their home, such as Christopher Priest, Nina Allan and Laura Lam. There are far too many to name here, so this list is a mere flavour of what the Scottish science fiction, fantasy and horror writing scene has to offer. The recommendations below are for adult readers – for younger readers, check out Ben Oliver, Alastair Chisholm, S.M. Wilson and Akemi Dawn Bowman.
New to SF? Join the Open Book Speculative Fiction Reading Group or dip your toe in through shorter fiction like Shoreline of Infinity (Scotland's award-winning science fiction magazine), the brilliant novellas from Luna Press Publishing, and titles from small but mighty publishers Haunt Publishing and Knight Errant Press.