Looking for all Articles by Charlotte Webber?
Collaborating with teen researchers to understand teenage reading experiences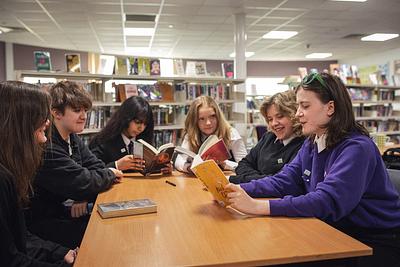 Teenagers are the focus of much education research. Usually, the research aims are decided by adults and the methods used to collect data (for example, conducting interviews or carrying out surveys) are decided on and carried out by an adult research team. This means that much research about teenagers' lives is conducted without the input of teenagers themselves.
Doing research in this way leads to a power imbalance, where adults risk making assumptions about teenagers' lives and the best ways to study them. It also means that research can be out-of-touch with teens' real needs and priorities.
Participatory research methods
To combat this, participatory research methods aim to collaborate with teenagers to co-produce research which is important and relevant to them. This means involving teens at all stages of the research process, from deciding what to research, to designing and carrying out a project, interpreting data, and sharing the findings with others.
Because it can produce outcomes which are more likely to meet the needs of teens, there is growing interest in using participatory research methods. For example, some researchers have worked with children and teens to design their own interview questions and carry out interviews with their peers (Webber et al., 2021). This approach enabled teens to contribute their opinions about reading in their own words and draw upon their shared experiences to generate data together.
Despite their benefits, participatory research methods are still not commonly used in reading research.
Working with teen researchers on the Young People's Reading Project
The Young People's Reading Project(this link will open in a new window) is a collaborative project between Scottish Book Trust and the Universities of Edinburgh and Dundee. The project aims to understand teenagers' experience with reading for pleasure and so far has involved working with a young people's advisory panel to make sure teen voices were at the heart of the exploration (Webber et al. OSF).
The young people's advisory panel was made up of six young people (13–14 years old) from three schools in Scotland. Teagan, Hannah, Emily, Ava, Harry, and Sofia worked with the adult research team to design and carry out the project.
Working together across a whole academic year, the panel first decided that the best way to explore teenagers' experiences with reading was to interview them. They then helped design the interview questions and carry out the interviews with their peers. Based on the findings from the interviews, they made recommendations for how to support more teens to read for pleasure.
What were the benefits of working with teen researchers?
Working with the panel had numerous benefits for the project, the adult research team, and the panel members.
First, because the panel helped design the interview questions meant that the questions were more likely to be relevant to their peers real reading experiences. For example, the panel thought that it was important to ask about whether other teens thought reading is uncool, and whether this belief influenced their motivation to read for pleasure.
The panel also helped the academic research team to gain insights into the lives of teens and apply this to their research. It helped them learn about teenagers' priorities for research and the ways they think research should be conducted. This helped them think creatively about different ways of carrying out research and demonstrated the value in including teenagers in the research process.
The panel members also reported several benefits from working on the project. These included developing research and communication skills, contributing towards something for others their age, improving their employability, building relationships, and encouraging them to take the perspectives of others (Webber et al., 2022).
In summary, considering participatory research methods is important for teachers, librarians, researchers, and policy makers who are looking to find out more about young people's reading experiences. By doing research with teens, rather than on them, outcomes are more relevant to their lives, better fit their needs, and empower them as agents of change.