Looking for all Articles by Lynsey May?
Running welcoming author events and workshops online
Tips and advice for writers hoping to create a welcoming atmosphere for a broad range of audiences when giving online readings or workshops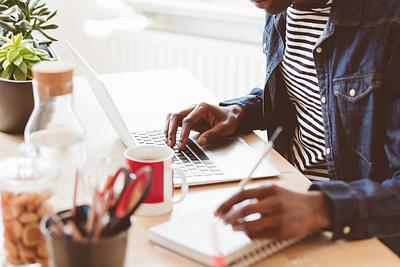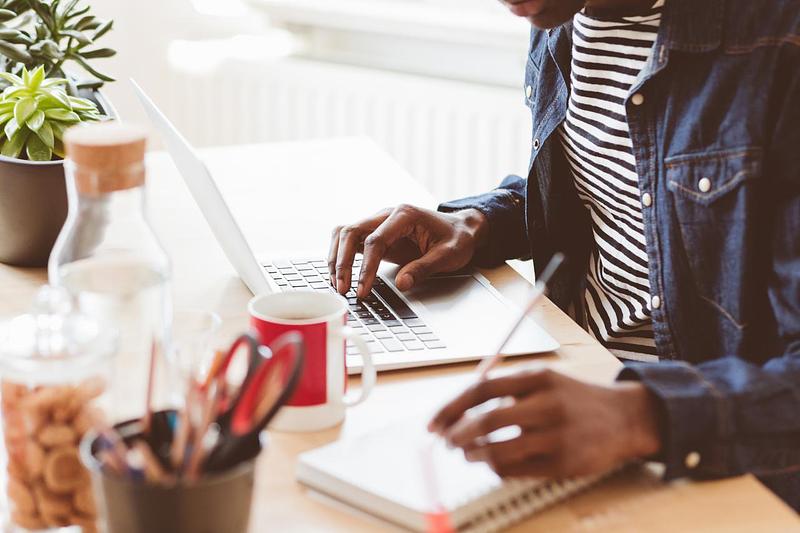 Creating events that cater to a variety of audiences can be tricky – especially when everything is online – but there are ways you can help make the experience welcoming for everyone.
As a writer, you may have a limited amount of control over your events' set up – or you may have free reign! Some of these tips may be things you can do yourself. Others might be ones to talk to your chair or event organiser about.
Either way, the more forward-thinking you're able to be, the more likely it is that your reading, panel or workshop will be as enjoyable as possible for everyone – yourself included.
Before the event
Plan in some lead time
Never expect an event to start on time! The first ten minutes of an online event will have people joining and sorting out technical issues.
If you're programming or organising the event, add in a little run extra time for this. If you're a speaker or a guest reader, just bear in mind that you may find that your slot is cut shorter than expected.
Check in on potential barriers to participation
If you're in a position to contact the people who've signed up for your event, it is a great idea to get in touch with them about any potential barriers they might have in participating.
This could be a simple 'please do let us know if there's anything we can do to make the event more accessible for you' if you're emailing about a reading or panel. It could also be much more in-depth and include details of some of the access adjustments you already have available. This can be especially valuable if you're working with a group that may have significant barriers.
For inspiration on the kind of potential accessibility barriers you might like to think about, please do have a look at our video guide with Ever Dundas.
Send out clear instructions ahead of time
We all know how stressful it is to log in to a new piece of software or use unfamiliar tech! By including clear instructions for joining and taking part in advance of your event, you'll help ease some of the worries people have.
These instructions could be an extensive handbook (e.g. if you're running a residency or series of workshops) or a simple link to the 'How to join' page for the tech you are using. Feel free to send on our how to take part in an online event(this link will open in a new window) resource to any audiences who aren't familiar with doing so.
Consider how you might deal with difficult topics
One of the wonderful things about books, writing and everything in between is that it helps us explore emotional spaces. This is fantastic, but it can also dig up some pretty intense feelings – often unexpectedly!
If you are sharing work that deals with emotive topics, it's a great idea to mention this early on to allow people to prepare themselves or take a moment away if they need to.
Likewise, if you're running a workshop, consider how you might deal with a difficult disclosure. There is no hard and fast rule here, it will depend on what is needed, but we recommend acknowledging the emotions and offering options. Ignoring a moment of upset is definitely not recommended, and thinking about how you might respond beforehand means this is much less likely to happen out of awkwardness.
During the event
Get an idea of your audience's understanding
It can help to set aside a few minutes at the start of an event to check whether everyone who is taking part understands the format and what's expected of them. It's also handy to find out what kind of devices they are using. For example, many platforms are much more limited on phones and tablets and can be tricky when running a workshop.
For a reading, this might be as simple as explaining the Q&A will be at the end, how the mute and chat box functions work. For a workshop, you may want to ask the participants to share their technological know-how – and decide whether you need to make a few adjustments based on the answers!
Share some ground rules
This is also an important time to set out what is expected of participants and clarify what won't be tolerated in that space.
Establishing ground rules makes sure everyone is on the same page and can help audience members feel more comfortable – as they know at what point you may close a topic or ask someone to leave the group.
Stay in control of what's shared
As a general rule, if you're doing an author reading or taking part in a panel, it's a great idea for you or the chair to make sure that everyone else's mic is switched off when they enter the event! You can be a little more flexible when it comes to smaller groups and workshops.
That said, you want to make sure that your event is a safe space, which means taking care of some housekeeping technology-wise and the content you're sharing. If you're using a platform like Zoom, look at the chat functions you'd like people taking part to access. It's better to keep these limited – don't allow participants to message each other directly, for example – and to be clear about the kind of language that will be deleted.