Looking for all Articles by The NessBookFest volunteer committee?
Programme story: NessBookFest and Live Literature
In 2019 NessBookFest used Live Literature funding to organise author workshops throughout Inverness, in schools, libraries, education support centers and local hospitals.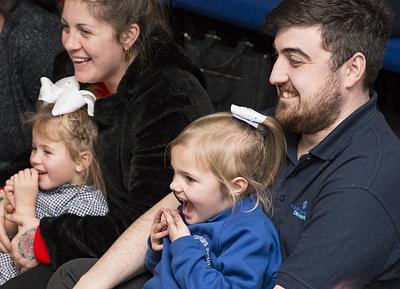 NessBookFest(this link will open in a new window) is a local book festival that takes place in Inverness every October. Organised by the local community, for the local community, it provides a platform for Scottish authors and celebrates the strong arts scene in Inverness and the Highlands. The NessBookFest volunteer committee shared their experience of using Live Literature sessions to bring authors to the community...
A small group of volunteers in Inverness have run NessBookFest in a variety of venues since 2016. As all events are free, the Live Literature scheme was a great fit and in 2019 NessBookFest received funding for almost a third of their festival events from the Scottish Book Trust.
The team chose to use our Live Literature sessions for school and outreach events. The fact that expenses are included in Live Literature support meant that we could choose top quality authors from across Scotland and bring them to the Highlands. Live Literature authors held events in schools and the local library, but also in a museum, a National Trust property and an educational support center for young people. One author was even able to visit the children's ward of the local hospital! Gaelic writers were also featured in the selection.
Our audiences really appreciated the fact that they could experience author visits and workshops at no cost. One workshop attendee described the event as, "very enjoyable and interesting and relaxed. Great venue and a fantastic author who engaged very well" while another said that "it was a great interactive event".
The educational support centre told us that the programme made it possible for their students to attend an author event; "many of [them] are from disadvantaged backgrounds and wouldn't otherwise engage. It was great to have the opportunity to do a small group session which our students really benefit from."
Schools also reflected positively, commenting: "Emily was fantastic. So engaging!" and the hospital ward told us, "it was brilliant; the children loved it. The author catered to the children's needs and really caught their attention."