Looking for all Articles by Priscilla Mante?
More than a game
How football can be powerful tool for helping people develop mutual understanding and respect.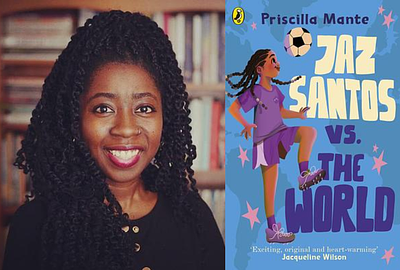 For debut author Priscilla Mante, football is more than a game. In this article, Priscilla writes about how football can be a powerful tool to help people understand and develop mutual understanding and respect.
Although I haven't played much football since my teen years, I still believe there's something so special about how the world's most popular sport brings people together from different corners of society and the world, and fosters a sense of community.
That's why in my debut, The Dream Team: Jaz Santos vs the World, I chose football to illustrate to young readers how the seven very contrasting girl characters who make up the Bramrock Stars could unite in pursuit of a common goal. They become a Dream Team not only despite their differences but because of their differences which ultimately became a team strength.
I grew up near Glasgow where football played a massive part in the lives of many people. Nearly everyone I knew were loyal and enthusiastic supporters of either Rangers or Celtic and many children and adults played in local teams. We often see football portrayed in the media as something that can spark bigotry, violence and vandalism and it has unfortunately, been weaponized in many instances to further division and discord. In the West of Scotland for example, the Old Firm rivalry is closely associated with the sectarianism the area battles with, and though progress has been made it's still an issue that persists.
We see this capacity of the game to unite people and develop understanding played out in tournaments such as the World Cup and the UEFA Euros – joyous displays of national pride balanced with inter-cultural exchange.
However, I've also witnessed how the Beautiful Game has the potential to bring people together and build communities. For most of my childhood, I grew up in a town not known for its community spirit or civic pride, and there were never any street parties, village fayres or even neighborhood meetings. However, I remember one summer, apparently inspired by that year's World Cup, a father and uncle of one of the children in my street decided to round up everyone who was available that afternoon for an impromptu community football game. We were a mix of ages, families and friendship groups who suddenly found themselves playing side by side sharing a common goal with people who we may never have interacted with despite living in close proximity to each other. My recollection of the game is fuzzy, but I do remember we played for hours in the summer heat but when it ended it still felt too soon. After the game we didn't form a forever family or even a community team! Indeed, we all went back into our usual friendship clusters, but still something had shifted – a mutual understanding had developed and we saw each other as neighbours, instead of strangers.
We see this capacity of the game to unite people and develop understanding played out in tournaments such as the World Cup and the UEFA Euros – joyous displays of national pride balanced with inter-cultural exchange. The 2010 World Cup held in South Africa for example, was an opportunity for a country often misrepresented on the global stage to be the authors of the story shared with the world about their country. Many of the fears rooted in ignorance voiced in the lead up to the South African World Cup were not realised, and the successful tournament contributed to a positive shift in opinions on Africa.
Another inspirational tournament is the lesser known Homeless World Cup. I attended the last one in 2016 that Scotland hosted. For one week, Glasgow's George Square was transformed into a stadium for the 512 players from 52 countries and 80,000 spectators. Each player had an empowering story of how street football had served as a positive focus to help them break patterns of addiction and build better lives. The tournament also promotes empathy and respect for homeless people and develop understanding for the reasons behind it.
Of course, football isn't the panacea to societal ills, and in addition to the sectarianism in Scotland, it has long been plagued by issues such as racism, and sexism. However, its widespread popularity and global appeal makes it a truly powerful platform to speak out against injustice. Since 2020, we've seen striking displays of solidarity with the anti-racist message of the Black Lives Matter movement from players.
For the first time ever, I've been rooting for England after Scotland were knocked out, because to me, this year's squad have been incredibly inspirational. They've joined together and confronted racism on and off the pitch in both symbolic and tangible ways, remaining steadfast and persevering in the face of hostile opposition from certain sections of fans, media and even politicians.
So despite it's somewhat murky reputation, I have seen the beautiful game bring very different kinds of people together, on and off the pitch, and while it won't bring World Peace, it can lay claim to a remarkable ability to unite people from different languages, cultures and backgrounds to communicate meaningfully, build community and champion change using the universal language of football.